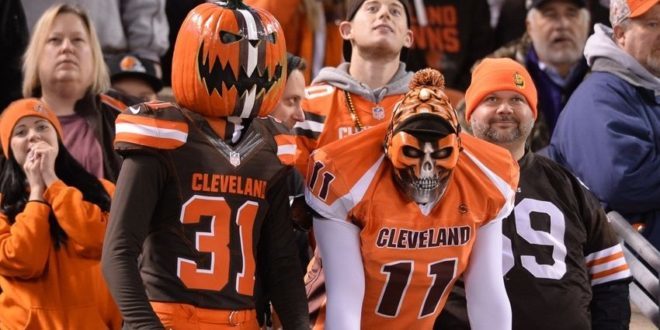 Written by John Adams
15 March 2018
It's been a very busy week for the Cleveland Browns, who have decided to take action after becoming only the second team in NFL history to finish a season with an 0-16 record. The Browns have been wheeling and dealing draft picks to acquire a new crop of talent, including quarterback Tyrod Taylor, running back Carlos Hyde and wideout Jarvis Landry. 
Even with these major moves, the Browns still have the first and fourth picks in the draft. Cleveland obviously has a plan in mind, but the rest of us are left to speculate on two major questions. Now that Cleveland has a viable quarterback and running back option, will they still pursue those positions in the upcoming NFL Draft? The Browns say they are still very interested in Saquon Barkley, but is that reality or just a bit of gamesmanship?
First, let's look at whom else the Browns have acquired during the offseason. Cleveland signed offensive lineman Donald Stephenson, defensive lineman Chris Smith and defensive backs Damarious Randall and Terrance Mitchell. The team also signed tight end Darren Fells from the Lions to block for David Njoku who they want to catch more passes.
Basically, the Browns used this year's free agent market to put together a new team, and Advanced Sports Logic is here to break down Cleveland's three biggest acquisitions so far.
Tyrod Taylor, Quarterback
The Browns were kind of slick with this pick. Cleveland was in the process of signing Landry at almost the same time the team came to terms with Taylor. The Bills basically sealed their own fate last season when they benched Taylor in favor of backup Nathan Peterman. The Browns get a viable starter in Taylor, but there is still nothing to hold them back from drafting a top-tier rookie quarterback in the first round and letting him sit and learn for a year. Taylor now has a ton of receiving talent to work with including Landry, Njoku and Josh Gordon.
Jarvis Landry, Wide Receiver
The Browns did very well to acquire Landry for a fourth and a seventh-round pick. The former Dolphin may play under a one-year tender, giving both sides a chance to kick the tires and see if this is a good fit. If Landry plays well for Cleveland, one or both sides may pursue a longer-term contract at the end of the season.
Carlos Hyde, Running Back
This is a great move for the Browns and for Hyde. He was severely underappreciated in San Francisco and could do very well playing for Cleveland. Despite limited opportunities last season, Hyde still managed almost 1,200 total yards and eight touchdowns. If the Browns were to draft Barkley, Cleveland would have a top-tier, two-headed running attack that would be tough to slow down.


Never miss ASL's latest fantasy sports news. Send us an email at This email address is being protected from spambots. You need JavaScript enabled to view it. and list the sports you are interested in (NFL, NBA, MLB, NHL, EPL) to start receiving ASL's newsletter.