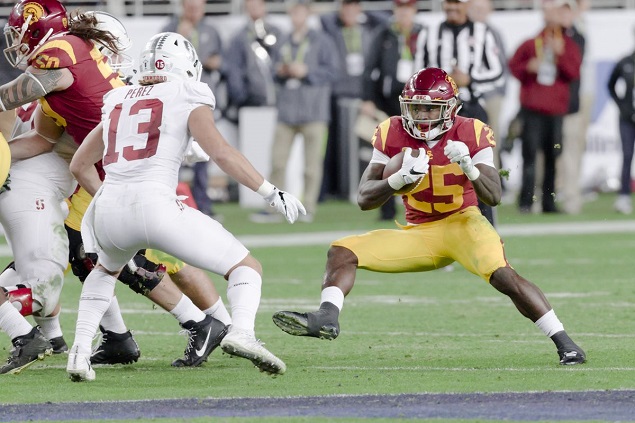 Written by Chad Samuels
08 March 2018
Post Combine Top 10 Running Backs Part 2
Now that the NFL combine is over let's talk about running back prospects. This article covers six through ten and why I ranked them where I did. It also includes a bonus honorable mention to watch.
The NFL scouting combine is over. With it we now have enough data points to begin to construct a draft board for your 2018 rookie draft. Now that the players have been measured, the forty yard dashes ran, interviews held and positional drills run we can begin to sort them out accurately.  As we ramp up to the draft we will go over who the top players are at each position for dynasty purposes. We already covered the top five at running back you can find those rankings and explanations here. When building a list like this it is a snapshot of where things are at the current moment there are still data points like pro days and the NFL draft that can affect how a player is ranked. Players can shift up and down and this is not a final snapshot of player rankings. Top ten lists are a good place to start to get an idea of how to build your draft board. Continue digging through the process and do not be afraid to move players up and down your draft board.  Rookie drafts are won by the owners who do the work both in acquiring rookie picks and the draft prep they do. Some of these players are valued higher than where I ranked them. For me these are avoid players, if they do not rise on my list. They will be drafted higher than where I think their dynasty value lies. I will let other teams draft some of these players and take the risk of whether or not they will produce and pick up others I value later than I think they should. Finally keep in mind these are dynasty rankings. Mel Kiper Jr. sums up this concept well when he wrote about his big board "I'm projecting to the NFL. This is about much more than stats. My projections are based on size, athletic ability, statistics and what I hear from people around the league." Dynasty ranks are more about how well will they produce in the NFL and how productive they will be for your dynasty roster. It also includes their chances to carve out a role for their team even if it is for a short time. It includes a lot of Mel looks at but what NFL players think around the league bears very little how how a prospect will perform or project to your dynasty team.   
6 Sony Michel: Scouts love Sony MIchel. He is ranked fourth in Mike Mayock's February top five running back prospects. HIs production for Georgia, a SEC school, is very good..He is a senior and his best season was 1227 yards and is very productive. He also has a career 6.1 ypc (yards per carry) average. He is also a five star recruit which adds to his profile. Michel drops out for the top five for two reasons. First is his age He will be 23.6 when the season starts in September. This means he will have two less seasons before you need to trade him than a Junior coming out in the draft and one less season than players like Nick Chubb and Royce Freeman ranked above him. The other concern is his size to 40 yard dash ratio. Sony ran a 4.54 40 which is a reasonable time but he is a tweener back size at 215 lbs. As a tweener back he needs a little more speed than the big backs because he should not be able to take as many hits as a bigger back. He will also need the speed to be able to get open on routes a little bit more and make additional open field yardage as he will be less likely to knock over defenders.  I am also looking for his three cone drill at his pro day March 21st. HIs ability to cut and turn quickly will be important for his draft profile.
7 Kerryon Johnson: Johnson has the advantage of coming out as a junior. HIs 1391 rushing yards last year is good for his final season. But he has several red flags. First is his 4.8 career ypc is far off from the 6.0 mark we are looking for in college backs. He is also a tweener sized back at 213 lbs. He caught 24 passes in his best season although his receiving yards are down which questions how effective he will be in the passing game as a tweener back. He also did not run the forty yard dash at the combine. This makes me question his speed. Usually pro day scores for drills are less precise and have a tendency to be logged faster than the scouting combine. He did tun the three cone drill and 7.07 is a very good time for his mobility. Johnson does have a list of injuries through high school and college. NFL hits are related to experiencing a car crash. Increased violence at the NFL level increases the risk that he will continue to play injured and not meet his full potential as an NFL player. The injuries makes Johnson a boom bust profile who would be a solid candidate as a flip player. His value is best in the second round of rookie drafts. If you are a Johnson believer a late first round selection is well within reason to draft as well.
8 Ronald Jones: This ranking is a major departure form the dynasty community. Ronald Jones was very productive in college. His best season in college was his Junior year with 1550 rushing yards He meets the six ypc threshold at 6.1 and is entering the draft as a junior. He does have the basic metrics to be much higher on this list. In fact Mike Mayock has Jones in his top five RB prospects. The reason he is so low on this list is because of his role in dynasty. It starts that Jones weighed in at 205 lbs. Most three down running backs weigh about 10 pounds or more than Jones. He is more likely to be a change of pace back or a receiving back out of the backfield. They could put him in the slot on passing downs but his history of receiving prowess at USC does not suggest this. His best receiving season was as a junior with 14 receptions for 187 yards. I would feel more comfortable drafting him higher if his receiving production was about double of his best season. To further muddy the waters. Jones pulled up in the 40 yard dash with a hamstring injury. His 4.65 time is not accurate but it is difficult to extrapolate what his forty time will be. His pro day is March 21st and it is questionable whether or not he will compete so soon after a hamstring injury as they have a tendency to linger. Without a strong forty time Ronald Jones' profile becomes weaker to succeed in the NFL as smaller backs make up for lack of size with speed. It looks like we are going to be guessing about his speed come draft day and that can be a significant risk. While no two scenarios are exactly the same the lack of a forty time reminds me a little bit of Devontae Booker where people extrapolated his speed. The Booker example shows what can go wrong when you don't have hard numbers. As such between the lack of the forty and his lack of receiving production in college I would encourage caution when drafting Ronald Jones. This is why I ranked him at eight.
9 Kalen Ballage:  Kalen Ballage is a perfect example of the boom bust profile. Dynasty owners should be careful of non producers in college. That is exactly what Ballage is. His best rushing season was 669 yards in his senior season and he has a 4.4 career ypc. His upside though is his flash of receiving prowess as a junior with 44 receptions for 469 yards. Even his 20 reception senior season confirms he can catch the rock. What makes him tempting as a prospect is his athleticism for his size ratio. Ballage weighed in at 228 lbs with a 4.46 forty and a sub sevan second three cone drill. He is also tempting as a four star recruit after high school. With all this athleticism the question becomes why did he not produce in college? The answer could be he tests well and is not as good as his numbers. Another answer could be he was misused by Todd Graham who went 46-32 in his tenure at Arizona State. While Ballage is very tempting, I think the odds are against him for long term production. He does become a very tempting candidate for a flip player. A lot of his value will be determined by who drafts him and when.
10 Josh Adams: Adams is a junior and that is a positive. His 1430 rushing yards as a junior is a positive metric and his 6.7 career ypc confirms he is a solid prospect. However he is 6'2" and weighed in as a tweener back at 213 lbs and that is not good. These lower his BMI and hurts him as a prospect. Also, he is almost 22 years old when the season starts. These things are a concern. The other thing that concerns me is that he did not participate in the 40 yard dash and the 3 cone drill at the NFL combine. This begs the question Why? While he was slowed by injuries late in the college season, there are no reports of an Adams injury currently. It is reasonable to assume he chose to forgo the combine athletic drills so that his only numbers will be on favorable ground as historically players have better drill times on their pro day than at Lucas Oil Stadium. Adams has the numbers that he could win a starting job temporarily and be a flip candidate in his career. He is currently projected to be a 6th or 7th round draft pick with a deep RB class he could drop and become a UDFA. If this happens Adams looks to be a later round value play.
Honorable Mention Javorian Franklin: Franklin is a senior and he is a small school special as he is from Western Michigan. His numbers are not historical but they are decent. He has 4867 rushing yards over 4 seasons and a best season of 1551 as a senior. His career ypc is under six at 5.1 ypc but his drill numbers are solid for a 239 lbs running back. He tested with a 4.63 forty yard dash and a  6.93 second three-cone drill. As expected with a Western Michigan recruit he is a three star recruit at a position where recruiting seems to matter. Franklin's profile is projected to be a UDFA by NFL.com but with the solid combine It is possible he can slip into the NFL draft . Keep Franklin on your watch list as he can continue to rise through this process.
The third tier of running backs runs through ranks four through seven. Backs eight and nine, Ronald Jones and Kalen Ballage come with risk and are worth selecting as fourth tier running backs and flip candidates. Jones however will most likely be drafted mid first and if you are in a position to draft him he will be a falling knife and very dangerous to draft. Jones could be this years Dalvin Cook and perform but he also could turn into Devontae Booker and there are plenty of other options to choose from than Jones. By the time you start calculating the other skill position players into the mix Ballage is a late second round play while  Adams, and Franklin are viable round three and beyond and great values. There are other running back options to choose from and worth researching. Remember, the owners that win their rookie drafts do the work and research the players. Because of this, thank you for choosing Advanced Sports Logic to be a part of your draft preparation and we appreciate your support.
Dynasty never goes out of style the following is previous content you may want to refer to.  
Introduction to Growth Strategies
Growth Strategies and Startup Drafts Part 1
Growth Strategies and Startup Drafts Part 2
Growth Strategies and Rookie Drafts
When Roster Growth Strategies Go Right
Why You Should Join a Devy League
Don't miss out on other articles in the rookie prospect series
Post Combine Top 10 Runningbacks Part 1 League


Never miss ASL's latest fantasy sports news. Send us an email at This email address is being protected from spambots. You need JavaScript enabled to view it. and list the sports you are interested in (NFL, NBA, MLB, NHL, EPL) to start receiving ASL's newsletter.