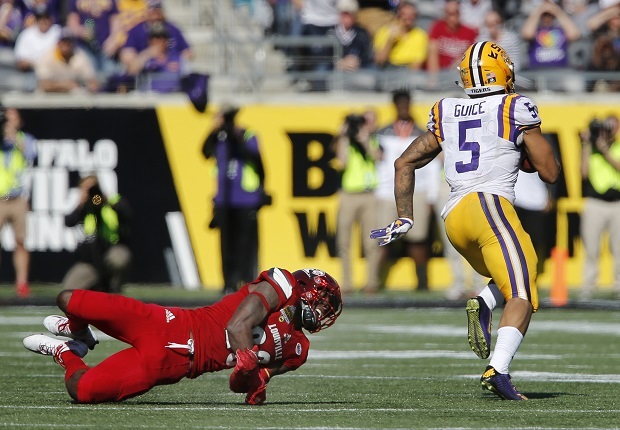 Written by Levi Andrew
23 February 2018
Here are my pre-combine rookie running back rankings. These are based solely off of production and the tape I've watched from each back. Some backs have more tape than others on the internet. 

1. Saquon Barkley, Penn State Nittany Lions
Barkley is a talent that goes beyond football. Barkley does things some backs in this class just flat out can't do. His jump cuts are incredible, his movements are fluid. My only couple of knocks on Barkley is that he tries to bounce too many runs outside which in turn leads to a negative play. He also doesn't get skinny sometimes when running through a hole to make a bigger play. These issues, along with his deficits in pass protection, can be coached up.

2. Derrius Guice, LSU Tigers
Guice is a fluid runner who runs with power and isn't afraid to run through people. Guice's vision to see a hole at the point of attack brings the gap between Guice and Barkley closer for me. Guice doesn't have a problem finding a hole, getting skinny and fighting through a pile to get an 8-12-yard run. LSU's system didn't give Guice the ability to really show off his hands, but from what I've seen, Guice will have no problem adapting to the NFL level. Guice's pass-blocking ability is decent. He could hold his blocks a little longer, but that can be coached at the next level too.

3. Sony Michel, Georgia Bulldogs
Michel's place in rookie RB rankings will bounce around from ranker to ranker. I feel as though he is the third-best back in this class. When watching his tape, I see a runner who has great vision and moves piles by never stopping his legs and feet. Michel doesn't go down easy, lowers his shoulder, drives through guys who are twice his size and always falls forward when getting tackled. His production is outstanding considering he was in a timeshare. He can also catch the ball and get to the second level with his speed. When Michel runs in the 4.4 range at the combine, it will cement his top-three status.

4. Ronald Jones, USC Trojans
Jones, for his size, runs well through tackles and fights for yards. Most of his tape shows him going down at or near the line of scrimmage, which made me think he wasn't a good runner. That was until I went back and watched again. Jones hits the hole and fights his way through contact to get as many yards as possible. Mind you, this kid is 200 pounds soaking wet. When he gains 5-10 pounds of muscle, he could be a bruiser. Jones' speed, burst and vision is on another level. When he gets to the second level, watch out. Jones gets going so fast, his legs look like tires spinning.

5. Mark Walton, Miami Hurricanes
I will admit I have Walton ranked highly for a running back of his size (5-foot-9, 205 pounds), but what I saw on his 2016 tape and in his four games from 2017 before he suffered an ankle injury that required surgery was a back with great vision and incredible burst. Walton moves people when he lowers his pad level to create a low center of gravity which in turn makes him hard to bring down. If Walton gets a few blocks, his speed and ability to make a defender miss in the open field are amazing. Walton will have to improve on his pass protection and getting skinny through a hole to really make a difference at the next level, but this kid is athletic and will mature into a great back in the NFL. Walton's performance at the combine next month will cement his top-five status.

6. Kerryon Johnson, Auburn Tigers
Johnson is a solid runner who has vision, the ability to hit the hole hard and get skinny when he needs to. He had decent production in college that could have been better, but he sometimes he runs with a high pad level, which in turn doesn't give him enough leverage to pop a defender and keep running. If Kerryon gets a lead blocker in front of him, he will be taking it for a solid run.

7. Nick Chubb, Georgia Bulldogs
Sony Michel's counterpart at Georgia, Chubb has great vision to find the open holes and accelerates through said holes. He's more of an outside runner than up the middle, but when the middle collapses, he finds a way to get outside. Chubb's speed will make him a difference maker on the perimeter in the NFL. Chubb will look to make his mark in the NFL as a two-down back.

8. Rashaad Penny, San Diego State Aztecs
College football's leading rusher last year, Penny will bring his never-quit running style to the NFL. Watching Penny on tape, I saw that he doesn't quit moving his legs on every play. Penny has decent acceleration, but watch out when he starts from deep in the backfield; this little freight train is going to break some tackles coming through. Penny can catch and run down the sideline with force. His pass protection is horrible in my opinion; he goes for the block and then gives up, stands there and looks around. The tape of his pass pro is the worst I've seen. Hopefully, he can be coached up. Otherwise, he could end up as a two-down player.

9. Josh Adams, Notre Dame Fighting Irish
Oh, how I did fall in love with Adams while watching his tape. He is a great north-south runner who has the patience to wait for a hole. He's a tough, pile-pushing runner who can also find a crease to take one to the house at any point. On some of Adams' tape, I saw some runs where he missed a cut and could have had bigger gains. Some may say the reason he averaged 6.9 yards per carry was due to his talented offensive line, but I say that's just a plus for him. Adams has decent hands and can run routes as well. He is a name to watch.

10. Royce Freeman, Oregon Ducks
If Freeman falls to you in your rookie draft, don't be scared; he became another one of my tape darlings. Freeman has decent vision, finds himself following his line a lot and doesn't try to cut outside, which can be a bad thing sometimes. Freeman's second-level speed is top-notch. He could be a riser in ranks come combine time if he shows well. Freeman had great production in college and is polished in pass protection thanks to Oregon's system. The power this kid has when he drops his shoulder and drives through a defender is great. I was quite impressed with some of his tape.

11. John Kelly, Tennessee Volunteers
I have already seen Kelly get compared to his former Vols teammate Alvin Kamara. I can see it a little. Kelly is a great runner with excellent balance and decent vision. If he can bounce the run outside, he can make almost anyone miss with his ability to stop on a dime and accelerate back to full speed. He is a very fluid runner who drives with his legs. His low center of gravity makes it hard for a defender to tackle Kelly when he lowers his shoulder in the open field. Kelly's negatives include some off-the-field antics, such as getting popped for marijuana. On the field, his patience sometimes gets the best of him at the line of scrimmage. You often see Kelly get bottled up before he makes a cut or any real movement.

12. Ito Smith, Southern Miss Golden Eagles
Smith is a small, elusive back. His jump cut and cut-back ability are close to being the best in this whole class. His speed is also another big trait. It's too bad he didn't get a combine invite, so we'll have to wait for his pro day to get any times. Smith is also a hard runner with burst who moves piles by always moving his feet. Smith is also a factor in the passing game. He runs clean routes and has good hands. His pass protection could improve, but it's not for the lack of effort; he always gives 100 percent, but his size limits him.

13. Kalen Ballage, Arizona State Sun Devils
Ballage is a big guy at 6-foot-3, 225 pounds, but you wouldn't notice it with how he runs and his pass protection, both of which need some work. On tape, I saw a lot of Ballage lowering his head at the line of scrimmage, bracing for contact and losing vision. He got thrown around by guys his size in pass protection, which I didn't expect. However, this kid is special though. Watching him catch the ball out of the backfield or running a route -- wow. Ballage is a superb athlete who should light up the combine, bringing his actual NFL stock up.

14. Jaylen Samuels, North Carolina State Wolfpack
Samuels is a converted tight end/fullback who played in the Senior Bowl as a running back. On his tape, I saw a back who can run routes, has great hands, possesses power moves and is a very hard runner. Samuels is my diamond in the rough who should only gain popularity with a good combine. He very well could end up getting drafted at TE, but for now, I'm going to assume he changes to RB.

15. Akrum Wadley, Iowa Hawkeyes
Wadley has some great traits: His burst, vision and acceleration are fantastic. His cutting, burst and ability to cut and then accelerate are fun to watch. Wadley has ball control issues, which is one of his worse traits. I marked down during my tape study on him that I saw the ball hit the turf three times. Wadley often doesn't look like he takes pass protection seriously. He will sometimes walk up to a block and get run over. At 5-foot-11, he could run with a little more aggression early in the game. The one thing that really stood out was Wadley's ability to improve as the game goes on. I don't know if that was because the defenses were tired or because Wadley needs 10-plus carries to get going on the field.

16. Justin Jackson, Northwestern Wildcats
Jackson runs with confidence, lowering his shoulder and fighting for yards. Jackson keeps his hips shifty, and his ability to cut back and change direction is incredible. See for yourself. While his second-level speed isn't the fastest, he still has the ability to keep defenders on their toes with his cuts. When he is patient and waits for a block, his vision improves greatly. He's a good receiving back who could improve his pass protection. One thing that bothered me was how Jackson stands in the backfield before the snap with his knees pointed inward. I don't know why it bothered me, but I know some scout will consider it a problem. Jackson will surely raise his stock at the combine.

17. Nyheim Hines, North Carolina State Wolfpack
Hines is a fast, quick-twitch back. He could be one of the fastest backs in this class come combine time. On what tape I could find of him, I saw someone who is a Tarik Cohen-type scat back. He can take a run to the house up the middle or on the outside.

18. Phillip Lindsay, Colorado Buffaloes
Lindsay is another small back, but his burst and acceleration are really good. A north-south runner who doesn't make too many direction changes, but when he does, he has the burst and balance to get to the next level. Lindsay is a between-the-tackles grinder who doesn't ever quit moving his feet. He is always there to block, but his size -- he's 5-foot-8 -- limits some of his ability to block some bigger guys. He was really productive in the Pac-12. Lindsay didn't get a combine invite, so we'll have to wait for his pro day to see his times.

19. Bo Scarbrough, Alabama Crimson Tide
Scarbrough is a big, physical back who can run people over. He is not a fast back or someone who has many cuts to his game, but he can be a little shifty and make a guy or two miss. Bo was part of a committee in college, which may have limited his ability to really pop off the stat sheets. It may have also hinted at his inability to be a bell cow back. He could end up as a two-down player.

20. Roc Thomas, Jacksonville State Gamecocks
Thomas has some burst to his game, can find a hole and hit it, doesn't give up easily and always keeps moving his legs. He has good second-level speed but can also make a defender miss with a cut or a spin move. Thomas has decent hands as well and enough burst to create yards after the catch.  


As always, follow me on Twitter: @LeviAndrewFF
Never miss ASL's latest fantasy sports news. Send us an email at newsletter@advancedsportslogic.com and list the sports you are interested in (NFL, NBA, MLB, NHL, EPL) to start receiving ASL's newsletter.