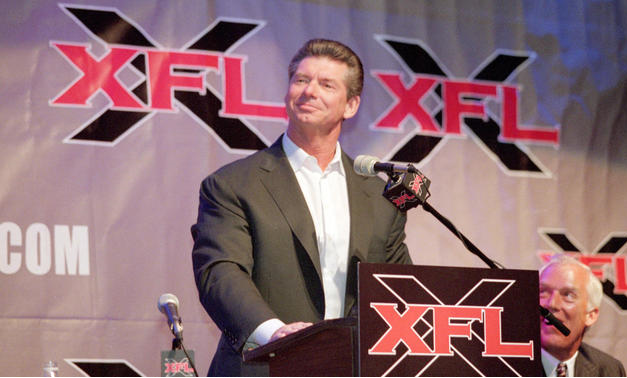 Written by Levi Andrew
16 December 2017
With the reports that Vince McMahon is starting a new, WWE-unattached company called Alpha Entertainment, which will focus on sports, it's fair to wonder if an XFL revival will be upon us soon. An official announcement could come at a Jan. 25 press conference. Regardless, I'm here to take a look at the pros of having a secondary pro football league in America.
A secondary league could potentially have a huge role in building new talent for the NFL. That one receiver or that one running back who has been buried on the depth chart could get released by the NFL and picked up by an XFL team. Or that hidden talent who never got a shot but kept grinding and getting better would have a stage to truly showcase his skills. We fantasy owners and writers could have a whole new game to play and write about during the NFL offseason. 
We could also see an influx of up-and-coming coaches. Assistants who take on big roles with an XFL team might turn that opportunity into a head coaching gig or a high-profile assistant job in the NFL.
There are anywhere from 2,500–3,500 players eligible for NFL Draft each year, but only about 255 get drafted, which equates to 7-10 percent. About another 10-20 percent get picked up as undrafted free agents. But after final cuts, each team keeps only 53 active players and 10 practice squad players, a total of 63. In its lone season of 2001, the XFL fielded eight teams and 530 players across the league.
Those opportunities have the chance to change the life of a man striving to play in the NFL. We all remember "HeHateMe," running back Rod Smart, who went on to play for the Eagles, Panthers and Raiders. There was also Tommy Maddox, who became the Steelers' starting quarterback after being named XFL MVP. He turned into a worthy QB2 in fantasy and led the Black and Gold to the playoffs in 2002. In the end, nearly 40 players on XFL rosters found their way to the NFL.
If the XFL bills its draft like an event as the NFL does, that could be a boon for the hosting city. Of course, McMahon is used to promoting something into the Greatest Show on Earth. Consider that this year's Wrestlemania generated a $181 million impact for the Orlando area. The 2017 NFL Draft brought Philadelphia $94.9 million.
If McMahon does this right and doesn't make the same mistakes from the XFL's first run, when violence and overt sexuality were encouraged, this could be a blessing in disguise. Vince is smart enough to know that his league shouldn't be going up against the NFL; WWE programming already suffers from that with Monday Night Raw losing eyeballs to Monday Night Football.
With an XFL redux, The fantasy community might have fantasy football all year long. The potential financial impact could be huge in my opinion, especially with daily fantasy sites. Jobs will be created on and off the football field. Let's look away from the old XFL and look toward the future at a new spring football league in America. Don't forget that the XFL introduced football viewers back in 2001 to the skycam, which is now omnipresent during NFL broadcasts. What will the league bring us as football fans and fantasy enthusiasts in its possible second life? We will be watching.


As always, follow me on Twitter: @LeviAndrewFF
Never miss ASL's latest fantasy sports news. Send us an email at newsletter@advancedsportslogic.com and list the sports you are interested in (NFL, NBA, MLB, NHL, EPL) to start receiving ASL's newsletter.