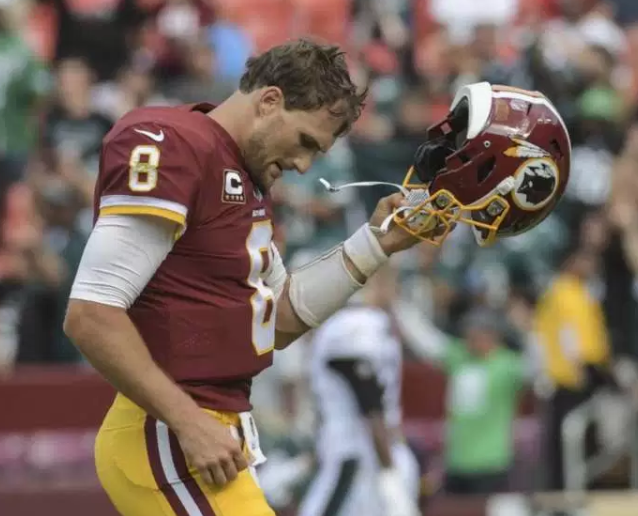 Written by John Adams
07 December 2017
BUST – Kirk Cousins, QB, Washington Redskins
There is no question that Kirk Cousins is a top-tier quarterback in the NFL, but his injury-riddled offensive line has him running for his life on a weekly basis. Despite his patchwork O-line, Cousins has thrown for multiple scores in three straight games. However, Cousins struggled last week against a spotty Cowboys pass defense and things will get much tougher for him this Sunday on the road against the Chargers' pass defense. The Bolts rank third against opposing QBs and have not allowed any QB to throw for multiple scores since Week 5. Couple his failing offensive line with a shutdown defense and it could be a long day for Cousins in Los Angeles.
Test your fantasy football prognostication skills and try to win some money in this $3 Contest on DraftKings.  
BUST – Vernon Davis, TE, Washington Redskins
That depleted Redskins offensive line isn't hurting just Cousins' prospects; it's destroying the fantasy value of Redskins TE Vernon Davis. Davis was a pass-catching machine for a while, but all that has changed. Now, instead of running routes, Davis is staying on the line to block, trying to protect his quarterback. If you can't run routes, you can NOT score fantasy points. Davis had a great couple of months, but as an every-down blocker now, his targets have all but disappeared.
BUST – Leonard Fournette, RB, Jacksonville Jaguars
You won't find Jaguars RB Leonard Fournette on anybody's bust list except right here at ASL. Because of his volume and obvious talent, fantasy experts believe that the rookie is virtually matchup-proof.
Maybe and maybe not.
The reality is the Chargers shut down Fournette during Week 10 and the Cardinals did the same thing to him in Week 12. Take a look at the facts below and you might realize that Fournette is no sure thing coming into Week 14 at home against the Seahawks.
Fact 1: Fournette has scored only one touchdown during his last four games and that came against the dismal Indianapolis Colts.
Fact 2: Fournette has topped 100 yards only once during his last four games and that came against the equally dismal Cleveland Browns.
Fact 3: The Seahawks' run defense has allowed only 2.7 yards per carry to running backs since Week 8.
This should make Fournette's fantasy owners who don't have a first-round bye very nervous coming into Week 14.

Never miss ASL's latest fantasy sports news. Send us an email at newsletter@advancedsportslogic.com and list the sports you are interested in (NFL, NBA, MLB, NHL, EPL) to start receiving ASL's newsletter.