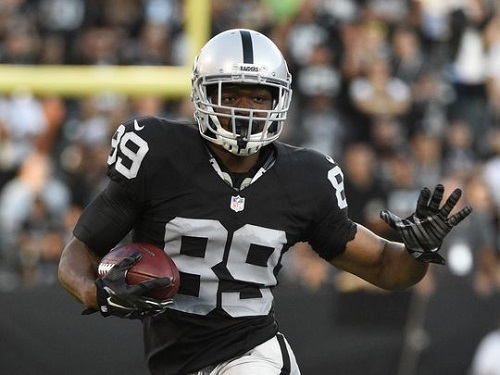 Written by Chad Samuels
24 October 2017
For those who remember the 2014 season, it set the dynasty world on it's ear buy having a lot of instant production at the wide receiver position. If anything, it created more of an instant demand for rookie production. Gone were the days of draft a wide receiver and stash him on your bench for three years to wait for a breakout. While some dynasty owners have these new expectations it is good not to throw the baby out with the bathwater. There is wisdom in the wait three years. WIth these new dynasty expectations it is good to go back and take a look at the top of the 2015 draft and see what data or action plan there may be to capitalize on for the rest of 2017 and moving forward.
Looking at a Rookie Draft
To do this I pulled a dynasty draft from a league I was playing in back in 2015. It drafted in May and gave a good first snapshot of dynasty values. The league is a half point PPR, IDP league. It was a 10 team league that awarded extra picks to the non playoff contenders. For our purposes we will look at the top twelve picks as a majority of dynasty leagues are 12 team. This simulates the average first round of a rookie draft. From there we can do a player study and see what we can learn. The Draft was as follows.
1.1 Amari Cooper
1.2 Todd Gurley
1.3 Melvin Gordon
1.4 Kevin White
1.5 TJ Yeldon
1.6 DeVante Parker
1.7 Duke Johnson
1.8 Dorial Green-Beckham
1.9 Breshard Perriman
1.10 Nelson Agholor
1.11 Ameer Abdullah
2.1 Tevin Coleman
At first glance
David Johnson is notably left out of this group. Keep in mind it was early May when this draft happened and while he was a second round pick, he was from Northern Iowa which is a smaller school. His ADP did rise over the summer but he was a glaring value early that May. Neither Jameis Winston or Marcus Mariota were drafted within the first twelve picks as well. This also is reasonable as quarterbacks have a lower hit rate than the other skill positions. The first lesson to be learned for future drafts is Be aware of small school skill players drafted day two. This is doubly so for running back. Runningback translates easiest into the NFL. If you are sitting at the top of round two with a small school running back drafted in round two of the NFL draft staring you in the face, then take a long had look at drafting him. Small school players usually are not drafted round one in the NFL. So to make it into the round two conversation often they will have to meet the 220 lb threshold and have been very productive in college.There is a reason he was drafted that high in the NFL and it is not to sit on the bench.     
There is a reason to trade into the top three
There is a reason you want to trade into the top three of your rookie drafts. Usually there are two prospects that are a cut better than the others. In this case it was Amari Cooper and Todd Gurley. The top three assures you either one of the two top prospects or the "best of the rest." If round two running backs are not drafted to sit on the bench the first round running backs more so! Melvin Gordon was the right call to take at 1.3. Long term Gordon projected to become a fantasy starter and the ease of RB transition indicates sooner rather than later. Gordon underwhelmed year one but broke out year two and is playing well this season. Trading for draft picks now for teams you believe not to make the playoffs is wise as it gives you a crack at the top three. Even after the season, in many cases,  it is worth paying the premium to get into the top three but if you are not sitting in the top two it is very important to do your research. You are grabbing the player who you think is best in position to perform in the NFL and if you are trading multiple pieces for that player you better be right.
Patience is the key
When you look at this list the only player not on a team is Dorial Green-Beckham. You will also notice he is the only wide receiver not drafted in round one. Hit rates for wide receivers drop dramatically after round one. Be careful of drafting day two wide receivers high. The rest of these picks are playing in the NFL. Duke Johnson and Ameer Abdullah have been in the fantasy mix putting up RBBC numbers for a couple of seasons and look to do so again.Tevin Coleman is regressing this season and Nelson Agholor is enjoying a breakout year after his fantasy value was in the dumpster after last season. There are several players who have depressed values right now. The clock is ticking on them and they will have a season or two at most before their value drops if it hasn't already. It is time to be patient through this season and possibly next on some of these players. If they have high draft pedigree odds are they will receive several chances in the NFL before they wash out. Even Green-Beckham played for a second team (Tennessee and Philadelphia). First round draft picks at wide receiver have roughly a 70% chance of putting up one solid fantasy season. From 2000 to 2014 there were 60 wide receivers drafted in the first round of the NFL draft. 42 of them produced 750 yards or more in their career at least once (70%) and 39 had 60 receptions and at least 800 yards once (65%)  There were six first round WR in 2015 That means four of them should puut of starter numbers for at least one season.
Consider buying these assets as they are distressed
Kevin White- Kevin was drafted number seven overall in the NFL draft. Injuries have sidelined him for the past three seasons. We have yet to see what White can do. Owners should be losing patience with him. He is worth buying quite low and holding as a "what if" sort of play. The Bears also now have a high draft pedigree quarterback. The jury is out on Mitch Trubisky as to whether or not he can be an elite NFL quarterback and we won't know this year with all the injuries to the Bears wide receivers. If we see some flashes of statistics this season we can feel more comfortable moving forward with White. White has some upside left but the risk is high. Growth strategies do not mind the risk, if you can get it at a good price.
DeVante Parker- Parker was six yards shy of hitting the 750 yard benchmark in his rookie season. Parker has missed two weeks with an ankle injury and that may hinder him from meeting the 750 yard benchmark this season. The Dolphins QB situation is not great and that will hamper him as well this season. Matt Moore played well in relief but it is difficult to expect him to continue to do so. Right now opposing defenses do not have any tape of him. After a week or two it is likely teams will figure out how to best limit him. Unfortunately that is when Parker should be returning. Parker will play and produce this season. Odds are he will not achieve his owner's expectations. With Tannehill back under center in 2018 Parker will have another chance to put up a productive season. As a top 15 draft pick he has the pedigree to achieve if his quarterback situation is fixed. If not his pedigree and rookie season assures he will have another chance in the NFL when his rookie contract runs out. If you can get him for a mid to late second round pick or a second and a marginal player he worth making the trade for.  
TJ Yeldon- Yeldon is a longer hold until he produces and is worth acquiring after the season is over. Yeldon is 221 lbs and had 1,000 all purpose yards in his rookie season. He is also barely 24. This year the Jaguars brought in Tom Coughlin who wants a power running game and Yeldon is not the fit the Jaguars want. This is indicated by Yeldon being a healthy scratch from the Jags roster through the beginning of this season.Yeldon's time in Jacksonville is more than likely done. The best case scenario is the Jags trade or cut Yeldon in the offseason and he can find a better fit for a running scheme. If not, then he will not be a free agent in 2019. In deep leagues, Yeldon is a hold or a very cheap buy due to his rookie production. He has the pedigree and the production he should get a second chance in the NFL. Of course, because the football gods love irony, in week seven Leonard Fournette was inactive for the game and Yeldon ran for 122 yards and a touchdown and added two receptions for 15 yards. This is an example of what Yeldon can do if he goes to another team. For the short term, this game increases his value while Fournette is out. Because Yeldon is a longer hold you can wait until the offseason and see if you can acquire him then for less than market value. The idea would be that Fournette comes back into the lineup after the bye and Yeldon goes back to his unproductive ways depressing his value again.  
Look to sell Nelson Agholor plus Devin Funchess
Statistically four first round NFL wide receivers should put up one solid season of production. Some produce more but I am betting Agholor will not produce multiple years. His breakout is relied on Carson Wentz. Wentz has done a good job spreading the ball around and throwing to the open man. Alshon Jeffery though on a 1 year contract is the number one in Philly. He has been drawing the top cornerbacks not Agholor. This means Agholor will either remain a tertiary option in the Eagles offense behind Jeffery and Ertz or he draws the top corner and his production will likely suffer as Wentz looks to spread the ball around to other receivers. It is best to sell him before next season starts and capitalize on his breakout 2017 campaign.
While not a top prospect Funchess is worth discussing as he has had two solid weeks in the beginning of October. Funchess had solid metrics entering the NFL. With it came a position change from tight end to wide receiver. If ever the three year window would be necessary, then it would be Funchess for he had to learn a new position. Cam had a horrible year last year and it affected Funchess' production and growth. Again the 2014 receiving draft class did Funchess no favors as people were becoming accustomed to instant results. The Panthers passing game is in transition with the additions of Curtis Samuel and Christian McCaffrey. It leads me to question whether or not Funchess can sustain his upsurge in production into next year or even sustain it this year. Funchess could be had as a waiver wire pickup earlier this year. If you drafted him it was either round two or round three. Sell him for what you can get. If you only get back what you paid at least you reset the clock. Hopefully you can grow your roster and get a little more than that.   
and Breshad Perriman but...
Perriman might be the odd man out of the 70% statistic. Like White and Parker injuries has derailed him. While the Ravens passed a lot in 2016, they don't really have the elite wide receivers for a prolific passing game and Joe flacco is steady, but not an elite quarterback. Perriman's receiving stats are absolutely abysmal this year. If you can get anything at this point it might be good to just reset the roster spot. You will not get anywhere near first round price tag back at this point. But you can stop the hemorrhaging of value and clear the roster spot for another upside player off the waiver wire. If you have very deep rosters where you can hold a couple of players and still have plenty of starting options,.then you can consider picking up Perriman up for a fourth round draft pick or later. 401K growth strategies is a lot about what you pay for a player. Paying first round capital is not wise for Perriman now, but if you can acquire him for almost nothing and can hold him, then he can be worth the risk to see if he is the long shot breaks in your favor. This is because growth strategies want to reduce risk as much as possible while adding upside. A sole fourth round rookie pick is not very likely to hit for your team. Time is running out on Perriman but he still has first round NFL pedigree and just a little more upside if you have deep rosters to stash him.
(Duke) Johnson, Abdullah and Coleman are holds
The workhorse running back is coming back in the NFL but these three are not a part of that equation. They can be productive in a committee and you can start them as needed. Unfortunately, when committee backs are drafted so high, it is very difficult to get a first round draft pick back or to turn a profit. So you need to ride them. The other possibility is if you can package them to get into the top three of your rookie draft. There the odds are in your favor to get a core asset and would be worth moving these players after buying them so high.If you can shoot for the moon and get a deal done for one do so. Otherwise ride them out and sprinkle them into your starting lineup as needed.
Phillip Dorsett Did not make the top 12
Draft pedigree is good. However a little critical thinking needs to be added when you look at pedigree. Dorsett was drafted to the Colts.  If Luck was healthy, The Colts passing offense could support two top wide receivers. Realistically, Dorsett was drafted to replace either TY Hilton or Donte Moncrief. Neither happened. So Dorsett got his second chance with the Patriots. Even with Julian Edelman out with a season long injury, The Pats have a lot of depth at the wide receiver position. They may not be elite talents, but they are talented enough. With an aging Tom Brady, the short and long term prospects for Dorsett appear to be he will miss the 70% benchmark. Two 2015 wide receivers are anticipated to fail. With four receptions through seven games, he is well on track to be penciled in as one of the failures. Dorsett is a roster clogger that you can drop if you need the roster space. If he gets a third chance in the NFL you can evaluate him again in that new light.