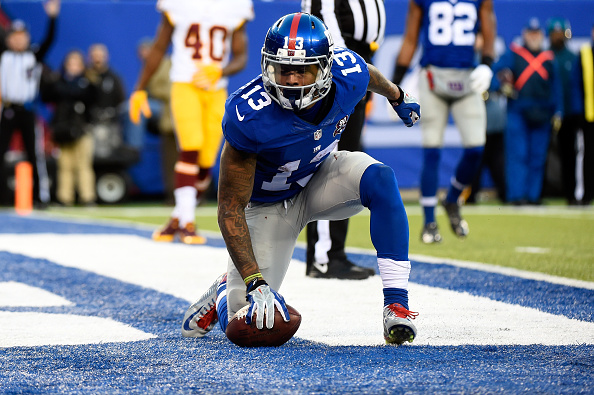 Written by Chad Samuels
10 October 2017
Before we get started this week, it is good to note that a major injury happened on Sunday. Odell Beckham Jr. was carted off the field and he is done for the season. Last week, this column talked about waiting to make trades due to injuries, this was exactly the sort of concept that was being discussed. I dislike seeing anybody hurt and hope Odell heals quickly. Still, fantasy football continues and if there is a chance for a team to capitalize on the injury, then it should. Trading for Beckham is a possibility but there is a narrow window to get a discount. The team needs to be short on depth but still in the playoff hunt. Even then I would expect owners to hold onto him unless they are absolutely desperate. An injury discount if any would be low. If you are able to make a trade the pieces you would have to give up would cause most teams to make a decision to play for 2018. Your best bet is to trade from the depth you have on your roster at WR, but not to target Beckham. Your target would be their draft picks. Target their first or second round picks and if you have to throw in some of your own to get them do so. Finally, get a late round pick thrown in to finish the deal in negotiation. In this situation you are taking advantage of an unfortunate injury. If you are going to do this, then you need to do it rapidly. In a couple of weeks the owner in question could have fallen out of contention or have come up with a solution to their Beckham injury. This is the exception to the rule about making a trades early in the season.
WIth the loss of a player like Odell Beckham it can be difficult to figure out what player to start in his place. Sometimes we have several players to choose from that are similar to each other. Unfortunately, deciding who to start and who to sit is not a science. There is no formula you can  plug the data into and come up with the correct answer. Most leagues give a projected points for each player, but they are unreliable. Others will give matchup information. MFL gives where teams are ranked on defense versus the run and the pass. This information does not give an owner a snapshot of a defense's vulnerabilities. There is one set of data to consider for the close call matchup decisions. It is the vegas line.
Before you can use the data, you need to understand what the Vegas line is and is not. The Vegas line is not gambling gurus best guess at who will win and by how much or how many total points a game will score. Vegas books first and only goal is to make money. They assure this by making the odds such that there is as even amount of betting on each side. So when we look at the Vegas lines  we are seeing Vegas' best guess to get an informed and an uninformed public to evenly bet on the game.
When you use a Vegas line to help make your decisions it should not be used as a be all and end all but provide a snapshot of how people think the game is going to play out. It is a different way to measure consensus on if there will be a lot of scoring,  who will win and if it will be close. Despite anything the Vegas line suggests about the matchup, you should be starting your stud players. There is a reason you drafted them. Vegas lines should not deter you from starting them. Vegas lines are a consideration when you are deciding between two ancillary pieces that have a chance to do well. It is not perfect, because the public is not perfect. But if you look for the betting lines that are skewed in one way or another you can make a reasonable assumption that the game will tend that way.
First, when we look at the Vegas lines we want to look at several of them for each game. Most lines are similar to each other but some lines here and there do have significantly different odds. ESPN has a daily Vegas line page. It has several different books listed and if you look at them as a whole you can get a feel for what the line for a particular game is. When you look at the game lines you are looking for the over/under for total points and then who Vegas is giving the points to to win. The total points tells you which games are going to have a lot of scoring and some that should be low scoring.The higher the total the better and the lower the total the worse. The teams that are giving the points or have the negative number are the team the public thinks is most likely to win. The amount of points they give indicates how big the team is believed to win by.
Finally when looking at the Vegas odds list the teams according to the over under from highest to lowest. Then in the top three to five games listed look for the teams that are giving more than three points . I actually write the number of points over and under on a paper and then list teams on the line to help give a visual of where the games are. I then mark the teams giving the most points. When I did this process for this week this is what I got
54 Patriots -Buccaneers
53
52 Packers - Cowboys  
48
47 Seahawks - Rams
46
45 Chiefs - Texans       Chargers - Giants      Cardinals - Eagles
44 49ers - Colts
43
42 Panthers - Lions
41 Jets - Browns     Titans - Dolphins     Jaguars - Steelers
40 Ravens - Raiders       Vikings - Bears
39 Bills - Bengals
38
37
36
35
The Patriots were the team to target. If I extended looking at games to the top six because the next cluster of three is at 45  the Eagles fit the criteria to look at as well.  The Patriots game faired rather well in PPR leagues. Danny Amendola and Chris Hogan scored 15 points each and James White Scored 12 points. While not great, if you just needed any running back due to byes Dion Lewis provided 8 points and MIke Gillislee earned 5. Given that the Patriots backfield is often one to avoid, this was not that bad of a spread, Tom Brady is a stud and a must start already. While not what we're used to 303 yards and a touchdown with a pick still is productive. It's not great but serviceable.
While not an elite option yet, Carson Wentz played like one amassing 301 yards and four touchdowns. He scored 29 fantasy points with standard QB scoring.  The ancillary pieces in the Eagles passing game did well with Nelson Agholor earning 19 fantasy points in PPR and Tory Smith scoring 16 points. Zach Ertz is becoming an elite option at TE and put up 18 fantasy points on his own. Legarrette Blount filled in decent  for Wendell Smallwood  with seven fantasy points. Alshon Jeffery was the only player to disappoint with six fantasy points  It was anticipated that he would draw a tough matchup playing opposite Patrick Peterson. The Eagles result of top wide receiver not having a great game but the ancillary targets would was a reasonable conclusion.
Green Bay vs Dallas and Seattle vs LA were two other high scoring matchups according to Vegas. The point spread was lower between the two teams. The games would be closer and less likely for several ancillary players to put up starter numbers. Knowing Dallas has had trouble on defense this season made all Packers solid plays for the week. Meanwhile knowing Seattle has a top defense and offensive line woes, causes us to hit the pause button on the non stud options on both the Seahawks and the Rams. The Packers Cowboys game did not disappoint in scoring and the Seahawks vs Rams did underwhelm. Which were reasonable outcomes if not exactly what the Vegas line predicted for Seahawks-Rams.  
Looking at the Vegas line did help with the two games originally targeted. It will not always work out as good as it did this week. It is dependant on the public and how they bet. Because of this, do not use the Vegas lines as hard data. They do help provide a clue of who to start for the week. If you are in one or two leagues, the Vegas line may not be as helpful because of the limited number of players on your rosters.  With three or more leagues, it does become more useful and worth adding to your arsenal of tools to select starters. This is especially true during the bye week gauntlet we are now facing.