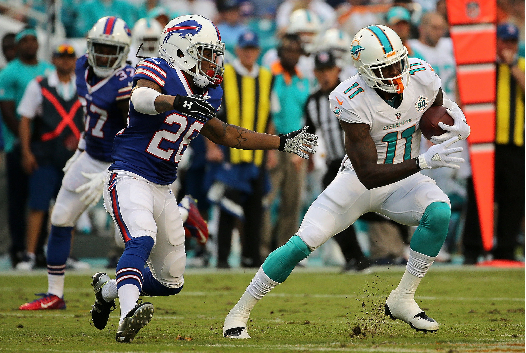 Written by Levi Andrew
31 August 2017
We have 1 week until the regular season starts. Here's my advice regarding where to draft DeVante Parker before the season starts. As always please subscribe to ASL's newsletter for the latest news and articles like this.
Parker was drafted in the 1st round in 2015 to be Miami's offensive focal point. Since then he hasn't done much to live up to his draft pedigree.
It might be the quarterback play from Ryan Tannehill, or it could be his attitude towards the game. Coach Adam Gase has called him out several times over the course of the year, Coach might have got to Parker and he did some maturing in the offseason and he's finally taking it seriously. The Dolphins OC Clyde Christensen and other Miami coaches say that they expect Parker to have a "gigantic season", that he can finally develop into a "dominant threat". Parker even came out and said himself that he expects to have a "big season".
Then Ryan Tannehill went down the first week of August with an ACL tear. The Dolphins were left with Matt Moore to take over at quarterback. Till Coach Gase made a phone call to Jay Cutler and got him to unretire. Jay Cutler brings familiarity to Gase and his system, it also brings great news for Parker too.
Believe it or not, Cutler should turn Parker into the fantasy stud we've all been waiting for. After the first preseason game Cutler and Parker played in together, Cutler came out and said that Parker is "a faster Alshon", which is good news. Jay Cutler likes to throw to wide receivers that are over 6 feet tall. Alshon Jeffery 6'3", Brandon Marshall 6'4", Marquess Wilson 6'3", Johnny Knox 6'1", the exception would be in 2009 when he had Devin Hester 5'11, Earl Bennett 5'11" as his top targeted wide receivers. Parker is 6'3" 220lbs, the perfect size Cutler loves as his primary target. The other wide receviers for the Dolphins are Jarvis Landry is 5'11" and Kenny Stills is 6'0".
In the Dolphins second preseason game, first preseason game with Cutler at quarterback, Parker was targeted 4 times and came down with 1 catch for 16 yards. In the 3rd preseason came Parker was targeted 3 times but came down 2 catches for 78 yards, one catch did go for 72 yards.
In 2015 when Adam Gase was Jay Cutler's Offensive Coordinator in Chicago, Alshon Jeffery was targeted 94 times in 9 games. That's 10.4 targets per game. If Jeffery had played all 16 games on that pace he would have finished with somewhere around 150-160 targets. If Parker gets that treatment from Coach Gase and Cutler in 2017, there will be no denying his high upside that could lead to him being a high end WR2.
The only thing hurting any breakout potential Parker has would be the coaches deciding to ride Jay Ajayi during games. I'm not a fan of Ajayi, I think he will breakdown if they ride him to hard. Leading to Jay Cutler having to throw more. When Jay cutler is throwing he likes to lock on to one guy, that guy will be Parker.
Parker's ADP is currently at 78.0, in the 7th round you are drafting a WR that will breakout and become a high end WR2, borderline WR1 territory. Start targeting Parker in your drafts, don't over pay for him but don't let someone snipe you on this pick. You'll regret it come Week 6, when parker is balling it up. I currently have him ranked at WR22. That will be changing when I do my update.
As always follow me on twitter @LeviAndrewFF