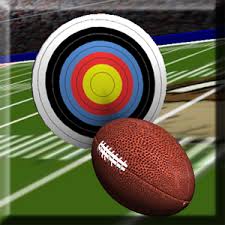 Written by Chad Samuels
10 August 2017
Previous weeks we talked about players to draft in rounds one, two, and three. I also discussed players who are land mines at their ADP and worth avoiding. This week we will finish the series with players to target round four or later in your rookie drafts. As with round three ADP is not a concern. If you have a player you like, you draft them. You do not try to play games with ADP because players can go off the board at any time. Round four and later normally have very little chance of being a long term success. These players you are hoping to catch a flash in the pan and then immediately sell for a profit. If your rookie draft is early and your round four draft pick is getting a lot of hype. SELL, SELL, SELL! There is a reason they lasted until then in your rookie draft and eventually it should lift it's ugly head. Finally, this late in a rookie draft almost every player will have a boom-bust label. What you want to do is try to target the player that if he hits, then he will have a major upswing in value. It's like the power hitters in baseball today. Odds are you will strike out. But if you get a hit it will be a home run. Here are four players you can look at targeting in the fourth round or later.
Ishmael Zamora - QB, Oakland Raiders: If you don't like retired quarterback Michael Vick then you will not like Zamora. He has off field concerns and it comes from a video of him abusing his dog. He was charged and just took the penalty. This kept him from an invite to the NFL combine and eventually he went undrafted. Zamora has size at 6'3" and 224 lbs. He also has 4.54 speed. He has the metric profile and college production that if he hits in the NFL he could put solid numbers for a wide receiver. Zamora is on a roster that contains receivers Michael Crabtree and Amari Cooper. He is road blocked for 2017 but Crabtree is on a very cuttable contract for 2018. With Amari Cooper in Oakland he will not be the WR1. There is a slim story you can tell that Zamora takes Crabtree's spot. Remember it's round four of your rookie draft. These scenarios are unlikely to happen but they are there. What makes him appealing is that if he hits, he has the potential to hit big. He also should resolve his situation early. As an UDFA his ability to make the roster is low. The Raiders commitment to him is small. If he is cut you can quickly cut ties with him and use your roster spot he held for a FA pickup.   
DeShone Kizer - QB, Cleveland Browns: I am on the record of not really liking this year's class of quarterbacks. I still think a team should wait until 2018 to draft one. I can not deny that DeShone Kizer is a value when the top three quarterbacks are off the board. I doubt Kizer will be a stat monster but Kizer has upside to start in the NFL. The Browns are building weapons around him with WR Braylon Edwards and TE David Njoku. The Browns won't be sexy on offense but they will be better in 17 and beyond.If you need a starter Kizer will not help you much short term. If you need a backup in dynasty he is far more affordable than the big three to get you through a season and reassess in 18.  Keep in mind unless your league starts two quarterbacks Kizer's trade value will be nonexistent.
Tarik Cohen - RB, Chicago Bears: Running back targets are the sweet spot this late in the rookie draft. The position in the NFL is volatile. Injuries happen all the time. Players rise and fall in depth charts as coaches ride the hot hand or players lose their role for a multiple different reasons.  Honestly I don't like Cohen's size. He is too light for my preference. The upside is he can cut on a dime. The man is nicknamed "The Human Joystick." He could win third down duties. After Jordan Howard  there is not a lot of draft pedigree on the Bears roster at running back. Jeremy Langford is about it and he is a fourth round draft pick as well. The potential story for touches is reasonable for Cohen. He earns third down duties for his abilities in the passing game. Howard gets hurt. He misses a few weeks. Cohen sees an increase in touches as he splits time with Langford. It is this spot that you sell Cohen in a package deal for a profit.       

KD Cannon - WR, Los Angeles Rams: Usually running back is a place where you want to gamble late. TJ Logan was that guy but he recently suffered a wrist injury that put him on IR with the ability to be called up after week eight. Given his day three draft status that may not be likely. Logan is undraftable at the moment. If your league is shallow (10 team) and the previous targets are gone you might want to try moving your pick for a future rookie pick. Otherwise take a next up philosophy for a hail mary selection. That is exactly what KD Cannon is. He is a receiver who can take the top off of a defense and had a 4.41 second 40 yard dash at the combine. I liked his chances when he was a 49er but those days were long gone when he was cut May 7th. He is an UDFA who was already cut by the 49ers and the Jets. He now lands with the Rams. There is space for the Rams to add a deep threat. Michael Thomas recently had a 4 game suspension for PEDs and Cannon if he works hard could take his spot. The Rams have a ton of potential and we do not know how it all will shake down. We do know Sean McVay's system works in the NFL so Cannon is worth a roster spot to see what happens if he makes the team. Keep in mind even the hapless Jets cut him. This signals that he is a very low percentage play to pan out and he will be one of the first players to cut when you need roster space. If he is cut by the Rams, then Cannon is all but undraftable. He is  worth a roster spot only in the deepest of leagues.