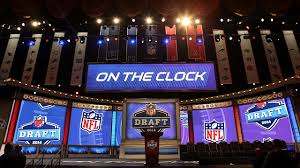 Written by Daniel Brown
03 August 2017
Draft strategy in fantasy football is much like cooking a turkey at Thanksgiving – everybody has their own theory on the best way to do it, but at the end of the day, we are just looking for a great product we can be proud to show off (or discuss in the case of our fantasy football teams). Every fantasy football player has heard and likely shared a story of their draft-day successes and failures, the reaches and the bargains. It's what we do!
Today, I am going to run you through my strategy for a 10-team PPR league draft to help you prepare for yours – especially if you have never cooked a turkey, uh, I mean, played fantasy football before.
Round 1 - Draft a RB or WR: Seems obvious right. In the past there have been many who have suggested a no RB strategy in the first 3-4 rounds, instead snapping up talented wide receivers. The main reason I like to go against this strategy, especially in PPR, is that I think RB is a relatively thin position with so many teams moving to running back by committee (RBCC) and the injuries that seem to hit the RB position. Whereas I think the WR position is very deep and you can find talent much later on that is a viable week to week play (see rounds 5-8 below) versus a RB. The other thing that is important to consider is your draft position. If you are drafting early you will probably have your choice of top RBs, like David Johnson, Le'Veon Bell or Ezekiel Elliott. However, if you are in a mid-round position, it might make more sense to target the top WRs, such as Antonio Brown, Julio  Jones, Odell Beckham Jr. or Mike Evans. If you are at the back-end of the first round you get the "luxury" of picks close together and you will be able to make a choice of which position to take first – ideally best available RB or WR.
Round 2 - Draft an RB or WR: If you took an RB in the 1st round, this is where you should look at WR and visa versa if you went WR in the 1st. The main change to this strategy would be if a highly rated player falls to you here, especially if it is a 2nd RB (as indicated above the depth at WR compared to RB). If you end up with two RBs by the end of this round, you will need to look at the WR position in the 3rd and 4th round.
Round 3 - Draft an RB or WR: It would be tempting to take a top QB or TE here, a Rob Gronkowski, or Aaron Rodgers or Tom Brady. Chances are that these players are not available as someone tends to reach for these players, which is possibly how you ended up with 2 quality running backs. If they are available, it's worth consideration. However, if you don't take them or they aren't available, then going with the position you neglected in rounds 1 and 2, will be the selection here.
Round 4 - Draft an RB or WR: Here again you will need to consider what you are missing. If you have two RBs and one WR then you will want to take a WR here. If you have two WR and an RB then you probably will want an RB, given the lack of depth in that position.
Round 5 - Look at your best player available list: This is where you need to consider the best available player. You also need to consider what likely draft picks others will make here based on what their needs are. You are looking for the run on QB or TE. You can live with missing the top few at each of these positions, but you don't want to be left with the 3rd tier of players here – serviceable but not reliable – think Joe Flacco or Alex Smith – so if there is a run you may need to consider grabbing one of the players that is at the middle to end of the second tier, however if there is no run on those positions and you have a WR or RB ranked higher than these groups of players (ie look down your list to see how many QB or TE would need to be selected for you to miss the second tier, and any RB or WR that is higher than those players is in play here).
Round 6 - Look at your best player available list: The same strategy applies here in round 6 as it did in round 5. You are looking to avoid getting caught out by 5 or 6 selections of a QB or TE that could leave you scrambling to find useful players in the coming rounds. If this happens to you and you are at the back end of the round, then it is a good time to jump on a highly rated player from the position not being a run - ie if 5 QBs are taken, then you look at a top tier TE that might still be available and visa versa.
Round 7 - Draft a RB, WR or TE: This round is very similar to the previous two in that you are again trying to pre-empt the run on QB or TE. There are plenty of good options at both positions and if you have managed to draft multiple RB and WR, then it is a good time to consider a TE here. You will need to pick a TE or QB in either round 7 or 8 depending on how many have already been selected (more selections, more urgency to consider picking one). Try not to reach though, if the 2nd tier players end up being taken and you missed out, you should continue to build the core of your team with WR or RB paying particular attention at this point to the bye week UNLESS a player you love has been missed until now. Again remember that there are plenty of useful WR that can be selected later, and more often than not a RB that went undrafted ends up being a hot waiver wire commodity in the early weeks. The same can't generally be said for TE and QB.
Round 8 - Look at QBs and TEs: Rounds 8 and 9 are the rounds to be looking for value at the QB or TE position. If you haven't drafted a QB or TE at this point then you should be looking at one here – the highest rated one on your list. Again the theory here is to not reach for those mid-level guys. Every draft is different because people have different strategies (think about the turkey cooking from earlier), and so you need to be a little flexible, but don't panic, unless you are in a league where there has been a huge run on QB or TE and you are left with fairly poor options (fantasy wise) then you will need to grab one here and hope that the inconsistency you expect can be balanced out by a selection in a later round.
Round 9 - Look at QBs and TEs: You probably have one of either of these on your roster at this point, and now is the time to look for the one you might be missing (have a TE then get a QB, have a QB then look at TE). The key to these middle rounds is to continue to look at the depth of each position. If one is severely depleted then you need to make that a priority for your draft, possibly selecting two that might be in the similar situation – Alex Smith or Joe Flacco would be some examples here for your QB tandem, that while not brilliant is serviceable … as long as you pick the right QB on the right week!
Rounds 10 – 13 - Best Available (QB, RB, WR, TE): By now you probably have a pretty decent starting line up and probably a couple of bench spots. Remember that bench spots are limited, so you don't want to have seven RBs and only four WRs on your roster. By the end you will want to have 2 QBs, 4-6 RBs, 4-6 WRs, 2-3 TEs, 1-2 DEF and 1-2 K. The exact make up will depend on what you did in the early rounds, and what players are left over towards the end of these rounds. A top tier defense or kicker is helpful due to the expected consistency, however the difference in points between the top tier and the middle tier is negligible. For example, last year, Matt Bryant and Justin Tucker had 176 and 174 points respectively before a big drop off to 3rd with 145 points, and it was a further 11 kickers within 10 points of that. On the defensive side the spread was a little more noticeable, however the top 10 defenses all scored solid points and it comes down to which team ends up with defensive TDs which is always hard to estimate. Leaving the kicker and defense to the last 2 rounds is usually a good strategy, unless you have a strong feeling about a particular selection, in which case you can reach a little during these rounds knowing that you can still grab a sleeper/flier in the last couple of rounds.
Round 14 - Draft the best defense or kicker on the board: Look for the best available, but pay close attention to your draft position with regards to the kickers – if you are early and none have come off the board, then grab the top one, if you are late and kickers have been flying off the board, then you should look at defense here and grab a kicker in the last round..
Round 15 - Draft the best defense or kicker on the board: This is usually where the kickers go, with the exception of the top 2-3 who likely are grabbed in an earlier round. The option you have is to draft a kicker, or take a chance on a second defense and "stream" a kicker during the season. It's risky, but in a 10-team league, there is a pretty decent chance that a kicker will be on the waiver wire.
Good luck with the drafting, and remember to keep a close eye on injury reports leading up to the day of your draft. This week alone we have seen a lot of injuries and expect to see plenty more over the coming weeks as the football season starts to get underway.