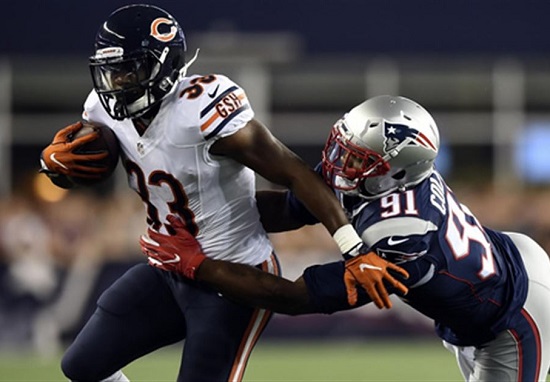 When it comes to fantasy football, a lot of people go for big name players that have produced in the past, especially running backs, who tend to give players the most points. While the strategy works most of the time, there are other ways to be successful in fantasy football if you are willing to spend some time doing research. You will also be able to figure out how sports betting odds affect fantasy football.
As mentioned above, fantasy players have gone with running backs like Adrian Peterson as their top pick especially after he ran for over 2,000 yards in 2014. The next year, Peterson produced a lot of fantasy points, but didn't achieve the same numbers as the previous season. 
An alternative to using your top pick in the fantasy draft on a big name player is finding value picks. For example, last season, Chicago Bears' running back Jeremy Langford was the 20th rated running back, which means he went undrafted in most leagues or was picked up when someone's running back had an early bye week.
At 20th, Langford was rated higher than fellow Bears running back Jordan Howard, a rookie that was behind Langford on the depth chart. However, Howard started 13 games and finished the season as the second leading rusher in the league with 1,313 rushing yards.
Some people might argue that it was impossible to know Howard would have a breakout rookie campaign, but if you have been playing fantasy sports for a while, you would know there are other factors to consider.
One of those factors was the fact that the Bears not only had one of the easiest schedules in the NFL, the team also suffered from poor quarterback play and was forced to run the ball a lot more. Even if you didn't have Howard on your team at the start of the season, you should have picked him up after his first 100-yard rushing game.
Even if it's difficult to predict how a rookie will perform, you can also use your opponents' stats to tweak your starting lineup.
Using the Bears as an example again, last season, they had the worst rushing defense in the league. Against the Green Bay Packers, wide receiver turned running back Ty Montgomery rushed for 162 yards and 2 touchdowns, which was his only 100 yard rushing game of the season.
While it is impossible to determine how well a player will perform, you should always try to take advantage when you have a favorable matchup.
Even when you are going against a tough rushing defense, you can still amass plenty of fantasy points with a running back that is used specifically at the goal line. Two good examples are LeGarrette Blount of the New England Patriots, who led the league in rushing touchdowns last year, and David Johnson of the Arizona Cardinals, who led the league with 20 combined rushing and receiving touchdowns.
Blount wasn't a top rated player, but was a big fantasy stud because of how he was used by the Patriots. Johnson showed flashes of what he could do when he filled in for an injured Chris Johnson in 2015. Last year, he became the top rated fantasy player because he was a rushing and receiving threat. Johnson's 80 receptions were the most of any running back last year.
There are plenty of other ways to get value for your buck in fantasy football, but you have to be willing to do the research and figure out which favorable matchups you can take advantage of.