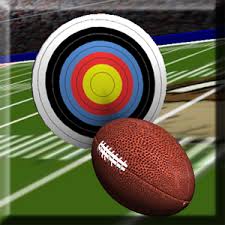 Written by Chad Samuels
27 July 2017
This Series will continue next week with fourth round rookies to target. Since this week is the who won't you draft article at ASL, this week to stay in theme we will cover who to avoid in your rookie drafts. Once the third round arrives ADP is out the window and the players you select will have low odds to hit. There is little reason to have an avoid list so we will focus on the first two rounds.
First Round
Samaje Perine- Perine's draft status is fueled by being drafted by the Washington Redskins. At 233 lbs he is a running back that is on my radar. The problem is he does not have draft pedigree. He was drafted in the fourth round. This means that is he does perform NFL teams will be quick to move on from him to another option. He also did not show much receiving production in college and with Chris Thompson on roster he should see little work on third downs. I like Samaje as a 2nd round draft target. His ADP is 1.9. And if someone falls in love with him he is going higher in your rookie draft. If he slips to the 2nd round go ahead and draft him but the price tag is too high to draft him at ADP.
OJ Howard- Howard was a five star recruit to Alabama. He never really lived up to that recruit status in receiving production. As a senior he caught 45 balls for 595 yards and 3 touchdowns. He is a prototypical TE with college production that is lagging. One thing to always keep in mind is the average tight end in dynasty is a prototype first round pick in the NFL. So Howard, a prototype TE is an average dynasty TE. He also will be in a Buccaneers offense that includes Mike Evans and DeSean Jackson. It takes some time for rookie TE to develop. Because of this I do not see Howard developing into a top option at TE that is worth the first round investment in him. If you want a TE in the first round stick with either Evan Engram or David Njoku.
John Ross- John Ross is fast. He broke Chris Johnson's 40 yard dash record at the NFL combine. He ran a 4.22 second forty. But he is also 188 lbs. He lost 2015 to a knee injury. He also had shoulder surgery this offseason so his durability is a concern. The Bengals drafted him at number nine overall and that is great for his draft profile. He will however will be a second option for the Bengals for as long as AJ Green decides to play.  It is hard to justify Ross as a first round rookie pick because of these factors. He is very risky. But he is an excellent low hanging fruit for the second round. I prefer Juju SMith-Schuster but if you have a chance of getting both wide receivers by drafting Ross first, then do so. Just be careful Ross has several red flags that suggests his value is going to slip.
2nd Round
Joe Williams- It is astonishing how fast Joe WIlliams dynasty stock has risen. Joe was projected to be a 6th or 7th round draft prospect. He did not rank as a recruit entering college in a position where recruiting often gives us a glimpse into longevity in the NFL. He is of middling size at 210 lbs and was retired and out of football in early 2016 only to join Utah again after injuries struck the team. After being drafted in round four and a story circulating that 49ers head coach Kyle Shanahan pounded the table for him his draft stock has skyrocketed. Williams has a rookie ADP of 15 in rookie drafts. Williams is a feel good story, and a Shanahan picking him is a good sign with fellow running back Carlos Hyde in the doghouse. He is still a day three prospect and his odds are hitting are still low. Even if he does hit he could have difficulty sustaining the success. Carlos Hyde is talented and the 49ers also acquired Tim HIghtower. Neither Hyde or Hightower will go away without competition. This suggests Joe Williams path to fantasy production is not a clear one. Williams should be a flip player and at his ADP you will at best be able to flip him for his current market value. Which does not help your roster.      
Deshaun Watson- Of this year's quarterbacks I do like Deshaun Watson to be productive. He has the intangibles to be a winner in the NFL. Like Cowboys QB Dak Prescott, he has a team around him that will help him produce early once he wins the starting job. The NFL need for a franchise QB vaulted him to the number 12 selection. He was also the third quarterback selected in the NFL draft. Scouts did not have any of these three quarterbacks graded as top of the first round players. Charlie Campbell has Watson with a third round grade. NFL.com had Watson with a late first early second round grade. This is a cause of concern and suggests to me you want to limit your risk on Watson. If he is there in the early third round go ahead and draft him. ADP suggests he will not be there.. According to real drafts on MFL.com Watson is going 16 overall or at 2.4 in a 12 team league. At this price point let him pass and grab a quarterback in 2017.  
Chris Godwin- I admit growing up and living in eastern PA I am a Penn State fan. I want to root for wide receiver Chris Godwin but I just can't put my endorsement behind him. Godwin has a 4.42 second 40 yard dash. He is competitive with solid ball skills. However he landed with the Tampa Bay Buccaneers. Tampa also added solid veteran DeSean Jackson in free agency. They also drafted tight end OJ Howard in the first round. Mike Evans is also on roster and Cameron Brate has shown he is capable for the short term outlook at tight end. Jameis WInston is a quarterback that has proven himself to be a 4,000 yard passer. There is a lot of production to spread around but there are many ways to split that production. Yes the talent of the dynasty player is what you should look at when drafting a rookie more than where he lands. But it should  not be ignored either. In this case though it is hard to imagine a lot of early production with Evans and Jackson ahead of him.  Godwin's ADP is 24 or 2.12 in rookie only drafts.  I would not be surprised that after 2017 Godwin's value slips for the new shiny toy and you can acquire him for cheaper than his 2.12 ADP if you want him next year.