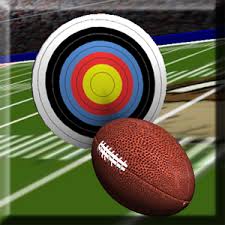 Written by Chad Samuels
20 July 2017
The third round of a rookie draft is a different beast than rounds one and two. Round one you are looking for the clear cut values and players that will develop into the core assets of your dynasty roster. Round two you are trying pick clean any low hanging fruit of value left behind from round one. You are also trying to grab the highest percentage plays of players that will see a rise in value so you can sell them for a gain. Starting with in the third round things take on a Las Vegas feel to them. The odds of hitting on a player is lower. When you do hit you are now playing with house money. If you stay in the casino (keep the player) and continue to gamble against the odds, you will lose all your winnings or roster value gains.
Average Draft position is not much of a guide for the third round. By this point in the draft if an owner likes a player he is going to take him, if it is reasonable to do so. So your strategy instead of navigating the draft board is to move ahead of ADP and get "your guys." When you trade up trade at a reasonable price. If you take the player five to seven spots higher than ADP that is OK you still got your target  and that is what matters. You will want to flip these players. I like to amass picks in the third round and if possible move myself to the 3.1 position. This allows me to pick up "my guy" when it comes low percentage hits. Again the key here is cost if you acquire picks at a reasonable price you can turn around and sell them for a profit. The goal is to turn these 3rd round picks into future second round picks or better.  Below are some of "my guys" for the third round rookie drafts.
James Connor- We all like feel good stories and James Connor beating cancer to play football is certainly one of them. This is not why he is on the list though. He is on the list because he was drafted day two and is 233 lbs. His 4.65 second forty yard dash makes him a good enough athlete that if he is given the early down role he should be able to keep it through the season and on most teams keep it.  Unfortunately, he landed on the Pittsburgh Steelers. They have Le'Veon Bell. Bell is productive and a road block for the near future. We can feel good with Connor's talent. The Steelers are known to take the best talent on the board. In 2008 the Steelers drafted RB Rashard Mendenhall while they had Pro Bowl RB Willie Parker on roster. What makes Connor interesting is his path to starting. FIrst is the standard Bell gets hurt. It is possible because Bell has lost time before due to injury. Bell already has a four game suspension for violating the drug policy of the NFL. Another suspension is not unreasonable. Finally Bell has the franchise tag placed on him. There currently is no long term deal. While it is not likely there still is a narrow path for COnnor to start from either a holdout or the Steelers see enough development in Connor that after the season the Steelers choose to let Bell leave their team and use the cheaper option at running back. There are a lot of ways for Connor to become the starter. The good news is Connor's ADP is steady at 2.12 or 24 overall. This means in some leagues he should be available in the third round. If you have the roster spot to hold him for a season or two he is an excellent pick up in the early third round.   
Adam Shaheen- In all my leagues this year, Shaheen has been "my guy." I have drafted him as high as 3.1 rookie although his ADP is 35 overall or 3.11 in 12 team rookie drafts. Unlike the other offensive players on this list, Shaheen is a draft and hold player to develop for your own roster. There is not much trade market for anything but the most elite or perceived elite TE. Shaheen was drafted in the second round by the Bears and the second round tag should normally be enough to disqualify taking a TE in rookie drafts. Shaheen is from Ashland and that breaks the rules. Being from a small school limits his exposure and at the same time whenever a small school player gets drafted before day three you have to take a look at the prospect a little closer and not outright dismiss him outright. Shaheen is 6' 6" and 278 lbs.  He was a good enough receiver that his coach moved him around the field. He also is athletic with a 4.79 second forty yard dash and a 7.09 3 cone drill. To put this in perspective he is a tenth of a second slower than James Connor and forty-four pounds heavier. He is athletic for his size. He is also a better receiver than blocker. Shaheen may not develop into a top 5 TE. He does have the potential to develop into a red zone machine. If he develops into a top 15 TE for two or more seasons he more, Then he will more than justify his third round cost.     
Elijah Hood- Hood is another 230+ running back. His 4.64 and 4.65 second forty yard dash times at his pro day is just a slight amount better than James Connor. Hood is  athletic enough to be a running back. With RB Marshawn Lynch unretiring and becoming a Raider this offseason Hood will not win the starting job out of training camp. Remember though Hood is a 4 star recruit according to 24/7 sports. Recruiting score seems to be an indicator for success in the NFL with running backs more than the other skill positions. If nothing else high recruits seem to get more chances with NFL teams. Hood also has a path to starting. Hood has the size and frame to become the main backup to Lynch. Lynch is 31 at the start of the season. His body will take longer to recover from dings and is a greater risk of injury. Thirty-One is also an age where his skill set should start to erode and it also is not out of the realm of possibility that Marshawn plays a season and retires again. Hood's ADP is 44 or 4.8 in a 12 team league on MFL . You can play cute and wait until the fourth round to draft him. Why risk it. If the other targets are gone in the third round  take him and flip him when there is an uptick in value mid season.    
For IDP players
I do not claim to be an expert in IDP.  But I do play in IDP leagues and have an idea of what is going on. If you are in an IDP league with  decent rewards for tackles Safety Jamal Adams has an IDP of 26 or 3.2 in IDP leagues on MFL. He is worth the roster spot at DB. Reuben Foster is a linebacker that has an IDP of 22 overall or 2.10. He is also going behind fellow LB Jarrad Davis. I don't care about the diluted sample at the combine or the shoulder surgeries. The man can flat out play at linebacker. MLB NaVorro Bowman can not seem to play a whole season so that adds to Foster's value. The opportunity is there for Foster to seize production and early in his career. In a format where IDPs are waiver wire pickups and plug and play players are often the norm, a season or two of solid production from Foster will more than pay for a third round pick. IN most cases you will not see a discount in Foster and he will be gone in round two. If you are in one of the leagues where he drops to round three, grab him. .