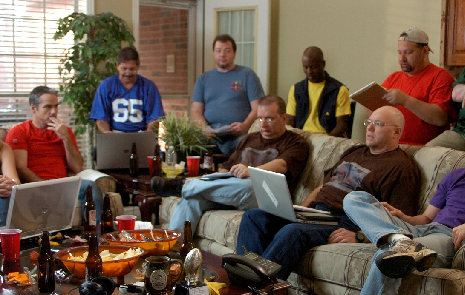 Written by Levi Andrew
20 July 2017
Don'ts
1. Forgetting The research, you've worked so hard on
Why sit there for weeks and hours doing research on all kinds of players to leave it at home or thinking you memorized it all, only to forget it all when you get there. Don't do this to yourself. Save it on a computer so you can access it on your phone or a tablet. Just never leave home to go to your draft without knowing you have some way to access your research you've worked hard on.
2. Losing Focus on the draft
This can range from drinking too much to getting preoccupied in your surroundings. I totally get it; my Dynasty draft is in the same bar every year. Things happen but to your best to not lose focus. You may end up losing out on that stud you want 2 picks before you or drafting someone retired. (come on we all know that guy that's done it) Keep your eye on the prize and that's winning from the draft on.
3. Not adapting to the Draft
Your sitting there and that stud in the making you want is still on the board! Till the guy right before you take's him. Now your panicked. Don't be that guy that that can't figure out what he wants to do. Have a plan for those late rounds you think your buddies will miss on. Have a few guys that you think will do good that you can draft in that area instead of using all your chips on one guy.
4. Forgetting to use a Draft assistance program
Even with all the research you did, it won't hurt to use a draft assistance software. Lucky for you here at ASL we offer one. Check out our Draft Analyzer, I use it and it works amazing for me.
5. Don't be a Homer
Ok go ahead and call your team "Blank's Steelers" or whatever after your favorite team. But when it comes to fantasy, don't be the guy that drafts every player from YOUR team. They maybe some of the best players in the draft, they may not be. But I can guarantee your Fantasy team of (for example the Seahawks) aren't going to lead you to the finals and a win in your league. We all love our teams but you should love your fantasy team just as much and being a homer is what's best.
6. Over Drafting a defense
Remember the year everyone was reaching for the Seahawks defense? I do they went in the 6th round of my redraft league. Why? Because they had a good year, THE YEAR BEFORE. Which then causes a frenzy and everyone starts taking defenses. Most ADP's show people reaching 30 spots a head of where defenses should be going. Wait till the late rounds and then rotate them later in the season. Unless you have a cap on wavier picks.
Do's
1. Pay Attention to injuries
Nothing worse than drafting someone who just tore their ACL 2 days prior. Been there done that. A few glances at a website like us or a news site will help you tremendously before the draft, and during the season. You don't want to miss on someone because you picked a player that was injured and now you're trying to scramble to find a RB or WR to make up for it.
2. Play to your rankings
Just because you have that top 200 in front of you isn't the be all be. There is no wonderful ranking sheet that will get you to the promise land of a Fantasy Championship. If you see value in a player that's ranked lower then another player ranked where your drafting and you don't want to take the chance of losing him, take him and don't feel bad. (for example, Mike Wallace should be way higher on the rankings sheets) This is your team not the rankings team. Trust your gut.
3. Try and trade
This is more for dynasty, but try and trade players or picks. Move up, move down. Never stop trying to make your team better. Know your team needs and achieve them. I'm always trying to make draft day trades. Sometimes other guys are so caught up in the draft you may be able to get a couple steals out of offering some trades.
4. Have Fun
Most Importantly have fun! This is a game we sometimes take it super seriously I know I do. You still got to have fun while building a great team. So, take these Do's and Don'ts and go draft a winning team. Thanks for reading and remember football starts in 40 days. Happy Drafting.
Follow me on twitter @LeviAndrewFF