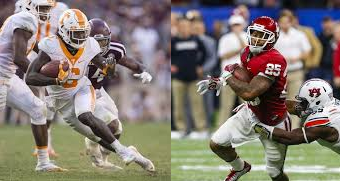 Written by Chad Samuels
06 July 2017
There are few things as important as nailing your rookie draft. The rookie draft is the lifeblood and health indicator of your dynasty roster for years to come. It is the new young studs that will grow into the core roster of your team or the critical flip player you drafted, who you sell for more than you paid for to give you more chances to land a core asset in the future. 2017 is a loaded draft class and we are blessed this year to have many choices to choose from. Where are the values in round one? If we can trade back and get one of these players we are helping our dynasty squad. If we can trade up and snipe them it may have cost us a little more but we have a better bet for dynasty success. Here are three names who at their current ADP are value plays for round one.
Joe Mixon: Over the last week Mixon slipped in ADP value to the pick 1.5 behind RB Dalvin Cook. Mixon has the size and opportunity to become a three down back and the talent to beat out incumbents Jeremy Hill and Giovani Bernard. Factor in Bernard is coming back from an ACL tear and the situation is ripe for Mixon to be productive in 2017.  Odds are it's Mixon's past behavior that is dropping him in rookie only drafts. Unlike NFL teams there will be no repercussions if you draft MIxon. No one is going to boycott watching your dynasty team. You can find a more in depth look at Joe Mixon here. You may hate the behavior. I do. Just hold your nose and make the selection and pray that he grows as a man. You will be rewarded.
Evan Engram: First round tight ends are known to put up starter points at least once in their careers. In 2017 we are blessed to have three of them in OJ Howard, David Njoku, and Evan Engram. All three are worth of late first round status. In leagues that start 2 TE or offer premium points to tight ends, they are worthy of early first round picks. Keep in mind if the average fantasy football starter for TE is a first round draft pick in the NFL, then your average 1st round draft pick in the nfl is an average dynasty starter at TE. So while these three are good we really want to target the player who has a better than the average player profile.The area where it should be above average is at receiving, as that is where our fantasy points come from. We do not care how good you can block. We want you out in routes on passing downs. Luckily for the savvy dynasty owner, this profile is Evan Engram and as ADP goes he is the last to be drafted of the "Big Three" tight ends. The Giants do have a ton of weapons in 17. Look for Evan Engram to grow past WR Sterling Shepard as a receiver in future years and Brandon Marshall (age 33) to not be in the Giants long term plans.     
Alvin Kamara: Kamara is a polarizing player when it comes to his draft status. His ADP is 2.1 in a 12 team format. I have seen him drafted as high as six and as low as nineteen in rookie drafts. It is the drafts where he falls to mid or late two that affects his ADP. Otherwise he would be a solidly in the first round. Kamara is light for a lead back and I do not expect him to win a three down back role. Both RB Adrian Peterson and Mark Ingram are in New Orleans and they should take care of the early down duties. They both are aging so while it looks like a log jam in New Orleans I do not think it is to Kamara's detriment as a dynasty prospect. Kamara's game is different from the other two. I do expect  Alvin to win the receiving back role as he is very talented in that area. He is a day two running back from the NFL who had early talk about being a first round pick in the NFL draft so the talent is there to produce. QB Drew Brees targets running backs in the passing game so Kamara is in a prime position to be productive year one. Because the possible outcomes of when teams will draft Kamara is so widespread I would position yourself at 1.7 or 1.8 to draft  him. If you are hoping to pick him up at 1.9 or 1.10 you still may but have a backup plan in place for the pick..