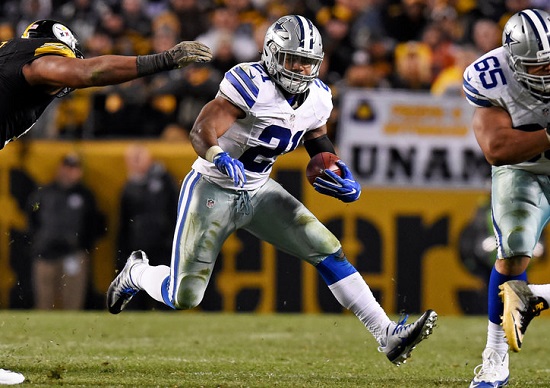 Written by Josh Rabbitt
02 July 2017
Today I am going to be starting a little series on my current passion, MFL 10's. For those of you unfamiliar with MFL 10's they are marvelous little best ball leagues put out of Myfantasyleague.com. They are 12 person, ppr, and more or less winner take all.  The buy in?  $10.  The uses for these MFL10's are amazing.  First of all, and probably most importantly they are the best mock draft tool in the business, because having "skin in the game" makes people take them serious.  Secondly, they are a hell of a lot of fun. There are a million little articles out there discussing them, including how to build a team diversifying your assets so you don't lose all of your leagues to one ACL tear, etc. etc. That isn't what I'm doing today.  Today I want to walk you through an entire draft so new folks can get the feel of one, and old hats can tear apart my draft with massive mistakes.
So first things first, we start out with my least favorite draft position #4.

Why my least favorite? Well in my doing of these leagues so far, DJ, Bell, and Zeke have went 1,2,3, almost every time.  Given ODBJ's potential hold out, there is even less of a chance I end up with what I want at pick #4 - a solid RB #1.
Fortunately for me, I end up getting really lucky with someone taking Julio.

Much rejoicing was felt throughout my house when Julio came off the board. However, I don't love Zeke.  I think there is some real chance of a backward slide with that offensive line. That being said, getting a back with the potential to be the #1 RB in football, with an offense that should be on the upswing is the only way to go here.  Brown, ODBJ, or Evans are never really a thought here for reasons that should become obvious as the draft continues.
At my next turn, this is what is left: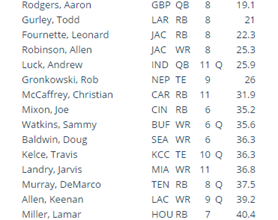 This is where drafting becomes difficult. The talent at RB is absolute garbage after Murray.  The talent at WR is much deeper I feel very safe grabbing my WR#1 in round 4.  You will see what I mean with the next pick I am very confident the talent pool will be rather shallow. There is one other wild card in grabbing the most dominating player at his position: Gronk. 
I am not considering a QB here, as I like my options later in the draft.
In the end, taking my favorite bounce back candidate of the year is my choice with Gurley here. There are 7 picks between me and my next selection, and 3 running backs I am comfortable with as an RB #2. I just can't justify the risk of not taking a guy who could easily be a top 10 RB.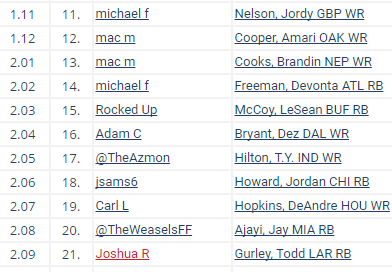 Don't understand why I drafted two RB's in the first two rounds? Look at how quick the RB's drop off. This is all that's left at 3.03. Who here do you want as your RB2?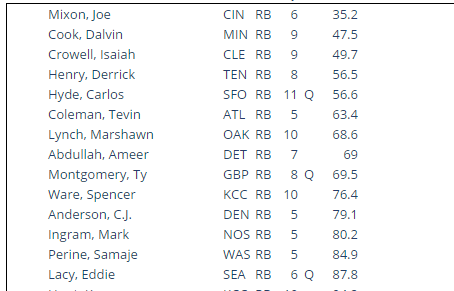 Wow. Then take a look at the WR's on the other hand, and I have my pick of guys who could end up as WR1's. This is why I am almost always leaning RB with my first pick and even second pick - unless I'm pretty much wedged into a spot where the value just doesn't make sense. That has been pretty rare.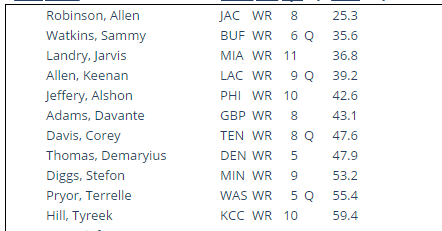 To me the pick here is pretty tough. I like Allen Robinson, Jarvis Landry, Demaryius Thomas and Tyreke Hill. Hill is my favorite of the bunch, but I think there is a chance I can get him with my 4th round pick. Because that is the case, I am going to go with my gut and take DT. 5 straight years of 1k yards receiving is a pretty good deal in the 3rd round. He probably isn't going to be a top 5 WR, but he is a great bet to finish in the top 12.
Finally after holding my breath forever - I get my guy!  Hill manages to sneak all the way back to me. He goes in the 4th round of almost every one of these recently, so waiting until the 4.09 was a big risk- but one worth taking. Now I have two solid WR's and two solid RB's. I feel like I am in great shape headed to pick 5!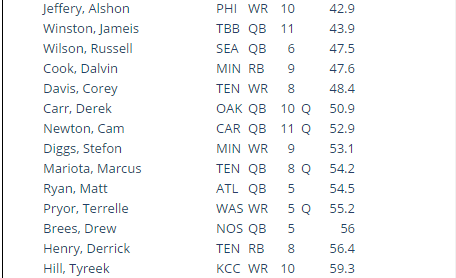 My 5th round pick came down to Diggs or Coleman. I love both players, but when it came to it taking Diggs gives me more flexibility down the line. I am guessing I will end up with 2 WR's I like as much later on (Williams and Enunwa) but this allows me to be just fine if I do miss on them. I tend to load up on WR's in these drafts anyway. (Coming back to this draft after it is concluded - I kind of wish I had taken Tevin Coleman here.)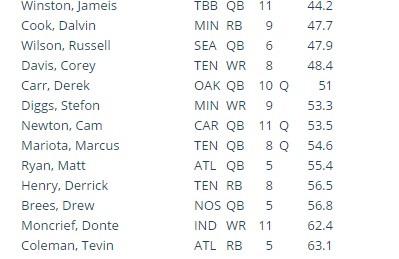 This draft couldn't be going much better for me. Considered Russell Wilson briefly, but fine if he is gone. My next two picks will net me a QB or a TE - Right now I am grabbing the last RB I trust, Sammy Perine. Unless you think Rob Kelly is an elite NFL talent this pick is all upside.

With my 7th round pick I agonized and agonized.  I finally decided to take Tyler Eifert. Having (when healthy) a top 5 TE will really help me. I am probably going QB + Tyrell Williams with my next picks.

I am certainly not going to wait any longer on one of my favorite bounce back candidates, Russell Wilson. QB's are important in this format, even though most people ignore them. If you have a good enough mix of 2-3 QB's (usually two for me) you can be sure you are getting a big game from your QB's week in and week out.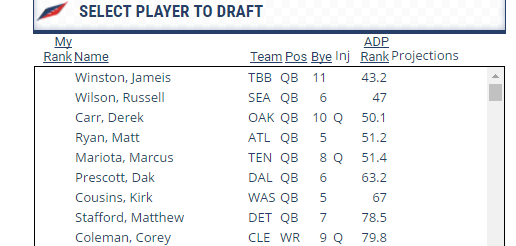 I decide to go QB and QB getting two of my favorites, Wilson and Mariota. I am hoping against hope Tyrell Williams makes it one more round. Grabbing upper end (in my opinion) QB1 candidates is just too sweet an offer to pass up.

Well, one of my two favorite MFL 10's players goes off the board while I wait… but it's not Tyrell Williams, it's Quincy Enunwa. I still get to grab Tyrell Williams as a WR #4 here, and I'm really happy with that! Most MFL 10's experts will tell you to avoid specific players to spread out your risk. I understand the strategy, but I don't see a problem with going after specific crazy undervalued players. I don't mind "reaching" for these players either. I just want them on my roster.

Normally I wouldn't grab a TE here, but I love Ertz as a backend TE1. This pick is incredibly important given Eifert's injury history.
Here is where you really start swinging for the fences.  If Kevin White reaches full potential this is a league winning pick.  If he doesn't, this one goes into the can.

If I told you Llamar Miller was hurt, how high would you draft Foreman? How effective was Llamar Miller last year? Did he look like a back that couldn't lose his job? This pick is all gravy.
I'm a huge advocate of grabbing at least 1 quality defense in MFL 10's. I start this here with Seattle. The problem with picking defenses is, of course, knowing what ones will be good.  I trust Seattle slightly more than the Patriots, so I take them here. I am hoping to grab New England with the next pick to have two potential elite defenses.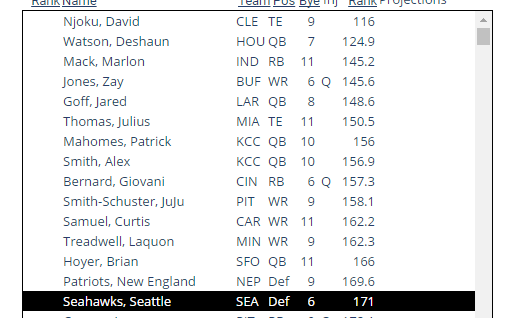 Again, it's winner take all. I ONLY care about attacking upside. Given my tag team defense of New England got snagged, I am going to take my favorite New England addition, Rex Burkhead. Do you think Bellicheck gave him a boatload of money for no reason? Just saying.

I apologize to not show you what was there for pick 16 on, but I was at a football camp. You may think it is just because "late round picks" don't matter. I disagree 100%. Late round picks in MFL 10's are HUGE.
So at pick 16 I decided to take Chris Samuels on the advice of someone I trust who believes he will be as if not more productive than McCaffery. I'm not sure I buy it but he sees veins of Tyreek Hill here. I want in if that is the case.
For 17, I took Pittsburg's defense, as I think they are legit contenders to be in the top 5 defenses in the NFL. I probably could have waited a round but I was pretty nervous about being stuck with a bad pairing for Seattle.
For 18, I took Tavon Austin. I'm not really a believer in this pick and probably could have went a different route here. However if they really open up the offense I still believe there is some legit talent here.
For 19 I took Chris Conley. Look at the measurables. This guy is off the charts. He runs a great route tree. The only potential holding back all these talented Chiefs, Alex Smith. Hopefully they get a little more aggressive in the redzone and score more TD's this year.
Finishing off my draft, I took another swing for the fences guy, Cordarrelle Patterson. We are talking about a fantastic NFL talent who landed in a potentially great situation. Amari Cooper hasn't produced the way everyone thought he would. Crabtree is average at best. Cook will be healthy for about 2 games. Could Patterson be that X-factor to take over and produce?