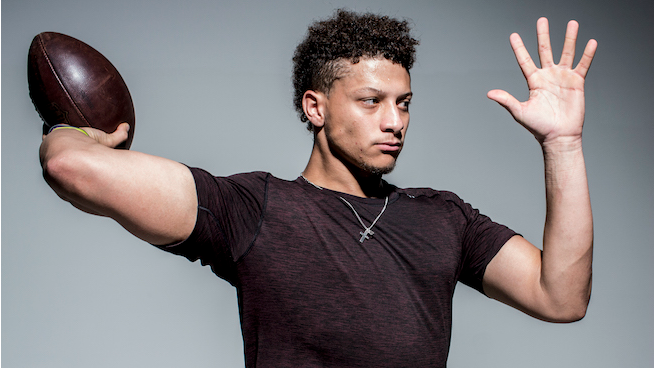 Written by Chad Samuels
13 June 2017
The 2017 draft class for dynasty is quite deep this year. One position where it is not is quarterback. The big three quarterbacks Patrick Mahomes, Mitch Trubisky, and DeShaun Watson have been graded as outstanding but not elite prospects. All three of them went in the top eleven of the NFL draft. This is troubling because their talent level does not match where they were drafted. From a fantasy perspective, first round quarterbacks have about a 50% success rate. Odds are this year's class will be hard pressed to meet that that benchmark. Most dynasty owners are putting the early money on Deshaun Watson. There is a niche out there that is betting on Patrick Mahomes. It is an intriguing gambit. I am not convinced it will work.  
The positive is his father was a professional pitcher. Sports pedigree is good. This means he grew up around media. It also suggests that his father is a great asset to teach him how to prepare for professional sports. He also started for the Red Raiders for his sophomore and junior seasons. During that time he achieved a 64% completion percentage, 9,705 yards, and a 77-25 TD to INT ratio. He has a strong arm and decent accuracy. Patrick has shown he has the potential to grow into a statistical monster. If you are going to bet on a quarterback Patrick has the upside that you would want to bet on.
People also seem to like where he landed, Kansas City. The claim is that Andy Reid is good with quarterbacks. Also Alex Smith has a contract that is expendable after 2017. Andy Reid very well may be good with quarterbacks, but when we look at it through a dynasty lens that is not a case. NFL standards are not dynasty standards. If you are good enough to not lose the game you can have a journeyman job in the NFL. In dynasty if you are going to be  a starter for several seasons, you need to be able to produce a large amount of stats. IN fact you need to be top twelve. However, if  you are going to have an advantage at the position your starter should be top five. Andy Reid's quarterbacks over the years do not meet this test. Andy has developed such journeymen names as AJ Feeley, Kevin Kolb and Nick Foles. He did not develop MIke Vick though as a plug and play quarterback Vick failed to stay healthy enough to produce a 4000 yard season. Patrick is closer to Donovan McNabb in draft pedigree than these players when we look at Reid's ability to develop quarterbacks.
Donovan was the number two overall selection in 1999. When he was drafted, the 99 quarterback class was said to be the best quarterback class since the historic class of 1983. The 1983 class boasted six first round quarterbacks including John Elway, Jim Kelly, and Dan Marino.The 99 class did see five quarterbacks drafted including McNabb and Daunte Culpepper. Donovan failed to stay healthy enough to ever complete a 4000 yard season and finished with 37,276 yards over 11 seasons with Andy Reid. He also averaged 222.1 yards per game and logged a 234-117 TD to INT ratio during that time. Those are solid numbers. Unfortunately in a dynasty environment where quarterbacks like Aaron Rodgers, Drew Brees, Tom Brady and Andrew Luck perennially put up 4000 yard plus seasons Donovan's numbers come up a little short for what is needed in today's pass happy NFL. Donovan McNabb in 1999 was a better NFL prospect than Mahomes. I think Mahomes with his arm can match Donovan's production. It's exceeding these numbers that  may prove difficult. Andy' Reid's offense may not be enough to support the statistics needed for Mahomes to hang with the top quarterbacks of the league.   
The other area of concern is the talent at the receiver position. We want to look at the wide receiver position over the tight end because it is the wide receivers that will produce large chunks of yards down the field. Tight ends can produce yards but it is usually from volume of receptions. The consistency of a quarterback's fantasy scoring is in the yards he passes for in a game. Normally every 25 passing yards produces a point and a quarterback can expect to score 8-16 points a week depending on how many yards he throws for. There is always the question of which came first the chicken or the egg. In dynasty  the question is who produces the yardage stats the receiver or the quarterback. The answer is a little of both. When it comes to Mahomes we have to consider the effect of his receiving corps and most notably his wide receivers will have on his production. In general terms if you want a top 24 scoring dynasty wide receiver from a team's WR2 position you will find it in a top eight dynasty quarterback. What this means is if you want to find a top eight dynasty quarterback the quality of his WR2 will go a long way in determining his success. It is not the only factor but it is a factor.  
The Chiefs wide receivers for 2017 are Tyreek Hill and Chris Conley. Conley was third round pick and Hill was a fifth round pick. Conley does have some upside as day two draft pick to be able to produce in the NFL. Day three wide outs are hard pressed to produce. Hill has the talent to have been a day two pick. it was off field concerns that brought him down. Still the third round draft tag is such that it is not a guarantee that they will produce or be given multiple opportunities in the NFL. The draft pedigree gives concern to the receiver position of the Chiefs.
Tyreek Hill is a big play machine but his size (5'10" 185 lbs) limits him from producing as a receiver. When given an opportunity Hill produced after Jeremy Maclin missed time due to injury. Special teams production is a significant part of his game and will boost his touches and statistical production. Odds are if Hill develops into a top 12 wide receiver it will be in part to his special teams play not just straight receiving stats. This also limits the stats any Chiefs quarterback may produce.
 Chris Conley will  be entering his third season and has yet to show much. The jury is still out and we will need to see at least his third season before be can say definitively he is not going to be a top 24 dynasty receiver. The 2014 receiving class spoiled us with instant results. They were the exception not the rule. Chris Conley and others need to be given a three to four year window to truly determine what they will produce in dynasty. My best guess before 2017 starts is with Kelce and Hill on the roster, I do not think he is going to break out and become a top 24 dynasty wide receiver. This also limits Mahomes' upside.
As of right now I don't see the receiving corps that will help Mahomes become the top eight quarterback on roster. This again limits his upside in dynasty purposes. I believe if Mahomes is to develop, The Chiefs will have to acquire more talent at the receiver position. We need to see a commitment from the Chiefs to pick up a wide receiver with more than a day two draft pedigree. SInce 2000 the Chiefs have selected 3 wide receivers in the first round none in the Andy Reid era.
So what should we do with Mahomes?  If you are in a superflex league, then Mahomes is worthy of a late first round pick. His upside is enough to risk taking him in the range of the big three tight ends. This advice is for those teams that have a need at QB. If you have solid depth at QB in a superflex league let him pass and grab the best player available. In standard leagues, this year's draft class should not see any quarterback drafted before round three. Mahomes ADP is running in the late third of standard rookie drafts. This years draft is very deep. I think the late third is too early for him. There are plenty of running back and receiver options to take a risk on and add value to your roster. If one of those options hit they are going to be more tradable than a quarterback. Quarterbacks normally have more trade value for the dynasty team they are playing for than other dynasty owners which makes them difficult to flip. The key to a player like Mahomes is to reduce the risk (cost) of drafting a player like him. Instead of drafting Mahomes take a RB you can flip. If WRs Cooper Kupp or Kenny Golladay are available take them over Patrick. I would also take TE Adam Shaheen before drafting Mahomes. This puts Mahomes solidly in round four and odds are he will be gone before you consider drafting him. That is OK. Don't reach. All you will be doing is adding risk into your roster. Let him fall to someone else. Personally, I am not buying any of the rookie quarterbacks this year. I am letting Mahomes drop to another owner. Odds are you can buy him low at the end of the season. Work a deal with the owner of Mahomes and have him thrown in as an afterthought. Mahomes is going to take time to develop. Let someone else hold him on roster for a year and use that roster space elsewhere.