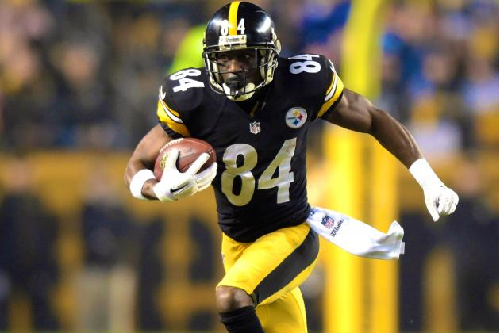 Written by Levi Andrew
07 June 2017
Antonio Brown
Brown is 29 years old. Yes, he's been a fantasy stud for seasons now. But as we've seen, he hasn't been as productive when Big Ben isn't around. The word all off season was that Ben was thinking about retiring. He's going to play in 2017 and is under contract till 2019, but who knows if he'll hang them up in 2018.
In 2016, Brown had his lowest yards and catches since 2012.  Brown has the skill to overcome QB issues, but trying to trade Brown for a younger WR1 or a couple first round picks, this is the season to do so.
David Johnson
Besides an aging Larry Fitzgerald, Johnson is the only weapon Arizona has. With Palmer's play last year in big decline, I feel this year Johnson will have a stacked box against him, bringing down his numbers. Arizona needs a QB to take pressure off Johnson and Palmer's not going to do that this season. Yes, this is only his third year in the league, but when you have an extra guy in the box, it just doesn't work out. I can easily see someone giving up two first round picks and another player for David. Try for the 1.01 pick, Then you have options.
Carlos Hyde
New Regime in San Francisco with zero ties to Hyde. Not saying Shanahan won't try and use Hyde in some shape or form, but talk out of OTAs is he's struggling with picking up Shanahan's blocking scheme. This is also just the end of May and beginning of June. Come training camp that could change with more time in the scheme. Rumblings from front offices are saying the Niners could look to trade him, which could end up bad or good. Joe Williams can easily unseat Hyde for the starting job.
Matt Ryan
If you had Matt Ryan last season, CONGRATS!! Now sell high. He finished last year as the number two QB in fantasy. He has a new OC this year that says they're going to keep the same scheme. We know most OCs like to run their own schemes and not play off another's. He may have some obstacles to overcome starting another playbook in less than 3 years. Look for a big regression from Matt Ryan. Try and trade him for a younger QB with more upside or picks.
Rob Gronkowski
#1 TE in Fantasy football, right? Yes, he is but how much did last year suck not having him after 8 games? And in those 8 games he posted 25/540/3. His worst stats ever. Yes, he's healthy now, but for how long? What's the next injury Gronk comes down with? There's too many questions with Gronk. They just got Brandin Cooks, which is going to hurt both Edelman and Gronk in my opinion. I wouldn't give much for Gronk, but I'm sure you can find someone in your league to give up a bunch for him.
Follow me on Twitter @LeviAndrewFF