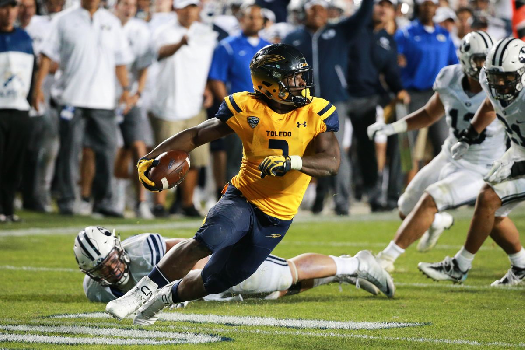 Written by Levi Andrew
01 June 2017
1) Kareem Hunt
Talk about an Andy Reid RB. The chiefs traded up to grab Hunt. Hunt had 98 missed tackles in 2016, second in the nation. If this class wasn't as stacked as it was at RB hunt would have been top 2. Also Spencer ware started to fall off at the end of last year. There are also rumblings that Hunt could end the year as The Chiefs #1 running back in stats.
The only scary thing it comes to Hunt winning the job is his pass protection. He's not great at that part of the game due to him being used as a receiver so much in college. If he can pick up that quickly I see hunt doing outstanding this year. Maybe even beating out McCaffery for ROY.
2) Marlon Mack
The Colts drafted Mack in the 4th round. Their starter Frank Gore is going into his 13th season also he is 34. He's also a free agent next year, and could start to digress at any point. In steps Mack.
Mack is exciting to watch play football that proved he's an athlete at the combine. He averaged 6.8 yards per carry and 8.1 yards per catch his last year in college. Mack plays like he got shot out of a cannon on the field. Don't let him get into space or he's capable of taking it all the way. Only down fall with Marlon is he tends to try to get outside instead of following his blockers. That can be fixed with film and listening to one of the greatest running backs of our generation in Frank Gore. Give Mack a year to learn from Gore. He could easily become a great running back for the colts.
3) Elijah Hood
As soon as hood was drafted he become the direct handcuff to Marshawn Lynch. Yes they have Richard and Washington, but Hood is the same type of hard runner as Lynch. Hood is 6'0" 232lbs combine weight. Same way as Mack can learn from Gore, Hood should be able to learn from Lynch. He already has great vision and pile moving ability.
As much as we can talk about his power and straight line running ability, his outside runs look sluggish and he's not that great of a route runner. That's where Richard and Washington have the upside. He's going to ride the bench for now while Lynch is in Oakland. Next year or the year after he could start to see a lot of touches.
4) Joe Williams
Here is someone that quit on his college team and was completely off the 49ers draft board. If it wasn't for Kyle Shanahan "banging his hands on the table for him" according to Peter King (who was in the Niners Draft room). Williams can either be one head of the two headed monster with Hyde, like Shanahan did in Atlanta or he can win the job to himself. Hyde hasn't been one to stay on the field. He's fast at 4.41 40-yard dash and rushed for 1,407 yards his senior year. Once he gets to the second level he's gone.
Negatives are questions on his passion for the game even if he says he now got that passion back since his time off. Also he only ever had 30 targets in high school with 9 passes being caught his senior year. He's had problems blocking in college and putting the ball on the ground. If Shanahan can mold this kid into the running back he wants Joe Williams can do great things.
5) Jeremy McNichols
Jeremy McNichols can be the Lighting to Doug martins Thunder. Both Boise State running backs. McNichols is a true dual threat running back having caught 103 passes and rushed for 44 touchdowns in college. Great jump cuts that don't stop his movement or speed in a bad way. Excellent vision and quick to process the game in front of him.
As of now he had surgery after the combine on a torn labrum. He hopes to be ready by training camp. He's also had fumbling issues putting the ball on the ground nine times in his two main seasons. He also loves to try and take everything outside, he needs to leaern to let his line do some blocking for him. If he makes the roster and Martin slips up this season McNichols is a great buy.