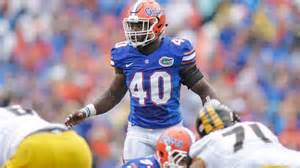 Written by Daniel Brown
18 May 2017
If you love Dynasty but haven't branched out into IDP, it is another level of complexity and certainly adds to the Sunday watching experience as you look at the defensive players as well.
As with all leagues that you play in you must be mindful of how points are scored and factor this into your rankings. In a tackle heavy league you are going to want to focus more on linebackers and safeties, but in a sack heavy league the focus shifts to the pass rushers coming off the edge. With that in mind we look at 5 IDP players to watch in your draft that should have an impact under either scenario:
1. Jarrad Davis – LB – DET.
Davis was drafted in the first round by the Lions and appears set to be the starter at middle linebacker. In this position he will be required to direct the defense, and see plenty of action.  He has quickness, he can deliver hits and some have likened him to Bobby Wagner from Seattle. If he does end up putting numbers up like Wagner you will be kicking yourself if you pass him up late in the 1st round of a 16 team league or early 2nd in a 12 teamer. The other reason I like Davis so much is that he will likely be involved in the blitz package which means that he is a candidate for sack points. Combine that with the tackles he should rack up and he has opportunity and a skill set to deliver consistent fantasy points. That is what you are looking for in the defensive players – consistency. The sacks are kind of like touchdowns for offensive players, where the tackles are more like the PPR aspect. Davis should be a solid linebacker for years in fantasy football.
Suggestion: If you are thin or aging at LB, don't be scared to spend a late 1st on Davis. If you own the late 1st you likely won or made playoffs last year so getting depth at LB is a good strategy, especially with the drop off in offensive skill that appears to exist in this year's rookies for fantasy drafts.
2. Jamal Adams – S – NYJ.
Adams was widely considered to be the best corner back in the draft this year. Within fantasy football involving IDP there is a line of thinking that the safety and cornerback positions are a dime a dozen. While this is true, as evidenced in part by the large number of defensive backs taken early in the draft by NFL teams, thus implying that rookies will be starting for many teams in the secondary, a dominant defensive back can be the difference between winning the championship or finishing as an also ran. Given his athleticism and his ability to play all aspects of defensive back (run stopper, pass protection and cover slot receiver), Adams fell into a perfect spot with the Jets where he can start immediately, and given the questions over the offense for the Jets this year, there should be plenty of time spent on the field defending their goal-line. This means that Adams has a chance to step in early and contribute big points. Because of his versatility he should score points for tackles, passes defended and possibly an occasional sack.
Suggestion: Adams could easily be this year's Josh Norman (from 2 years ago) or Landon Collins (from last year). We would be very happy to get him in the mid to late second round but suspect someone could reach for him late first or early second.
3. Myles Garrett – DE – CLE.
One thing that can happen a lot on the defensive side of fantasy football is that player positions change. One season they may be listed as a DE but then the next season they are LB or DT. While you can't always plan for that it is something to consider when looking to draft a player. In this case there appears to just be upside with Garrett whether he stays a DE or moves to LB. He was the best talent in the draft for a team that won only one game last year this was an easy pick. Given that the expectation is that the Browns will struggle again this season on offense, this should put Garrett on the field quite a bit with a relatively free license to chase the quarterback. He showed at college that he can beat blocks both inside and outside, and his natural ability should translate to the NFL. The biggest question for Garrett will be whether he can overcome his tendency in college to get caught in the backfield during run plays. If he can increase his ability to chase down running backs from behind he will become even more valuable.
Suggestion: I wouldn't be reaching for Garrett in my draft, but if he fell to me late 2nd or early 3rd I would be happy to grab him there. In the end it comes down to need. If I have a need at DE as opposed to WR then taking Garrett earlier seems like a wise choice, but if I have a need at WR or RB I may be more inclined to fill that need first and target one of the other DE's that might be more likely to be available in the 3rd round of rookie drafts.
4. Zach Cunningham – LB – HOU.
Cunningham was a tackling machine at Vanderbilt. This may have been in part due to the fact that he spent a lot of time on the field (Vanderbilt ranked 110th in total offense in 2016), but also highlights his ability. The Texans defense is considered to be their biggest strength, and so one thing that counts against Cunningham a little is that he may not be a day 1 starter. However I expect him to see plenty of snaps and during the course of this season it wouldn't surprise to see him emerge as a full time starter. This selection though is more for the future. I think Cunningham becomes a 3 down linebacker relatively quickly given his skill set, however landing in Houston possibly delays his immediate impact. That being said we are talking Dynasty and given the talent in Houston, and the continued question marks surrounding their offense, he projects to be a viable fantasy asset for a long time and could have tremendous upside this season if things break his way.
Suggestion: Let this guy come to you in the draft. Again if you have a need at LB and Davis has already been selected, I would take a shot in the 3rd round or early 4th round of a 12 team league but wouldn't necessarily draft him too early as there are a couple of other solid LBs that could also be available.
5. Reuben Foster – LB – SF.
As outlined at the beginning the linebacker position is a very important component of an IDP team as they tend to provide the most consistent output week to week. I like Foster a lot in San Francisco for many of the same reasons that the other 4 guys ended up on this list – opportunity. Not just in terms of playing time as a starter, but in terms of snaps on defense. Given the uncertainty over the QB position in San Fran, it is foreseeable that they could struggle to convert on 3rd down and thereby put their defense on the field more often than other teams. As a result Foster should have opportunity at LB to play plenty of snaps. In fact he should be able to establish a role this year, and with a strong camp (recent reports indicate he should be a full participant at camp) and pre-season could well be the starter for week 1.
Suggestion: Many graded him as the best linebacker in the draft. His landing spot of the 49ers is a good news / bad news scenario for fantasy football since there is some pretty stiff competition for linebacker starting roles. However I would be comfortable taking Foster in the 3rd round of a 12 team league. He would be in a similar category for me as Haason Reddick (ARI) and Zach Cunningham (HOU). As soon as the first of these 3 goes I would be trying to find a way to land one of the other guys.
| | |
| --- | --- |
|   | Daniel Brown is a sports fanatic. Growing up in Australia, he followed English Premier League soccer, NFL, NBA and many other sports. Since relocating to the US over 12 years ago, Daniel has been heavily involved in fantasy football including Dynasty Leagues, Re-draft and Daily Fantasy. The NFL Draft and Fantasy Football are his passion and devotion. You can follow Daniel on Twitter @brownsnake76 for sports comments and general musings, or hit him up with your fantasy questions! When not talking, writing or researching fantasy sports, he comes up with t-shirt designs, check out some offerings from www.hoofhearteddesign.com |