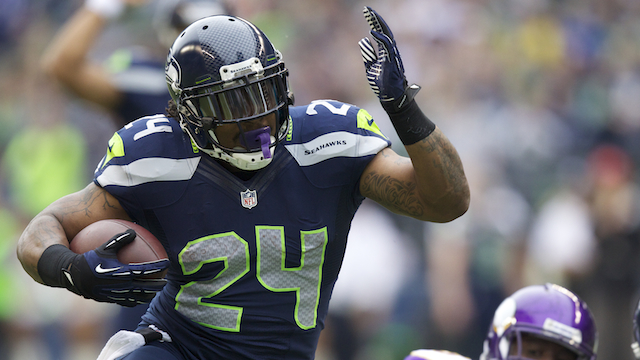 Written by Brian Murphy
20 April 2017
I'm not going to go too in-depth into this, mostly because all of this is hypothetical right now. While there have been reports than the Oakland Raiders and Marshawn Lynch have agreed to a deal, it's a moot point if the Raiders and Seahawks can't work out their own deal so as to transfer his rights. The odds of that happening don't seem overwhelming, and there is still a real chance that this falls through.
With that said, let's envision a 2017 season in which former Cal Bear Marshawn Lynch has resumed his career in the Bay Area. You can look at his fantasy potential through equally optimistic and pessimistic lenses. For the former, you have an extraordinarily tough tackle-breaking machine in line to be the early-down back in the Raiders' potent offense. Plus, he'll get to run behind the league's fourth-best offensive line, according to Pro Football Focus. Conversely, Lynch turns 31 on Saturday, hasn't played in an NFL game -- or even been on a team -- since January 2016 and averaged just 3.8 yards per carry during his most recent season.
Lynch took on 111 carries through just seven games in 2015. That would put him over 250 in a full campaign, something he's done a handful of times before. But I don't think the Raiders need him to take on that much work. Really, I see Lynch a bit like the man he would be replacing, Latavius Murray. Certainly not from an athleticism standpoint -- Murray has Beast Mode beat there -- but just in terms of workload.
Murray handled 195 carries in 14 games last season (about 14 per game) and averaged 4.04 yards per carry. DeAndre Washington and Jalen Richard, the Raiders' two smaller backs, combined for 170 totes, 5.63 yards per carry and 46 catches. Lynch can catch the ball, as can Murray, but that's not really their forte. They are power backs who want to get downhill with the rock. Granted, Marshawn doles out more punishment on opposing defenders. The point here is that three-headed attack was one reason why Oakland ranked as the sixth-best offense in the NFL. The Raiders won't try to fix what's not broken; just change out a part.
How the Cincinnati Bengals use Jeremy Hill is also a proper comparison.
Especially at his age, the Raiders won't overwork Lynch, besides the fact that they don't really need to. I could see him taking on about 220 touches -- 200 carries, 20 catches. At four yards per pop on the ground and another seven yards per reception, that would give Lynch 940 yards. But you can bet good money that a good portion of Lynch's workload will come down by the goal line, where his take-no-prisoners style would pay off the most. So, let's just hand Lynch 10 TDs in 2017. Add it all up -- plus a couple of fumbles -- and Beast Mode would have about 150 fantasy points in the upcoming year. That would have slotted him as the No. 21 RB in 2016. I don't think we can expect Lynch to be an RB1 in fantasy at this point in his career and after such an extended layoff. But a mid-to-low-end RB2? That sounds right. Perhaps also a smidgen conservative.
That is, of course, IF the Raiders and Seahawks work out a deal. Otherwise, forget what I just said.