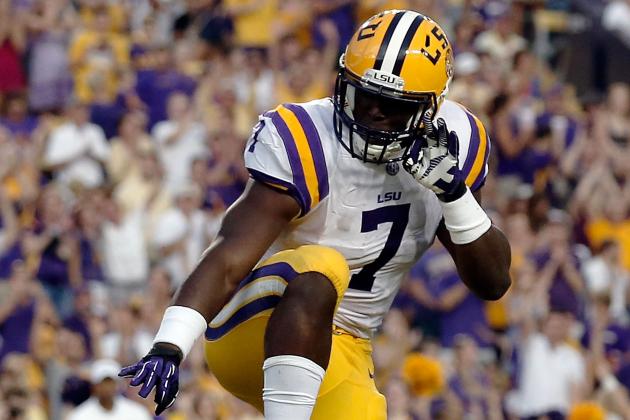 The 2017 NFL Draft is right around the corner. The multi-day event takes place in Philadelphia, at the end of April. The running back position will hold center stage at the draft, as five running backs hold prominent grades this year. All five of the top running backs could be selected within the first two rounds.
The top five running backs in the incoming draft class are Leonard Fournette, Dalvin Cook, Christian McCaffrey, Alvin Kamara, and Joe Mixon. Each one has strengths and weaknesses that could drastically affect where they end up being selected. Since the running back position is such a vital aspect to fantasy football, each pick has major implications on the upcoming fantasy season. Early Fantasy success can depend largely on which franchise lands which top RB so a lot hangs in the balance on these rookies.
Fournette is the physical specimen of the group. He is large and incredibly fast, though doesn't have the versatility to his game that some of his peers do. Fournette could be taken as high as fourth overall by the Jacksonville Jaguars. If that happens, he could be the every down-back as soon as Week 1 as the Jaguars couldn't find consistency with TJ Yeldon and Chris Ivory last year. Though Fournette needs to improve on the other aspects of his game, he likely stands out as the best pure runner right away if he is drafted by Jacksonville.
Cook is different from Fournette as he's the guy with a breakaway game and speed running style. Following a relatively unimpressive combine some seem to have lost hope, but his game tape is extraordinary. He's slightly more of a wildcard on the rankings and could be selected pretty much anywhere in the first round. If his combine results are held against him, some mock drafts have him dropping to Washington at 17 or even Kansas City at 27. Either place would be a fascinating fit for him in terms of fantasy implications. Cook may not be the number-one runner on day one like Fournette will be, but he can be a major force in both the running and passing game and there will likely be formations and plays created especially for his skill set.
McCaffrey could fill a similar void if he is taken by the New York Giants at 23. All these teams already have runners who will garner 15-20 touches a game, but Cook and McCaffrey would enter as changes of pace, and good ones at that. McCaffrey demonstrated at Stanford that he can be the centerpiece of an offense that utilizes his skills properly. For his fantasy football value, his landing spot will be the important factor, as he can only fit in select schemes.  For both of these rookies, a good training camp could certainly vault them into a starter or number two back position which come mid season could see the majority of the work from the backfield going their way.
Kamara and Mixon are the bigger questions, as Kamara is the no-name of the group and Mixon is the untrustworthy entity having been already blacklisted by multiple franchises. Without his off-field concerns, Mixon may have challenged as the top-rated back in the draft as he checks all the boxes on the field. His future home will come down to a team taking a chance on his character, and that will not be an organization who is looking for an immediate guaranteed return from their pick. Mixon's ceiling will be determined by his resilience as he will need to earn his roster spot through hard work. It could be the same case for Kamara, but for vastly different reasons. 
The Green Bay Packers and New England Patriots are great fits for these backs. They have a dire need at the position and a prolific offense in which to place them, so the rookies will have time to work and make mistakes while learning how to operate in such high powered offenses with a multitude of other weapons to alleviate the pressure from feel on day one.