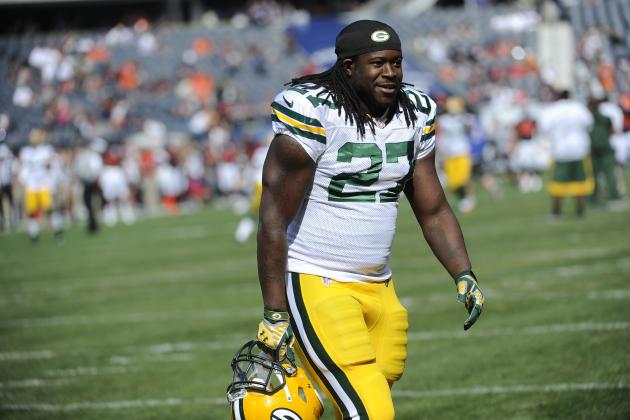 Written by Brian Murphy
24 March 2017
Seattle Seahawks add Eddie Lacy to be their new "Beast Mode"
Not that I expect Lacy to be the second coming of Marshawn Lynch in Seattle. But as a hard-charging, tackle-breaking, dread-headed power back, he at least fits the mold. Granted, Lacy's mold is a little wider than Lynch's, and the Seahawks are aware of it. That's why he has weight loss clauses in his one-year contract.Lacy is the subject of many jokes, but he averaged 5.1 yards per
Lacy is the subject of many jokes, but he averaged 5.1 yards per carry last season, has a career YPC average of 4.4 and has generally been productive when healthy. The problem in recent years has been the injury bug as Lacy fought through nagging ailments in 2015 and then was put on injured reserve last October due to a major ankle injury. However, he will be fully recovered well before training camp, and I like the prospect of a motivated, 26-year-old Lacy as the centerpiece of a run-first offense. A secondary concern is the Seahawks' offensive line, which really needs to pick it up if the Seahawks are able to take advantage of their roster of running backs.
Speaking of that roster, the Lacy signing really leaves Thomas Rawls' fantasy value in limbo. Lacy, with $3 million guaranteed in his deal, is the obvious favorite to be Seattle's early-down grinder. Barring an injury, that leaves Rawls without much of a role, especially since C.J. Prosise looks like a very dangerous passing-down complement. I think Lacy has the look of an RB2 right now. Prosise is solely a PPR commodity. And Rawls, well, he probably needs a break -- like a bone break for someone else -- to become a starter-worthy player in fantasy football again.
Danny Woodhead signs with the Baltimore Ravens as Kenneth Dixon gets suspended
The Ravens' signing of Woodhead looked a little strange on March 8. However, it made a world of sense on March 9, when the news hit of Dixon's four-game suspension for a PED violation. Dixon caught 30 passes in 12 games as a rookie last year. Woodhead has been one of the game's top receiving backs for a handful of years now. So, at least this picture is clear for the season's first month. 
So, at least this picture is clear for the season's first month. Terrance West -- or some running back to be determined -- will be the starter, and Woodhead will handle all of the passing-down and third-down opportunities. But what happens once Dixon is reinstated come early October? If recent history is any guide, Woodhead's own body will answer that question as the former San Diego Charger suffered early season-ending injuries in 2014 and 2016. If that's the case, Dixon will be returning at the perfect time. If not, then we'll have a bit of a logjam in Baltimore, but I have to believe that the younger Dixon will have the upper hand.
None of these three players really catch me as someone I want to draft. Actually, Dixon might be at the top of my list just because of his youth and dual-threat upside. But definitely remember Woodhead in your drafts. He will have a sizeable role in September and could be a PPR dynamo yet again during the season's opening month. West will be an RB3 no matter the situation.