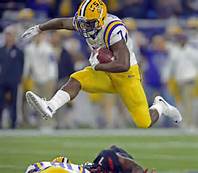 Written by Daniel Brown
24 March 2017
Last week we looked at the possible free agency impact of additions and in some cases subtractions to teams from a fantasy perspective and discussed the Free Agent Auction for Dynasty League players. This week, after a relatively quiet week in free agency, the focus is shifting to the upcoming rookie Draft. We will be predicting the first 12 picks in a Dynasty League rookie draft, using the projected landing spots of Todd McShay and Mel Kiper Jr as the guide, and discuss whether the projected spot is a good fit or not from an immediate, and long term dynasty perspective.
Dynasty Mock Draft v1 – 12 team league – 1st Round – PPR league standard scoring.
The first four rookie picks in upcoming fantasy drafts appear to be relatively conclusive in terms of the players that will likely be selected, however the order in which they will be selected will vary from league to league most likely depending on need – WR vs RB. We think that all four of these players are relatively close in terms of their current draft stock, and so the deciding factors will come down to your teams need and the landing spot for these players. From a dynasty perspective we would be drafting these four players regardless of landing spot ahead of the rest of the field, however it is quite possible, in fact likely, that another player has more immediate impact than these four due to opportunity because of the NFL that drafts them.
# 1 overall – Leonard Fournette (RB – LSU) [Mel K – Carolina; Todd McS – Carolina] We have Fournette coming off the board first overall and if he does in fact end up in Carolina that will be a great spot for him from a dynasty perspective given that Jonathan Stewart has had some health issues and the expectation is that Carolina will draft his replacement and getting Fournette would be a great addition. We could also see him end up in Jacksonville with the 4th pick and this would be an interesting situation given the struggles running backs have had in Jacksonville over recent years. While we expect that if he does end up in Carolina he probably plays second fiddle early on to Stewart, there is a real chance he becomes fantasy relevant by mid-season, and we definitely like his long term potential. He has had a lot of carries in his college career and that could be an issue in terms of his health when considering him for a dynasty league, however he has shown he can produce at the college level and this should translate at NFL level.
# 2 overall – Mike Williams (WR –Clemson) [Mel K – Buffalo; Todd McS – Buffalo] If you have a need at WR and you have the first pick then we would take Williams with the first pick. He is a big receiver who has great footwork and ability to adjust his positioning to the ball when tracking in flight or making the catch. If he ends up in Buffalo then he would have an opportunity to take on that #2 wide receiver behind Sammy Watkins and we see that as a significant upgrade over Robert Woods (who left in free agency). While Buffalo has signed a few wide receivers they appear to be veterans that will compete for a roster spot or young players that they hope will put in strong camps and push for a spot on the team. They need a WR2 and Williams would be a great fit for them from a football perspective, and from a fantasy perspective this would be a great landing spot. He would have a chance to contribute from week 1 in your lineups while giving long term prospect for your dynasty team.
# 3 overall – Dalvin Cook (RB – FSU) [Mel K – Green Bay; Todd McS – Indianapolis] Cook is a great looking running back reminding us of Jamaal Charles. He has the speed and vision to score from anywhere on the field and many experts have him ranked higher than Fournette. If he were to be drafted by Green Bay it would provide an opportunity to be the lead back (given competition is Ty Montgomery who did well but has played primarily as a WR in the NFL), however the Green Bay offense is really a pass first offense and hasn't been able to establish that dominant run blocking. While Cook is certainly capable of contributing as a receiving back, they already have Montgomery who may well fill that role. If he ended up in Indianapolis then he likely sits behind Frank Gore this season getting touches as a 3rd down back in passing situations. Not the best situation here either way for immediate impact in fantasy teams, however he is a great talent and looking long term he has great upside and landing in either of these situations bodes well for his long term fantasy value.
# 4 overall – Corey Davis (WR – Western Michigan) [Mel K – Tampa Bay; Todd McS – Tennessee] Davis has been the most prolific wide receiver in the history of the FBS (5,285 receiving yards). That is a huge achievement and speaks to his unquestioned talent and the fact that he was targeted repeatedly during games and able to pull in a lot of catches. He tracks the deep ball well and is able to create separation on the intermediate and deep routes. Whether this will translate to the NFL against the defensive backs will be the big question. If he ends up in Tampa Bay this would be a good spot for him long term, however his short term impact may be slightly limited given the signing of DeSean Jackson this offseason to go with Mike Evans and the emergence of Cameron Brate at the TE spot last year. If he were to go to Tennessee we like this spot a lot more for immediate impact while still retaining that long term benefit. Either of these teams would be good from a dynasty perspective as they have young quarterbacks who can throw the ball downfield and let a guy like Davis go up and get it. He could easily be taken ahead of Williams and we wouldn't fault you for that.
Here is where we think there is a clear break between talent levels from a dynasty perspective. If we had a pick in the 5-8 range we probably would be looking to trade back and acquire more picks, unless another owner goes rogue and selects someone not listed in our top 4 and they were to still be available. If we couldn't find a trade partner then we like Joe Mixon and O.J Howard depending on their landing spots. If Howard ends up with the New York Jets and you are able to play multiple tight ends where they essentially substitute in for the wide receiver position, the Howard would be a strong pick for you in these area of the draft.
# 5 overall – Joe Mixon (RB – Oklahoma) [Mel K – N/A; Todd McS – N/A]
# 6 overall – Christian McCafferey (RB – Stanford) [Mel K – Washington; Todd McS – N/A]
# 7 overall – John Ross (WR – Washington) [ Mel K – Tennessee; Todd McS – N/A]
# 8 overall – O.J Howard (TE – Alabama) [Mel K – New York Jets; Todd McS – Tampa Bay]
# 9 overall – Alvin Kamara (RB –Tennessee) [Mel K – N/A; Todd McS – Green Bay]
# 10 overall – JuJu Smith-Schuster (WR – USC) [Mel K – N/A; Todd McS – N/A]
# 11 overall – Cooper Kupp (WR – Eastern Washington) [Mel K – N/A; Todd McS – N/A]
# 12 overall – Courtland Sutton (WR – SMU) [Mel K – N/A; Todd McS – N/A]