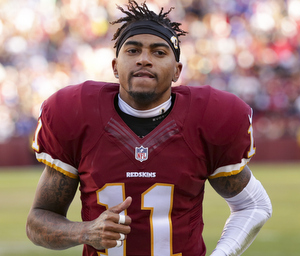 Written by Daniel Brown
10 March 2017
The NFL Free Agency period has officially opened and while a number of the moves announced officially on Day 1 were known prior (due to the legal tampering period) there were still some surprises including an incredible trade not seen before in the NFL between the Texans and the Browns. We talked about the Texans last week and the Brock Osweiler situation and it appears that the Texans decided they wanted to move on from this horrible decision from last year and traded him to Cleveland for basically nothing. So what does that mean for Fantasy and what other moves occurred on Day 1 that have Fantasy impact.
Moves We Like:
Brandon Marshall (New York Giants) – Marshall has been a solid fantasy wide receiver for a number of years despite playing on a team with below average quarterback production. With this move to the Giants, Marshall puts himself in a position where he will be surrounded by other talent and an average to above average quarterback on a team that has struggled to run the ball and had to rely on the passing game. With Odell Beckham Jr demanding defensive attention and the emergence of Sterling Shepard, there is going to be a number of opportunities for Marshall to get one on one coverage and he showed during the past couple of seasons with the Jets that he can still get separation, and more importantly he is still physical enough to come down with a contested football. While we don't see him getting as many targets or catches as he did in the Jets, he is going to be a real redzone threat and that will mean great things for your fantasy team, especially in non-PPR leagues. We like him as a 4th round pick in drafts for next season despite his age.
DeSean Jackson (Washington Redskins) – Similar to the Brandon Marshall move, Jackson has found a new home in Tampa Bay where he will take over the role that Vincent Jackson had occupied opposite Mike Evans. This is a great landing spot for Jackson and the flow on impact to other offensive players should be beneficial too. We would give an upgrade to the scoring potential of Jameis Winston, Doug Martin (assuming he is the lead back) and Cameron Brate too. While it is likely that Mike Evans loses some touches to Jackson, he still remains a very viable option in this passing attack, especially if Jackson can show deep threat potential early on as defenses will need to adjust to that and should open up plenty of routes for Evans.
Mike Glennon (Chicago Bears) - Glennon signing with the Bears will provide him the opportunity to enter the offseason program as the anointed starter which should aid his development a lot. From a Fantasy football perspective we like this move for Glennon especially in leagues where you can start 2 quarterbacks, and think that Glennon could be a value pick in the late rounds of the draft. He loses Alshon Jeffery which caps his upside a little here, but should get Kevin White back and as long as the Bears can acquire another wide receiver threat.
Danny Woodhead (Baltimore Ravens) – Woodhead is a unique talent in the NFL and before he was injured last year he was splitting carries with Melvin Gordon in San Diego and getting plenty of screen passes in that offense. With the emergence of Gordon the timing seemed right for Woodhead to make a move and selecting Baltimore was a smart choice given the lack of a clear number 1 running back there. He realized he could go in and compete with Kenneth Dixon and others and possibly emerge as the lead back. After he signed the news broke that Dixon was to be suspended for the first 4 games of next season which opens the door for Woodhead to carve out a solid role in this offense before he returns. We like Woodhead as a mid to late round flyer, especially if you opt to go with the no RB strategy in the draft, he has a high upside especially in PPR leagues in this offense.
Moves We Didn't Love:
Torrey Smith (Philadelphia Eagles) – Smith always seemed to be a threat in San Francisco, but for a variety of reasons, not least the poor quarterback play, he wasn't able to produce as he had previously. Moving to the Eagles could yield fantasy gold, however with Alshon Jeffery also winding up on the Eagles roster, and the love for the TE by Carson Wentz, combined with some struggles late in the year and the ever-present threat of the sophomore slump, we don't love this signing for Smith and really don't think that this will move the needle in terms of draft position for him. He would be someone we look at in the later rounds as a player with upside if we can get him in the 11th – 14th round region.
Kenny Britt (Cleveland Browns) – Britt had a decent year last year in an offense that never really seemed to get going. For the Browns to decide to let Terrelle Pryor test free agency but throw a lot of cash at Britt is a strange football decision, and we don't think it will translate into Fantasy relevance for Britt. With uncertainty over the quarterback position, this feels like a similar situation to Los Angeles last year and it is likely that this team will try and run the ball a lot and unless they are able to improve the quarterback play significantly we don't see much need to draft Britt.
Ted Ginn Jr (New Orleans Saints) – Ted Ginn seemed to have a good thing going with Cam Newton in Carolina, with attention being taken away from him by both Kelvin Benjamin and Greg Olsen. The emergence late in the season of Devin Funchess may have impacted his decision to leave, but the Saints have a lot of targets already in that offense and the value of Ted Ginn may well be fully determined by the conclusion of the Brandin Cooks situation. If Cooks is traded then this would open a door for Ginn, but if Cooks stays it is hard to see Ginn getting a lot of targets given the other mouths that Drew Brees will need to feed. We would target Ginn late in drafts IF Cooks is traded, otherwise he is likely a waiver wire add in the early season once his role is better understood.