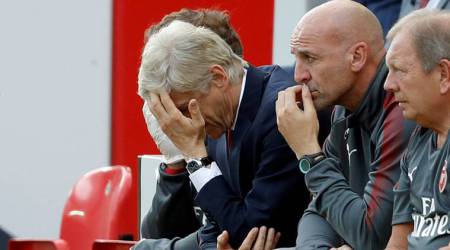 Written by Daniel Brown
31 August 2017
English Premier League continued through weeks 2 and 3 heading into the International Break, with a few interesting results and some fantastic finishes. ASL's Daniel Brown takes a look at some key games from the August action.
Stoke City vs Arsenal: Result: 1-0

Analysis: An interesting game that looked like it was going to end with many goals finished with just one. A goal by Jese (who only joined the Potters on the Wednesday prior to the match on a season long loan) in the 47th minute broke the deadlock and proved decisive. Arsenal had a few chances in the first half including a decent shout for a penalty after Hector Bellerin was brought down, and a great one-on-one opportunity for Danny Welbeck was thwarted by goalkeeper Jack Butland. They had their chances to equalize in the second half but wasted several good opportunities.
Fantasy Perspective: The big scorer was Jack Butland (Stoke) (top GK of the round) with 11 pts – including 6 saves, while goal scorer Jese (Stoke) also finished in the best XI for the week scoring 10 pts and Zouma (Stoke) rounding out the top 3 from this one with 7 pts.  
______________________________________________________________________________
Bournemouth vs Watford: Result: 0-2
Analysis: Watford scored a comfortable 2-0 victory on the road against Bournemouth with goals to Capoue and Richarlison. Watford have started with a win and a draw from the first 2 games while Bournemouth are yet to open their account. Watford looking to turn around their form from last year (where they barely avoided relegation) probably didn't have this game marked as a likely victory considering Bournemouth finished inside the top 10 last year and Watford have not been good on the road last year, however it was the away side that looked hungriest threatening on several occasions before scoring. Bournemouth had very few chances in this game and will need to improve considerably if they are to avoid a relegation battle themselves.
Fantasy Perspective: First goal scorer Richarlison (Watford) scored 11 points while Kiko Femenia (Watford) was just behind him with 8 pts and Gomes (Watford) finished 3rd with 7 pts.    ______________________________________________________________________________
Tottenham Hotspur vs Chelsea: Result: 1-2
Analysis: Chelsea scored an important road win over Tottenham. Whenever the "big 6" play each other the results have added meaning – especially an away victory – since every team plays each team twice (home and away). An early season away win puts Chelsea in a very good position especially after dropping their opening match to a team they would have expected to beat. For Tottenham it will be disappointing to drop 3 points at home especially against Chelsea, however they had their chances – Kane hit the post in the 42nd minute and just after half time they had two great opportunities but couldn't find the back of the net.
Fantasy Perspective: Alonso (Chelsea) was great in this one and scored a week high 16 points, Eriksen (Tottenham) scored 7 pts and Courtois (Chelsea) finished with 6 points. It's not something you can bank on every week – scoring 2 goals as a defender – however the upside for Alonso in the Chelsea team can't be overlooked … just don't expect a week high in points every week!
______________________________________________________________________________
Manchester City vs Everton: Result: 1-1
Analysis: Wayne Rooney continued his homecoming with a second goal in as many matches. His first half strike put Everton in front and they nearly held on for an incredible win, however a goal to Raheem Sterling in the 82nd minute gave the 10 man Manchester City a valuable equalizer. For Everton, securing a point on the road against one of the title favorites will feel like a win, however they may feel like this was one that they let slip a little. For City it will be a case of being happy to secure a point after looking like dropping 3 for most of the second half.
Fantasy Perspective: Man of the match (and somewhat reborn goal scorer) Wayne Rooney  (Everton) scored 8 points, Ashley Williams (Everton) also tallied 8 points while Raheem Sterling (Man City) scored 6 points despite only playing 45 minutes.
______________________________________________________________________________
Newcastle United vs West Ham United: Result: 3-0
Analysis: Potential relegation battle: Newcastle got their first win of the season and it was a much needed one, while West Ham continue to struggle having yet to record a point in 3 games while conceding 10 goals. Newcastle looked in control throughout this match scoring once in the first half and adding two more in the second. It will be a struggle for both these clubs to stay up this year, but a decisive first blow by Newcastle in a potential relegation battle sees them run out easy winners.
Fantasy Perspective: Claran Clark (Newcastle) was the top point scorer (15) in week 3 having scored a goal in this one, while defender Chancel Mbemba (Newcastle) scored 9 points and Jose Luis Mata Sanmartin (Newcastle) scored 7 points after netting a goal.

______________________________________________________________________________
Tottenham Hotspur vs Burnley: Result: 1-1
Analysis: Burley have been the surprise team early in this season, having beaten Chelsea in their first match and securing a point on the road at Tottenham. It took until deep into extra time for them to get the point, with a fine goal by Chris Wood (making his first Premier League appearance for the club following his move from Leeds).For Tottenham the season hasn't started out as well as they may have liked and they find themselves in 9th spot with just 4 points from the first 3 games … the same as Burnley.
Fantasy Perspective: Robbie Brady (Burnley) was the man of the match and secured 8 points against Tottenham after contributing an assist in the equalizing goal, while Bamidele Alli (Tottenham) scored 9 pts including scoring for the home side and Chris Wood scored 6 points in just 33 minutes of action. Wood is someone to keep an eye on for Burnley – I expect him to come into the starting line up as early as week 4 (after the International Break) and he has a knack for scoring goals.
______________________________________________________________________________
Liverpool vs Arsenal: Result: 4-0
Analysis: This game was pretty one sided in the end – not just the score but the manner in which the game unfolded. Arsenal continue to struggle this season and if not for two late goals in the opening game against Leicester City, they could be rooted at the foot of the table with 0 points! Liverpool were far too classy for Arsenal and scored twice in each half to embarrass the Gunners. This was a great result for Liverpool and puts them right behind league leaders Manchester United and firmly in contention. It's early but this display by Liverpool was exceptional – whether Arsenal are that bad, or Liverpool that good; will be determined by their respective outcomes in their next couple of fixtures.
Fantasy Perspective: With a 4-0 victory it wasn't surprising to see 3 Liverpool players making the Dream XI for week 3. Goal scorers Roberto Firmino (12 points), Mohamed Salah (11 points) and Joseph Gomez (10 points) all scored double digit points in the win. For Firmino and Salah these points were a carbon copy of their week 1 scores against Watford. Given the way Liverpool have started (8 goals in 3 matches); these two should be heavily considered every week.
______________________________________________________________________________
Never miss ASL's latest fantasy sports news. Send us an email at This email address is being protected from spambots. You need JavaScript enabled to view it. and list the sports you are interested in (NFL, NBA, MLB, NHL, EPL) to start receiving ASL's newsletter.