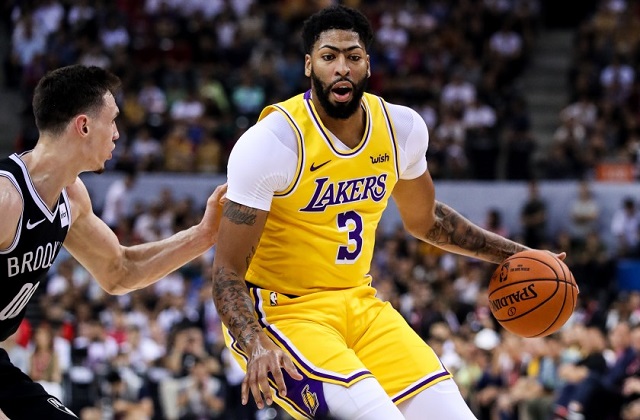 Written by Willard Simms
16 October 2019
Get all of Willard's top players by tier: Forwards | Centers | Point Guards
When we're looking at the position of forward in the NBA, we're gazing at the Elite of the Elite in fantasy basketball! This is where the largest group of 1st and 2nd round fantasy players can be found. I'm listing three tiers of NBA forwards below. At least four of these players are likely to be taken in the 1st round of your leagues fantasy draft, and none of them will slip below the 2nd round. So grab them while you can get them!
The 1st tier features two former league MVP's, and the candidate most favored to be this upcoming season's MVP – Anthony Davis. Of the six players in the next two tiers, five made the NBA All-Star team, and one is a rookie standout who's currently being drafted much too late in most fantasy drafts.
Tier 1: Anthony Davis, Giannis Antetokounmpo and LeBron James:
In the last three years, Anthony Davis has averaged at least 26 points with better than a 51% field goal average, nearly 12 rebounds, 2 ½ blocks, and has hit over 80% of his free throws. And this year the Lakers have said they intend to make the newly acquired Davis the focal point of their offense, so expect all of his numbers to go up!
Giannis Antetokounmpo is the reigning MVP, and last year averaged nearly 28 points a game with a 57.8 shooting percentage, 12½ rebounds, nearly 6 assists, and 1.3 steals. With the departure of Malcolm Brogdon, the Greek Freak will be expected to take on an even heavier offensive load.
LeBron James is already considered by many to be the greatest all around basketball player of all time. There's no need to go over his statistics, he's been a multi-category leader forever, and while his age is showing a bit, he still competes at an almost super human level and now has Anthony Davis to pass to! These are MUST DRAFT players in the 1st round of your draft, and there's a very good chance Davis and Antetokounmpo will be the first two players taken.
Tier 2: Kawhi Leonard, Jimmy Butler and Paul George:
Kawhi Leonard is the reigning MVP of the NBA Championship series, and is considered the best two-way player in the league. Besides his all-around great game, he's annually among the league leaders in steals, an often overlooked fantasy category that you stand a chance of winning with Kawhi on your team.
Jimmy Butler will always be a controversial player since he seems to be someone who marches to the tune of his inner NBA drummer. Still, he's one of the most versatile players in basketball, and he's now on a team that is going to feature him as much as possible. He'll be the "closer" in every close game the Miami Heat plays, and when they need a bucket or a great defensive play, they will be turning to him!
And the third member of this group is another multi-faceted baller who would be at the top of this tier were it not for the fact that he's coming back from double shoulder surgery, Paul George. He will miss at least the first month of the season, and then probably take a while getting back into full playing shape. Still, George averaged an impressive 28 points a game last year with the Oklahoma City Thunder, while getting over 8 rebounds and 2.2 steals a game, and if he returns to this form he'll be in the running for MVP. All three of these players have the potential to go in the 1st round, and if you can get them in the 2nd round you've got a real bargain.
Tier 3. Jayson Tatum and Draymond Green and Zion Williamson:
Jayson Tatum had an excellent rookie season, but then disappointed lots of fantasy owners with a mediocre second season. Of course the Boston Celtics were struggling to establish a team identity, with the Kyrie Irving situation causing lots of inner turmoil. Kyrie is now gone, the Celtics have stated they want to feature Tatum this year, and I believe he's getting drafted way too low. So grab him in the early rounds if you can.
Draymond Green is another player who will be gaining through subtraction. With the Golden State Warriors losing Kevin Durant to injury and then to the Brooklyn Nets, and also losing Klay Thompson for at least half the season, Green will have a huge role with the Warriors in the upcoming season. A player who can help your team in a multitude of categories, Green is a Swiss-army knife for your fantasy team who will provide depth in almost every fantasy category.
How good is rookie Zion Williamson? Good enough to be put into the third Tier? He has been touted as the greatest rookie to come into the NBA since LeBron James. Well, when he's been on the court with real NBA players both in the Summer League and in Pre-season he's done more than just hold his own, he's flashed brilliance! Yes, he's never played an NBA regular season game – but Fantasy Basketball is about making the Playoffs first, since that's the only way to win the gold. Consequently I think it's worth it to draft Zion in the third tier and wait for him to develop his game throughout the course of the season. He could be an absolute playoff monster in so many different fantasy categories that I'm advising to go ahead and take the risk now!