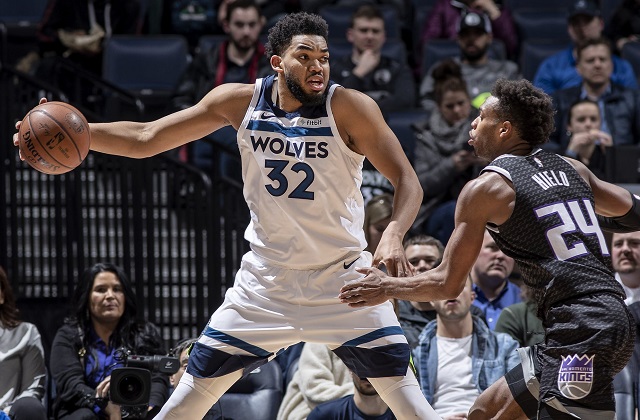 Written by Willard Simms
10 October 2019
Get all of Willard's top players by tier: Forwards | Centers | Point Guards
No position has changed more dramatically in the last two NBA seasons than center. Centers need to be able to shoot three-pointers to stretch the floor out for the teams that emphasize three-pointers over mid-range jump shots. Last year saw Brook Lopez attempt over 500 three-pointers, unheard of for a center! And centers need to be able to handle switching defensive assignments, now that offenses are strongly emphasizing pick-and-roll plays. Finally, centers need to be good passers who can get the ball out to their team's best three-point shooters. In other words - this is not Shaquille O'Neal's league anymore, and your fantasy draft needs to take that into consideration.
With that in mind here are my top three tiers of centers (Anthony Davis is currently being classified as a power forward) for your upcoming fantasy draft:
Tier 1: Karl-Anthony Towns, Nikola Jokic, and Joel Embiid. All three of these centers can shoot the three-pointers, defend the pick and roll, and are excellent passers. And all three of these players averaged over 20 points and 10 rebounds a game. Towns is the most versatile of the group, hitting over 50% of his field goals, 40% of his three-pointers, and 83% of his free throws. Last year Jokic, who is clearly the best passer in the group, averaged over 7 assists a game. Joel Embiid, at 7 feet 2 inches and extremely mobile, is virtually impossible to stop under the basket.
Tier 2: Rudy Gobert, Nikola Vucevic, and Andre Drummond. Rudy Gobert is a throwback center. His specialty is guarding the basket on defense, blocking shots, and collecting rebounds to start the fast break. No player has blocked more shots over the last five years than Gobert, and last year he gathered in over one thousand rebounds. Vucevic is more of a modern day center who scores from anywhere on the floor, is a masterful passer who often initiates the offense, and is one of the best at switching when it comes to defending the pick and roll. Andre Drummond is another throwback center who consistently leads the league in rebounding, can score in double figures while shooting over 53%, and is a solid shot blocker. What puts him third in this tier is his free-throw shooting at less than 55%.
Tier 3: DeAndre Ayton, Myles Turner, and Brook Lopez. DeAndre Ayton is going into his second year with some fabulous first year statistics. He averaged over 16 points and 10 rebounds a game, while hitting over 58% from the field and 76% from the free-throw line. This is someone who is just 21 years old, who will probably get better in every aspect of his game next season. Myles Turner possesses incredible agility, and is the best in this group at defending the pick and roll. He's an excellent shot blocker (leading the league last year) and a solid rebounder who is still young and developing, and promises to be even better this upcoming season. Brook Lopez has helped redefine the center position. No center hits anywhere near as many three-pointers, and Lopez is still an excellent shot blocker, who ranked fifth in the league in blocks last season. With the departure of Malcolm Brogdon from the Milwaukee Bucks, I expect Lopez to increase his scoring numbers in this upcoming season.
These nine centers, stand head and shoulders (no pun intended) above the rest of the league. But there may well be breakouts that are unexpected at the center position once the regular season gets underway. This is a position I would take some chances with during your fantasy draft. Maybe go for Mitch Robinson, who is an amazing young shot blocker, Bam Adebayo, who has no Hassan Whiteside stealing minutes away, or Thomas Bryant, who came out of nowhere to anchor the center position for the Washington Wizards. All three of these players are young and still unproven, but could pay very big dividends.