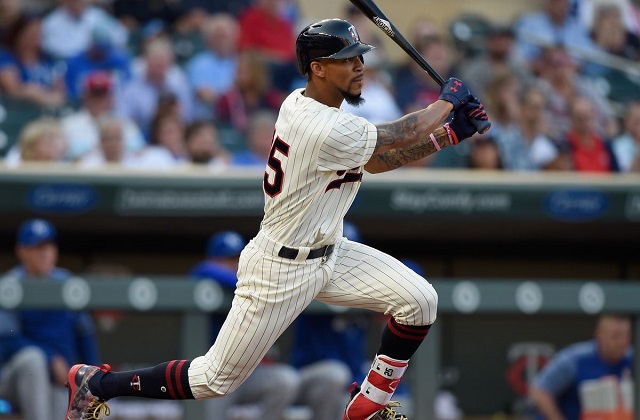 Written by Joe Buttgereit
09 March 2019
Check out Joe's Other MLB Postion Outlooks: C | 1B | 2B | 3B | SS
The deepest offensive position in fantasy baseball is the outfielders, naturally, because every team starts three of them. This can be a bit misleading. This is one of the thinnest crops of difference-making outfielders we've seen in some time.
It's top-heavy, with the generally unanimous top-two players in the game in Mike Trout and Mookie Betts. Once you get beyond the first 25-30 names, it gets much murkier. In a standard 12-team league, you'll have three starting outfielders for each team. With 36 potential starting outfielders, and likely 25-30 that will truly be difference-makers for your team, it pays to attack the position early.
Now, I'm not saying make sure you get an outfielder in the first round, however, if you don't, I'd recommend getting one by round three at the latest. There will always be the owner that doubles up in Rounds 1-2 with a Trout/Yelich-type combination that makes it more difficult for each of the other teams to get their superstar outfielder.
As with every draft, there are some guys that you can find later on that will provide value in their own right. I'm targeting the player below late in my drafts this year.
Player to Target
Byron Buxton (Twins) – ADP 186.2 (42nd among OF)
It's easy to forget about Buxton as he spent most of 2018 dealing with various injuries. He's back, healthy, and tearing it up in Spring Training. So far, in six ST games, he's hitting .429 with three home runs and 11 RBIs. The Twins have re-tooled and will be putting forth a much-improved lineup in 2019. There will be plenty of opportunities for runs scored in a lineup that features the likes of Nelson Cruz, Eddie Rosario, and Jonathan Schoop.
You will have to live with a mediocre batting average, but it's not outlandish to think he could get it in the .260 range accompanied with 15-20 home runs. And he has the ability to steal 30+ bases.
I currently have Buxton ranked 30th among eligible outfielders and I'm making it a point to snag him in the middle rounds of all my drafts this season.
Player to Avoid
David Dahl (Rockies) – ADP: 91.2 (21st among OF)
This selection is strictly based on Dahl's ADP. I think he can provide excellent value to your team late in your draft. Selecting him in the midst of guys like Marcell Ozuna, Nicholas Castellanos, and Eddie Rosario seems aggressive to me. He does play in Colorado which gives him the added upside of the altitude, but he's played a total of 140 games in his career thus far. In that time, he's provided less than stellar production with 23 home runs, 72 RBI, and just 10 stolen bases.
He likely will not have a permanent spot in the Rockies' lineup with Charlie Blackmon and Ian Desmond as mainstays in the outfield. Ramiel Tapia has impressed every time he's had an opportunity in the big leagues and it's very possible to think he and Dahl will be platooning in left field.
I currently have Dahl ranked 50th among eligible outfielders. I like him as a player and think he can provide good fantasy value; he's simply being drafted much too early for my liking.
Prospect to Watch
Eloy Jimenez (White Sox)
Jimenez probably should've gotten an opportunity to get some at-bats with the big-league White Sox in 2018. The team's performance is the only possible explanation for this. In 2019, he won't be a September call-up, but a late-April "service time" call-up. Due to the service time restrictions, the White Sox will wait a few weeks before bringing Jimenez up to delay his arbitration clock, but once he gets the call, he will run with it. A career .311 hitter in the minors with a knack for putting wood on the ball, he will be a mainstay in Chicago's outfield for years to come.
In the past two seasons, he's had just a 17.1% strikeout rate, which is excellent for such a young hitter. He already shows the ability to recognize pitches which will translate well to the big leagues. He's not going to help much as it pertains to stolen bases, but he checks every other category in fantasy baseball and it's only a matter of time before he's one of the better offensive players in baseball.
As always, follow me on Twitter @joebuttgereit!