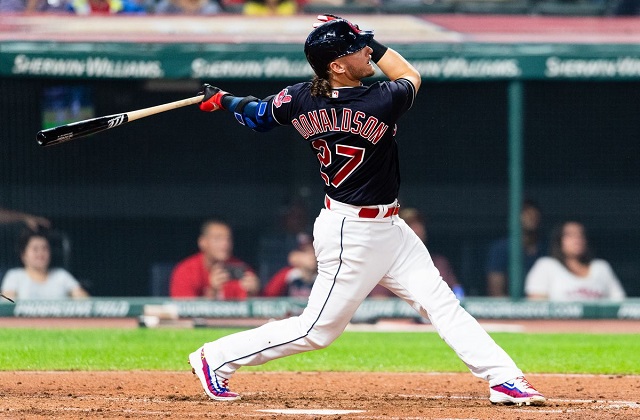 Written by JOE BUTTGEREIT
13 February 2019
Check out Joe's Other MLB Postion Outlooks: C | 1B | 2B | SS | OF
Player to Target
Josh Donaldson (Indians) – ADP: 98.6 (16th among 3B)
I realize there's injury concern around Donaldson due to the last two seasons. That's merely recency effect as he's been a very durable player throughout the course of his career. The last two seasons, he played just 165 games, however, between 2013-2016, he played 155+ games in each season. Even in an injury-riddled 2017 season, he managed to hit .270, with 33 home runs and 78 RBI in just 113 games.
He's as productive a third basemen as anyone when healthy. I also like the move to Atlanta for him. It places him in the middle of a very potent lineup that will produce a lot of run producing opportunities, as well as a lot more energy than he had in the last few years in Toronto. All the peripherals have remained constant through the past two injury-filled years; his hard-hit ball percentage has been above his career average in that stretch (38.7%). He has also improved his ability to use all fields as his pull percentage dropped from 46.6% between 2016-2017 to 40.3% in 2018 while using center and right field more often.
I currently have him ranked as the 10th third basemen heading into the season; and with a current of ADP of 98.6, Donaldson is a steal.
Player to Avoid
Justin Turner (Dodgers) – ADP: 101.0 (17th among 3B)
This is not me knocking Justin Turner as a player. He's an excellent player and is worthy of his draft placement if you can guarantee me 140+ games. The problem is you can't. In eight full seasons in the big leagues, he's played 150+ games just once. He will still give you 20-22 home runs and 50-65 RBI over the course of 100-110 games; but with a position that is so deep, there's better and more reliable options.
There are enough options that'll provide more reliability throughout the season that I would take ahead of Turner. If your draft-mates follow suit, and Turner is available around pick 150-165, take him. The short-term streaky success is worth it to have on your time, just not worth a selection in the top-100. I currently have him ranked 22nd among third basemen for the primary fear of likely risk of him missing 50+ games.
Build the best lineups with the power of The Machine for Daily Fantasy Sports
Prospect to Watch
Vladimir Guerrero, Jr. (Blue Jays)
Quite possibly the most hyped prospect in the last 25 years, if not more. The offensive prowess is remarkable. In 2018 alone, Vlad, Jr. played across four minor league levels and impressed at every stop. In 61 games in double-AA, he hit .402 with 14 home runs and 60 RBI. In 30 games in triple-AAA, he hit .336 with six home runs and 16 RBI. He is mashing baseballs every step of the way. On top of that, over the course of three minor league seasons, he's walked more than he's struck out, which is equally impressive for someone of his age in today's baseball.
It is likely he'll spend the first few weeks of this season in the minors to maintain the additional year of control, then it's bombs away. As a prospect, he's being compared to the likes of Mike Trout and Alex Rodriguez; and he's only 19 years old.
He's never seen a Major League pitch, yet I currently have him ranked 8th among eligible third basemen heading into this season, and that may not be high enough.
As always, follow me on Twitter @joebuttgereit for fantasy news and nuggets!
Never miss ASL's latest fantasy sports news.
Send us an email at This email address is being protected from spambots. You need JavaScript enabled to view it. and list the sports you are interested in (NFL, NBA, MLB, NHL) to start receiving ASL's newsletter.