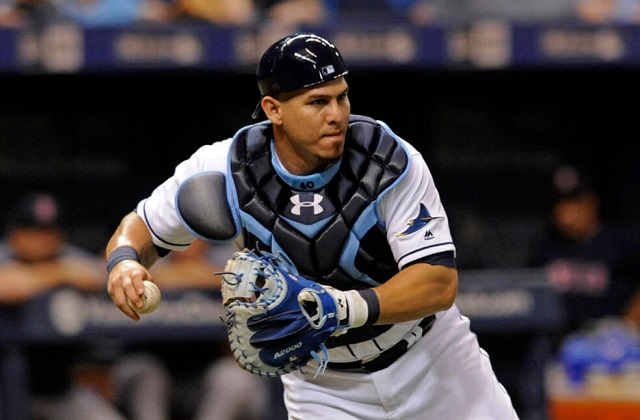 Written by Joe Buttgereit
29 January 2019
Check out Joe's Other MLB Postion Outlooks: 1B | 2B | 3B | SS | OF
Player to Target
Wilson Ramos (Mets) – ADP: 137.8 (6th among C)
After tearing his ACL late in 2016, Ramos came back fully healthy in 2018 and picked up right where he left off following his career-2016 campaign. In 111 games last season, he amassed a .306 batting average, with 15 home runs and 70 RBI. These are excellent offensive numbers for a catcher over a full season, let alone 2/3 of one. Free agency was also kind to him. He signed a 2-year deal with the Mets this offseason who have put together a solid lineup heading into the 2019 season. He should fit right in the middle of a lineup that features the likes of Robinson Cano, Yoenis Cespedes, and Jed Lowrie providing plenty of opportunity for run production.
His current ADP has him listed as the 6th catcher being drafted. I have him listed 3rd among the position in my current pre-season rankings leaving him as an excellent piece to target in the middle rounds of your draft.
Player to Avoid
Danny Jansen (Blue Jays) – ADP: 230.0 (9th among C)
I'll start this off by saying I do like Jansen as a baseball player; I don't, however, like him as a fantasy player. He got a small taste of the big leagues in 2018, hitting .247 in 31 games. In six seasons in the minor leagues, he hit above .282 just once. He did manage to hit for more power over the last two seasons with 22 home runs after hitting just 11 in his first four minor league seasons. I don't see him jumping into the big leagues and taking the league by storm. The biggest positive to his offensive game is he has an excellent feel for the strike zone. He has hovered around a 1:1 walk to strikeout ratio, which is rare in today's game. However, as far as fantasy goes, unless you're in an OBP league, he won't provide much production.
He's currently being drafted as the 9th highest catcher. I have him 23rd on my list of pre-season catchers. If he's still available in the 27-30 round range, he's a good choice, but prior to that, there are better options to explore with those picks.
Build the best lineups with the power of The Machine for Daily Fantasy Sports
Prospect to Watch
Keibert Ruiz (Dodgers)
Another young catcher with an excellent feel for the strike zone is Keibert Ruiz. He's slated to have a true opportunity to compete for a starting job after the Dodgers decided not to re-sign Yasmani Grandal this offseason. Ruiz is a career .309 hitter in the minors, producing more gap power than over-the-fence power. He has produced similar minor league numbers to that of Yadier Molina. A high on-base guy that won't blow you away with power but knows how to put the bat on the ball.
He's likely not a player that will be drafted unless he manages to secure the starting job in Los Angeles prior to your draft; but he's someone that should remain on your radar during the season as a free agent pickup if/when he gets the call.
As always, follow me on Twitter @joebuttgereit for fantasy news and nuggets!
Never miss ASL's latest fantasy sports news.
Send us an email at This email address is being protected from spambots. You need JavaScript enabled to view it. and list the sports you are interested in (NFL, NBA, MLB, NHL) to start receiving ASL's newsletter.