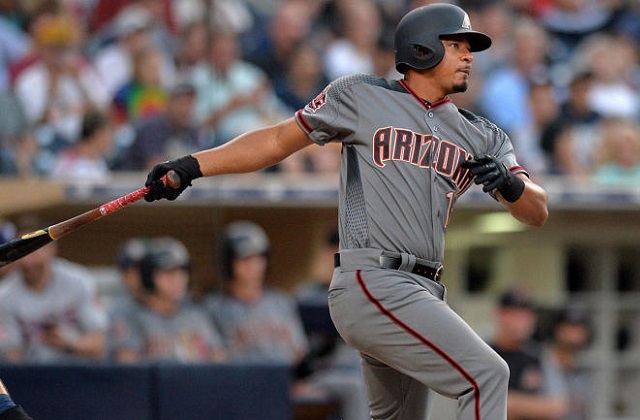 Written by Joe Buttgereit
06 March 2019
Check out Joe's Other MLB Postion Outlooks: C | 1B | 2B | 3B | OF
Shortstop has always been one of the thinnest positions in fantasy baseball on paper. For the shortstop-specific players, this is true yet again for 2019. However, with positional flexibility being the most prevalent it's been in recent memory, there are still guys that will present shortstop eligibility while providing solid value in the back half of your drafts.
There's nothing I like more than finding players that are eligible at more than one position. Especially in a sport like baseball where over the course of 162 games, it's inevitable for players to spend time on the injured list. If you stock your team with enough positional flexible guys, it's much easier to fill those holes throughout the year.
To show you how much I mean that, my "player to target" is eligible at both third base and shortstop to start this season (and it's possible he adds 2B to the list as we progress into 2019)!
Player to Target
Eduardo Escobar (Diamondbacks) – ADP: 174.6 (18th among SS)
Escobar provides excellent value at his current ADP. The shortstop position is thin enough as it is so leaving a guy that produces 20+ home runs, 70+ RBI, and 70+ runs to the 15th round and later is crazy. The only knock I'm seeing for Escobar is the regression in the Diamondbacks' lineup. After dealing Paul Goldschmidt and letting A.J. Pollock walk in free agency, the lineup has quite a few holes. But it's safe to say Escobar will slot in the middle and should have plenty of opportunity to produce. He'll maintain an adequate-enough average to warrant enough production in four of the five major categories.
I currently have him ranked 11th among shortstops heading into 2019. He will provide excellent value from a thin position if selected in or around the 13th-15th round in your drafts.
Player to Avoid
Amed Rosario (Mets) – ADP: 145.4 (16th among SS)
The mere fact that Rosario is being drafted ahead of Escobar is baffling to me. After making a 46-game debut in 2017, he played a full season of 154 games in 2018. The numbers, to me, were underwhelming. He had a low strikeout rate, which is nice, but he also has a low walk rate. He gets on base at less than a .300 clip. He'll likely be slotted at the bottom of a much-improved Mets' lineup this season which will limit opportunity for runs. He doesn't hit for power with just 13 home runs and 61 RBI in 200 career games. The one saving grace he provides is in stolen bases which does bring value but in rounds 10-12 of standard 12-team drafts, I'm looking for more from my selection than just stolen bases.
I currently have him ranked 28th among eligible shortstops in 2019. I'm not knocking him as a player, but the fantasy value just doesn't equate to the current ADP.


Prospect to Watch
Fernando Tatis, Jr. (Padres)
Tatis, Jr. is on the verge of sending a shockwave around the league. He will surely get an opportunity to play in the big leagues in 2019 (barring injury); and I firmly believe once he gets that call, there's no going back. Continuing the theme of the bigger shortstops (Machado, Correa, Gregorius, etc.), he has the power to be an excellent fantasy contributor across the board this season. He is being drafted in most leagues, albeit very late, and he's worth the draft-and-stash selection. In his last two seasons between single-A and double-AA, he's had an OBP near .370 with 38 home runs, 118 RBI, 161 runs, and 48 stolen bases in 219 games. He's already off to a hot start this spring, hitting .294 in seven games with two home runs. If he can keep his strikeout rate down and his walk rate up, he'll be a mainstay as a top-5 offensive shortstop for the next decade.
As always, follow me on Twitter @joebuttgereit!
Never miss ASL's latest fantasy sports news.
Send us an email at This email address is being protected from spambots. You need JavaScript enabled to view it. and list the sports you are interested in (NFL, NBA, MLB, NHL) to start receiving ASL's newsletter.