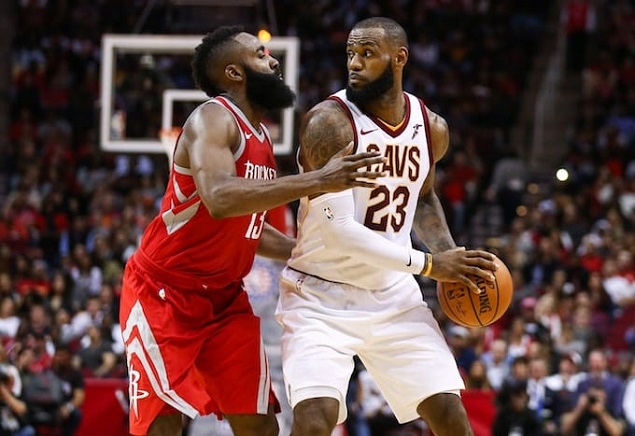 Written by Willard Simms
27 June 2018
To complete our look at the trilogy of teams that might acquire LeBron James in free agency, what would be the scenario if he chose to sign with the Houston Rockets? Well, the first move would have to come from Rockets management. They need to petition the NBA to institute a policy where two basketballs could be in play at the same time. That's the only way the fantasy values of most of Houston's players would avoid taking a serious statistical hit.
In all probability, LeBron would replace P.J. Tucker at forward. Tucker averaged more than 40 minutes per game in the Rockets' highly contested series against the Golden State Warriors during the Western Conference Finals. He was primarily used as a defensive player, and his stats reflect that role. In the regular season (i.e. fantasy time), he averaged 6.1 points, 5.6 rebounds and 0.9 assists per game. LeBron in the regular season averaged 27.5 points, 8.6 rebounds and 9.1 assists per game. Going off of those averages, 21.4 points, 3.0 rebounds and 8.2 assists could be taken away from Houston's four other starters in every game.
Newly crowned MVP James Harden would be especially affected by James' arrival. LeBron would have the ball in his hands, initiating the offense a good deal of the time. That would cause Harden's assist totals to take a serious drop along with his scoring numbers. Chris Paul's assists would also drop, and he would, in all likelihood, become the No. 3 option in this offense, reducing his fantasy value considerably.
Trevor Ariza would probably lose some playing time to LeBron, who has the versatility to play both small and power forward positions better than anyone in the game. Ariza's greatest value is in steals; he averaged 1.5 steals a game this season. But it's hard to steal the ball when you're not on the court, and it's also hard to shoot 3-pointers (he averaged 2.5 makes this season) when you're not on the court. So, Ariza could lose much of his fantasy value if LeBron comes to Houston.
Clint Capela is the only Rocket who might actually see his fantasy numbers improve. LeBron loves to pass the ball into the low post, and that's where Capela does the majority of his work. He should also pick up more rebounds because LeBron will often draw double teams, opening up extra offensive rebound possibilities for a player who is already a very good offensive rebounder. Defensively, Capela could improve his block totals thanks to LeBron since James is skilled at funneling driving players into the middle of the paint. Capela averaged 1.9 blocks per game in 2017-18.
Eric Gordon comes off the bench as the Rockets' very valuable sixth man, so his playing time wouldn't be impacted as much as aforementioned players. But with LeBron or Harden (or both) on the court with him, he simply won't have as many 3-point opportunities, which are what Gordon is about; he has hoisted 8.8 long-range attempts per game in each of the last two seasons. I just don't see him reaching that level again with LeBron on the team.
ALSO SEE:
LeBron on the 76ers

Never miss ASL's latest fantasy sports news. Send us an email at This email address is being protected from spambots. You need JavaScript enabled to view it. and list the sports you are interested in (NFL, NBA, MLB, NHL, EPL) to start receiving ASL's newsletter.