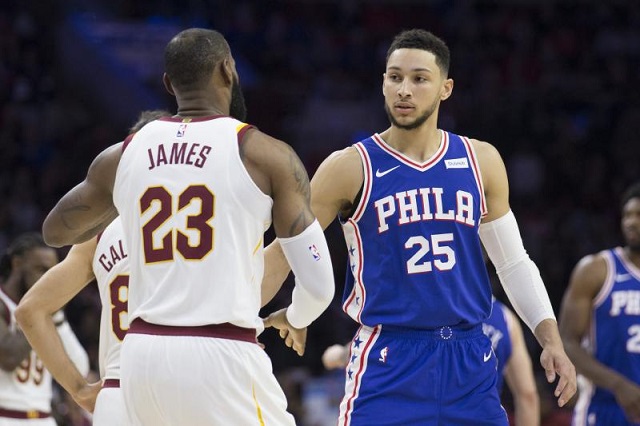 Written by Willard Simms
19 June 2018
What happens when you put the greatest current player in the NBA on a team whose star players have only one or two years of experience in the league?
Although Ben Simmons and Joel Embiid improved in all fantasy categories as the season progressed, both finished outside the top 25 fantasy players this past season. While LeBron James does help the players around him improve, those two might have to change their roles in a way that could hurt their fantasy potential.
The problem for Simmons is that he is a poor free-throw shooter who loves to drive to the basket, so he gets fouled on a lot of attempts. But better to foul him than let him slam down a posterizing dunk or pass the ball to LeBron, one of the game's greatest finishers from the top of the key. Simmons averaged 8.2 assists per game this season while LeBron averaged 9.1. Since James would have the ball in his hands a lot, that would clearly eat into Simmons' assist totals. With LeBron on the team, I just don't see Simmons holding the same fantasy value.
Embiid is another story. While he might not shoot as many 3-pointers, he's such a force in the low post that he's going to get the ball down there no matter who is on the team. With LeBron being the great passer that he is, Embiid will be getting a lot of quality looks and wide-open dunks. His shot-blocking should also increase as LeBron will force opponents to drive into the paint where Embiid's long arms will be waiting. His rebounding should also pick up as LeBron will command double teams, thereby opening up the middle for Embiid to dominate on the offensive glass. If paired with LeBron, Embiid is a first- or second-round pick next season.
So, Simmons and Embiid would see their respective fantasy values change somewhat. However, LeBron's impact on Philadelphia's three other starters would be much greater.
Robert Covington really came into his own this year, finishing as a top-40 fantasy player. But as an undrafted free agent starting for what was a mediocre team, his spot is the one most likely to go to LeBron, who is the best small forward and power forward in the game. Thus, Covington's numbers in all areas, especially 3-pointers and steals, would drop precipitously, making him only a late-round draft choice.
Dario Saric should be able to hang on to his playing time, but I doubt his rebounding numbers would hold up with James crashing the boards, especially after he misses his own shots. Saric's shooting numbers should look pretty similar to what he did this year thanks to LeBron finding him in open spaces, but I would expect Saric to generally remain about where he finished this season: a top-60-80 fantasy player.
J.J. Redick is a 3-point specialist who runs and runs and runs until he gets an open look at a 3-pointer. In other words, he's exactly the kind of player James likes to have on his team. I would expect no drop in his fantasy production. If anything, Redick might get more 3-point opportunities.
ALSO SEE:

Never miss ASL's latest fantasy sports news. Send us an email at This email address is being protected from spambots. You need JavaScript enabled to view it. and list the sports you are interested in (NFL, NBA, MLB, NHL, EPL) to start receiving ASL's newsletter.