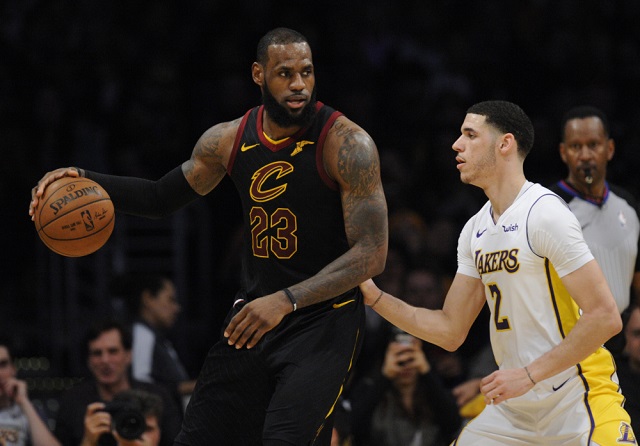 Written by Willard Simms
14 June 2018
Who's the greatest of all time: Michael Jordan or LeBron James? Please, enough of that! When fantasy basketball starts again this fall, Michael Jordan won't be drafted by anyone, but LeBron will!
We're in early summer now, months away from the start of basketball season. For years, baseball has had what's called "hot stove season," where the conversations continue through the winter even though the games don't. Maybe we should try that in basketball, too. Since the MLB and NBA offseasons are at opposite ends of the year, let's call ours "cool beach season." And in "cool beach season," LeBron is still at the heart of all conversations. Where will he be playing next? What impact will he have on his new teammates if he does indeed join a new team?
There are basically three frontrunners for his services: The Houston Rockets, the Philadelphia 76ers and the Los Angeles Lakers. So, in "cool beach season," let's appropriately cover beachy Los Angeles in this article.
Not only do the Lakers become instant title contenders with LeBron, some of their players could see their fantasy values skyrocket. Lonzo Ball is a passing point guard, with a "shoot only when you absolutely have to" mentality. With LeBron at the top of the key, ready to receive passes and either drive the middle of the lane, drill 3-pointers or pass back to Lonzo in a pick and roll, I expect Ball to be the Laker whose value improves the most. Yes, LeBron is a very ball-dominant player for good reason, but he's also one of the best passers in the game. The only time Ball seems comfortable shooting is when he has a wide-open 3, and he'll get plenty of those while LeBron is facing double teams. With LeBron on board, I expect Lonzo to move into the top 50 in fantasy basketball leagues.
Julius Randle is a question mark. Will he be traded to provide the Lakers with cap space or will he be turned into a small-ball center in the Draymond Green mold? If he stays with the Lakers, his fantasy value declines. His scoring may greatly diminish, he will some rebounds to James and won't be taking the ones he does gather coast to coast any longer. If he's traded to the right team, he may be featured there after a strong finish to this season, and his fantasy stats could take quite a boost.
If Randle leaves, Kyle Kuzma could be a real sleeper candidate! He has a good all-around game and has already learned how to camp at the 3-point line and wait for the pass. With LeBron on the team, he'll get more of those chances. He's also a player who loves to run the floor which makes him a great candidate for fast-break points. So, his fantasy arrow is pointing up.
Brandon Ingram would probably switch to shooting guard with LeBron at forward. Ingram is also a player who likes to drive the middle, so his opportunities there may diminish as other teams might clog up the paint to keep LeBron away from his favorite driving lanes. Ingram's scoring stats will also decline since he's still not a good outside shooter, and his shooting percentages might take a very big hit. I wouldn't draft him in the first six rounds.
Brook Lopez's fantasy value will definitely take a hit as he'll rarely have plays called for him. He's not the kind of center who runs out much on fast breaks. He may get more 3-point opportunities, but his scoring, rebounding and playing time will definitely suffer. Kentavious Caldwell-Pope looks like a one-year rental who I don't think will be on the Lakers next year, so we'll leave him out of the conversation. 
At this point, I don't see anyone else on the Lakers having much fantasy value -- unless, of course, Paul George signs with them. Next week, we'll go over how players on the Sixers could be affected by joining forces with King James!


ALSO SEE:
Never miss ASL's latest fantasy sports news. Send us an email at This email address is being protected from spambots. You need JavaScript enabled to view it. and list the sports you are interested in (NFL, NBA, MLB, NHL, EPL) to start receiving ASL's newsletter.