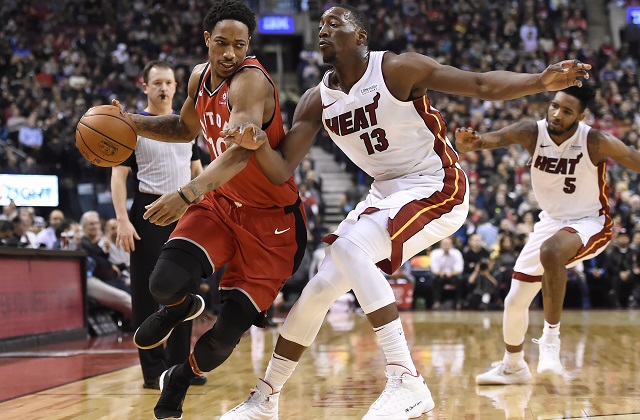 Written by Willard Simms
27 December 2018
The Miami Heat's Bam Adebayo will stand to see heavy minutes now, with Hassan Whiteside having physical problems, plus taking time off periodically for personal reasons. Without Whiteside in the lineup, Adebayo has flourished on offense, and you can expect him to hit double digits in scoring and in rebounding, as well as getting blocks galore! The Heat have been playing Adebayo more than Whiteside in the fourth quarter of recent games, and it's clear they're expecting more from him in the future.

Trevor Ariza has been picking up heavy minutes now that he's back with his former team, the Washington Wizards. All of his fantasy stats, on both offense and defense, have significantly increased. And with Otto Porter expected to miss even more time, and Ariza reestablishing his former on court relationship with John Wall and Bradley Beal, it looks like he will now be playing a pivotal role for the Wizards' hopeful return to their past successes.

Build the best lineups with the power of The Machine for Daily Fantasy Sports.

LeBron James has finally proven human, succumbing to an injury that will keep him off the court for a few games. Since Rajon Rondo will also be out, I expect Lonzo Ball to be a main contributor to the Los Angeles Lakers' offense and defense the next several games. Not only will he be shooting more three-pointers, he will be the central cog in the Lakers' offense, and should be getting nightly double-doubles, sometimes even triple-doubles, in the next few weeks. And I also expect Kyle Kuzma to step up for the Lakers. He will be handling the ball much more, and will often be expected to bring the ball up court in a hurry after he gets a rebound.

After a slow start, Kevin Knox of the New York Knicks is really beginning to get his game together. And now with Tim Hardaway Jr. having to miss a few games, Knox will have the opportunity to showcase his talents. He's another player who can grab a defensive rebound and take the ball coast-to-coast to his own basket. In his last 8 games he's averaged over 20 points a game, to go along with 6 rebounds a game plus sinking over 80% of his free throws. The Knicks are now fully committed to developing their young rookie.

To see Willard's top-3 players that are already performing above expectation click here.

Never miss ASL's latest fantasy sports news. Send us an email at This email address is being protected from spambots. You need JavaScript enabled to view it. and list the sports you are interested in (NFL, NBA, MLB, NHL) to start receiving ASL's newsletter.