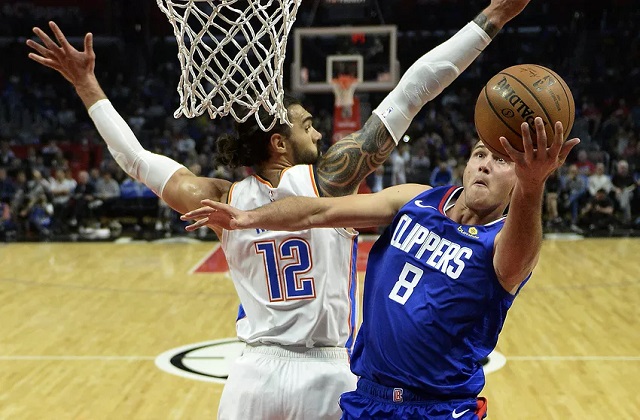 Written by Willard Simms
27 December 2018
In other words, ballers who, after the fantasy draft, wound up achieving far more than was expected of them by their fantasy basketball team managers.

Our ASL Santa's first present goes to Danilo Gallinari, who hadn't played in more than 63 games in a season in the last 5 years. Ah, but this year is different, he's only missed one of the Los Angeles Clippers first 30 games, and his scoring and shooting percentages have been solid in every one of those games.  He's been averaging nearly 20 points a contest, with a spectacular free shooting percentage of 92%, and a three point shooting percent of 45%.  Danilo gets a brand new pair of retro Air-Jordans.

The next present goes to a rookie, who has been especially good to his owners, and more than lived up to his pre-draft hype - Luka Doncic of the Los Angeles Clippers.  Luka has just gotten better and better as the season has gone along. In the last few weeks the 19 year old has put up statistics like this:  An average of over 21 points a game, with two 3 pointers a game, 7 rebounds a game, 7 assists a game, and almost 2 steals a game. As a result, he recently arrived in the top 50 list of fantasy basket ballers. Luka, who is only 19, gets a fake I.D. so he can go out on the town after games with his team mates.
Build the best lineups with the power of The Machine for Daily Fantasy Sports.


There have been so many over achievers this fantasy season, Santa had to limit his gifts to the top three. And the last gift goes to a European born player, Clint Capela. Capela never averaged more than 27 minutes a game his first 4 seasons in the league, and didn't generate much excitement. But this year, as the starting and playing big minutes center for the Houston Rockets, Capela has been especially very very nice to his fantasy owners. He has averaged 17 points a game, while grabbing over 12 rebounds a game (with 2 games of 20 or more rebounds in the last 4), and swatting away 2 shots a game. Clint gets a weekend vacation on Lake Geneva, in his home country of Switzerland.

To see the top-5 players Willard believes will make the most of greater opportunities because of injuries click here.

Never miss ASL's latest fantasy sports news. Send us an email at This email address is being protected from spambots. You need JavaScript enabled to view it. and list the sports you are interested in (NFL, NBA, MLB, NHL) to start receiving ASL's newsletter.