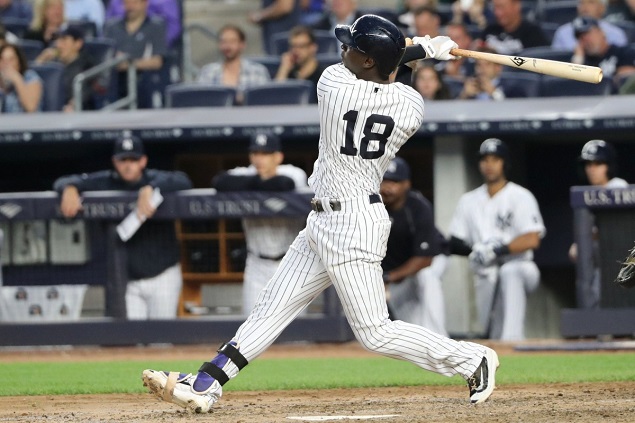 Written by Brian Murphy
19 April 2018
SS Didi Gregorius, New York Yankees
If not for Gregorius, the underachieving Yankees would be floundering even more. He has been simply mashing to start this season, especially at home in Yankee Stadium. And there are reasons to believe that this is not a total fluke. He has been a different hitter in 2018. He's always been a free-swinger, but now his chase rate has dropped 17 points from last year, and Gregorius has walked 14 times in 16 games. For content, his single-season career high in walks is 37. His BABIP is a normal .267. He's hardly striking out, and it's been almost impossible to get a strike by him. But Didi Gregorius leading the majors in slugging percentage and OPS? That's insane. A .471 ISO? A .505 wOBA? Good god. There are reasons why Gregorius is better than ever, but he's not this good. See what you can get for the No. 7 player in Yahoo leagues and the No. 4 player in ESPN leagues. One data point: He was traded straight up for Chris Sale in a Yahoo public league Thursday.
Related: 5 Hitters to Trade For
2B Jed Lowrie, Oakland Athletics
Right in front of Gregious on the ESPN player rater is Lowrie, who is carrying a .346/.404/.605 slash line. He's still available in 25-30 percent of leagues, and you should expect a huge haul for a 34-year-old player you grabbed off the waiver wire. But if you aren't at least trying to deal Lowrie for something, you're doing it wrong. Lowrie is one of a few A's who are off to incredible starts -- I thought about putting Matt Olson here instead -- but Lowrie, unlike Gregorius isn't a different player; he's just on a hot streak. Lowrie has never hit more than 16 homers, driven in more than 75 runs, and he has only once recorded a batting average above .277 in a qualified season. There's nothing in his batted-ball profile that says this is sustainable, so unload while you can. Lowrie was acquired for Brian Dozier in a Yahoo public league. He's also been traded for Javier Baez, who is a sell-high candidate in his own right.
1B Eric Hosmer, San Diego Padres
Can you still sell Hosmer off of his name value and preseason price point? Let's hope so. He's not off to a totally awful start, but if you're expecting Hosmer to hit 25 homers and give you a high batting average again, you will probably be disappointed. Hosmer was already a heavy ground-ball hitter, but his grounder percentage is now up to 62.7. And when he's not hitting grounders, he's probably striking out, as he has in a quarter of his ABs thus far. Is he pressing to succeed on a new team and under a big contract? Yes, but I'm not sure a drop in his K rate will lead Hosmer back to being the hitter we expected him to be. He's now hitting almost everything in the air to the opposite field -- Hosmer has hit just three non-grounders to the right side of center field this season -- and without some pull power, I think he's more of a 15-homer player with a batting average around .280.


You can follow, ask fantasy questions and yell at Brian on Twitter: @Spokes_Murphy
Never miss ASL's latest fantasy sports news. Send us an email at This email address is being protected from spambots. You need JavaScript enabled to view it. and list the sports you are interested in (NFL, NBA, MLB, NHL, EPL) to start receiving ASL's newsletter.