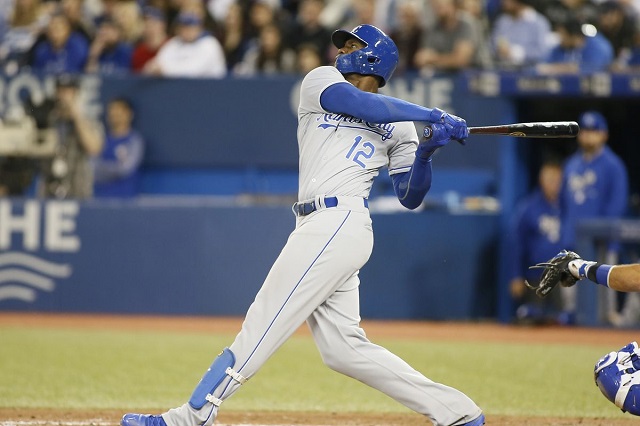 Written by Brian Murphy
08 May 2018
OF Leonys Martin, Detroit Tigers
Martin has been one of the most consistent producers in 5x5 leagues this season yet is still available in 60-80 percent of leagues depending on where you play. This is understandable since prior to 2018, Martin was mostly a defense-first player who could steal bases and perhaps pop a homer every now and then. In 2016, he hit 15 homers and stole 24 bags but hit just .247. This year, he has increased the power while also keeping his batting average very respectable (.294). He has only one stolen base, but that can spike at any moment. 
But, OK, here is Leonys Martin with five home runs, more than Cody Bellinger and Paul Goldschmidt, the same as Kris Bryant. Why is that? His average exit velocity isn't amazing on its own (89.1 mph), but that's a 4-5-mph increase from his previous couple of seasons. His hard-hit rate via FanGraphs has gone up by almost 50 percent from last year, and his live-drive rate has followed by about one-third. Another data point to show you the quality of Martin's contact: His weighted on-base average is .366, according to Statcast. That's very good, but his expected weighted on-base average is .423.
Martin has been a little lucky with his BABIP (.340), but that's not grossly higher than his baseline, and as long as he continues to sting baseballs, that BABIP will stay elevated. The same principle holds for the rest of Martin's numbers.
OF Franchy Cordero, San Diego Padres
A Statcast darling, Cordero is among the game's best in exit velocity and hard-hit percentage. He is a true slugger that probably not many people are very familiar with. But he has made noticeable strides at the plate to become a better hitter. K rate? Down 11 points from last season. Walk rate? Now in the double digits. Chase rate and swinging-strike rate? Both down significantly. Overall contact rate? Up six points from last year. You will never have to worry about Cordero's power; it'll be there. He just needed to be smarter at the plate and he has shown that. As a bonus, Cordero has stolen three bases. Could a 30-homer, 15-steal season be upon us? Possibly. I think 30 homers is a near-definite for Cordero, even in San Diego. With his new approach, he won't crush you in batting average either. His is currently at .271.
OF Jorge Soler, Kansas City Royals
Another toolsy, power-laden outfielder, Soler has taken his time to reach the potential that many saw in him in 2014. Who knows whether he is close to his peak, but he is clearly showcasing that potential now. His current five-category line is an attractive 13-4-12-1-.308. He's another player with a bloated BABIP (.406), but a 42.5 hard-hit percentage allays some worry of a massive regression. Again -- this is a trend -- his walk and strikeout rates have gone in opposite directions, positive for both. Soler just seems very comfortable hitting out the No. 2 spot in KC, and he has been a 5x5 star for the past couple of weeks. He should be owned in many more leagues than he is right now, especially in those with 12 or more teams.
OF Mallex Smith, Tampa Bay Rays
I have endorsed Smith before and I'm back at it again because he can be of real help in the batting average and SB categories but is still free in 60-70 percent of leagues. Smith's BABIP is now -- as it was then -- ridiculous (.411). But the key for him is to get on base, and Smith has been doing a good job of that. His strikeout rate has fallen by about 20 percent from his previous MLB seasons, and his greater contact rate has played a big role in a .413 on-base percentage. Smith is just so fast, odds of him reaching base are good as long as he can put bat to ball. Sure enough, he has gone 4-for-12 this month and has nabbed three bases. He is now up to eight steals on the year, tied for sixth-most in baseball. If your team is swollen with power but needs some fast legs and a higher average, Smith is worth a long look.
You can follow, ask fantasy questions and yell at Brian on Twitter: @Spokes_Murphy
Never miss ASL's latest fantasy sports news. Send us an email at This email address is being protected from spambots. You need JavaScript enabled to view it. and list the sports you are interested in (NFL, NBA, MLB, NHL, EPL) to start receiving ASL's newsletter.