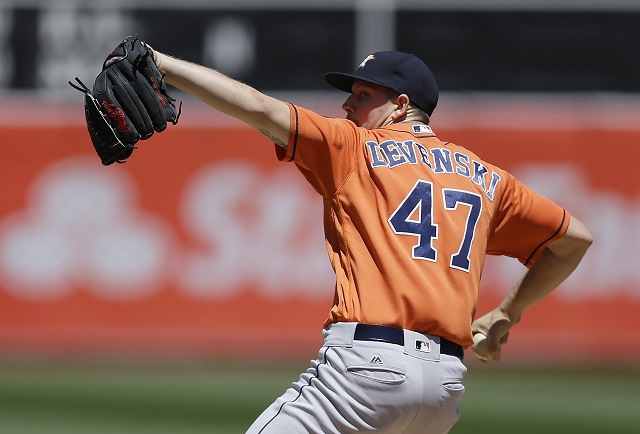 Written by Brian Murphy
19 April 2018
RP Bud Norris, St. Louis Cardinals
Well, so much for Greg Holland. OK, not really. Holland is still in his spring training phase and his stats with St. Louis display that: Four appearances, 2.1 innings, seven walks, 11.57 ERA. So, for the time being, it's Norris who is getting the call in the ninth. His last three appearances haven't been clean, but they all ended with a save, and he struck out eight batters across those three innings. Norris is still available in a ton of ESPN and CBS leagues and should be added. He'll probably move back into a setup role once Holland figures things out, but who knows when that will be right now?
RP Chris Devenski, Houston Astros
Speaking of save chances, Devenski has gotten the last two for the reigning world champs and closed both games with little ago. Devenski was extremely valuable to Houston as a multi-inning reliever last year, so I'm not certain that the 'Stros will keep employing him in the ninth, but he has been fantastic to start this season, striking out 11 batters and allowing one run through nine innings. Plus, as long as Ken Giles is sidelined with a back injury that seems to not be getting any better, someone will have to close here. Devenski has earned such a role by being the team's best reliever thus far. He is available in about 40 percent of Yahoo leagues and more than half CBS leagues.
3B Christian Villanueva, San Diego Padres
Could Villanueva be experiencing something of a post-hype breakout? It's worth checking in to find out. The former top-100 prospect has been one of the best players in the game over the past week, going 10-for-17 with three HRs and seven RBIs. He also had a three-homer performance earlier this year. Villanueva looks like a typical slugger (a lot of Ks and a lot of fly balls), so if you are in need of power from the hot corner and can sacrifice some batting average, pick up Villanueva. One word of warning: He is currently listed as day-to-day after getting hit by a pitch and leaving with a bruised hand Wednesday night. However, he has no broken bones, so he shouldn't miss much time, if any. Villanueva is situated in the middle of the Padres' order and won't be going anywhere as long as Chase Headley continues to be worthless at the plate. Villanueva is available in about 40-50 percent of all leagues depending upon the platform.
OF Mallex Smith, Tampa Bay Rays
If you're in a 12-team or deeper, it's really time to give Smith a chance. I've been waiting for him to cool down, but the speed merchant just had a four-hit game a few days ago and is now batting .373. That's unsustainable (.432 BABIP!), but as long as he is continuing to get on base, he's got fantasy appeal thanks to his 40-SB potential. Smith really should be batting at the top of Tampa Bay lineup, not seventh, eighth or ninth as he is now. Regardless, his hot streak has been going on for too long to ignore. At the very least, Smith, who is available in at least 60 percent of all leagues, will be a cheap source of steals and a decent average. Obviously, there's no power here as Smith has 22 home runs in his pro baseball career through 647 games.
SP Nick Pivetta, Philadelphia Phillies
Pivetta has really helped himself by not hurting himself this season. Specifically, he has walked just two batters through four starts. He has kept them off balance with a mid-90s fastball mixed with a high-70s curve, a decent slider and stellar command. He has given up just three earned runs in his last 18.1 innings while striking out 18. So, to recap: quality pitch mix, good command, few walks, strong strikeout totals. Oh, and Pivetta's 23 percent hard-hit rate is one of the top-10 lowest in MLB. He's out there for you to add in 60 percent of Yahoo and ESPN leagues. You know what to do.   

You can follow, ask fantasy questions and yell at Brian on Twitter: @Spokes_Murphy
Never miss ASL's latest fantasy sports news. Send us an email at This email address is being protected from spambots. You need JavaScript enabled to view it. and list the sports you are interested in (NFL, NBA, MLB, NHL, EPL) to start receiving ASL's newsletter.