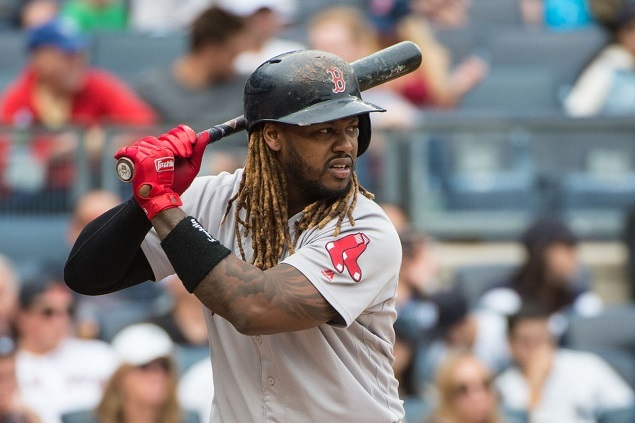 Written by Brian Murphy
27 April 2018
Last week, I presented three players that I think are worthy sell-high guys. Yes, Didi Gregorius is on that short list and he's now the No. 1 player in fantasy baseball. I still stand by that call, however. The fact that Gregorius has continued his blistering batting just means that you should ask for more from your trade partner in return.
But one reason why I made that list only three players and not longer is that there were some other hitters who may be seen as sell-high candidates that I'd rather hold on to and ride out for the duration. Here are a few of those players.
OF Mitch Haniger, Seattle Mariners
Many, many fantasy baseball owners overlooked Haniger during draft season, seemingly forgetting that he put up 16 homers and a .282 average in 96 games last year. He was on the DL twice last year, so that probably assisted in how everyone bypassed the fact that during the Mariners' final 28 games, Haniger hit seven homers and logged a .987 OPS. And he has picked up where he left off. Through 24 games thus far, he's got eight homers and a 1.003 OPS. Haniger has seemingly become another believer in the fly-ball revolution, hitting much fewer balls on the ground, but he's also got a 40 percent hard-hit rate and an average exit velocity of 93.1 mph. He's not going to quite sustain this home run pace, but Haniger is a really solid, all-around contributor (he'll steal a few bags, too).
1B Hanley Ramirez, Boston Red Sox
If he stays healthy. That's really it for Han-Ram. If he stays healthy, he's going to hit on the field and at the bank (he's got a $22 million option that automatically triggers if he makes 497 plate appearances this year). Ramirez's shoulders were a mess from the early going last year, and his numbers showed it. He is healthy now and although playing 150-plus games hasn't been his forte, Ramirez is still the type of hitter who can give you 25 homers, 100 RBIs and an average around .300 when he's right and especially from the middle of that Red Sox lineup. Consider that Ramirez is stinging the ball on average at 93.7 mph and that, according to Baseball Savant, his weighted on-base average (.377) is actually 31 points lower than his expected weighted on-base average (.408).
2B Javier Baez, Chicago Cubs 
At times in his career, it's looked as if Baez is swinging before the pitch is thrown. It doesn't matter what or where it is, he's going to unleash. Baez is still unleashing, but lo and behold, he is doing it more selectively. His two-point drop in chase rate is small yet significant. And how about his nine-point increase of swings on balls inside the strike zone, from 72.6 to 81.8? Baez is simply attacking better pitches now and letting his natural power do the rest of the work. He's got 11 barrels to his credit (top-20 in MLB) and is the No. 10 player in ESPN leagues. Baez's current .310 batting average will drop, but given his strong 28.6 line-drive rate, his average won't crater as long as he keeps up the solid contact. I do expect that to continue, and I also think Baez will end 2018 with at least 30 home runs. I don't throw that number out there flippantly; that kind of power is definitely a part of his skill set.
2B Yoan Moncada, Chicago White Sox
Moncada is off to a top-50 start in ESPN and Yahoo leagues with one weird plate discipline profile. He's still striking out waaaaaay too much (39.6 percent), but his chase rate is just 20.5 percent. That's good. His contact 67.9 percent. That's bad. He's got a 52.1 hard-hit rate. That's good. His .413 BABIP hints at regression. That's bad. (insert joke about potassium benzoate here). Maybe the White Sox can find the issue with Moncada's swing and fix it with some tweaks because he's developing a good eye at the plate already. As long as you can get some players to cover up his batting average, Moncada has the look of becoming a 25-20 homer-steal player in his age-23 season. 


You can follow, ask fantasy questions and yell at Brian on Twitter: @Spokes_Murphy
Never miss ASL's latest fantasy sports news. Send us an email at This email address is being protected from spambots. You need JavaScript enabled to view it. and list the sports you are interested in (NFL, NBA, MLB, NHL, EPL) to start receiving ASL's newsletter.