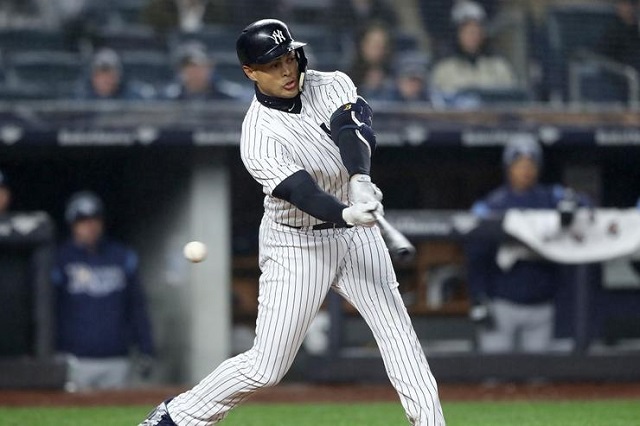 Written by Brian Murphy
17 April 2018
1B Carlos Santana, Philadelphia Phillies
Santana's counting stats thus far are actually pretty good (10 runs, 10 RBIs, two homers), but the underlying numbers state that he could be giving fantasy owners so much more. He has just eight hits in 56 at-bats despite the fact that he has a 40.8 percent hard-hit rate and a solid average exit velocity of 91.3 mph. Plus, he has already tallied eight barrels, another measurement of how well he is making contact with the ball. Santana's walk and strikeout rates are fine. In the end, he has just been done in by a lot of bad luck. He has a .128 BABIP, and no player in baseball has a bigger separation between his weighted on-base average (wOBA) and expected weighted on-base average (xwOBA). He's currently at .243 but according to Baseball Savant, he is hitting like a player who should have a wOBA of .433, which is outstanding. Santana's average is going to rebound in a big way and if he keeps hitting the ball this hard, he's going to pile up fantasy stats.
OF Giancarlo Stanton, New York Yankees
You will probably have to still pay a fairly high price for Stanton based on name value, but if the Stanton owner in your league is fed up with his league-leading 27 strikeouts, frustrated by his .210 average and has been seduced by all of the boos from the Yankee Stadium faithful, you could acquire Stanton at a discount. When he actually makes contact, he is still making hard contact at an alarmingly high rate of 51.4 percent. His 96.8 mph average exit velocity is the best in the majors. Giancarlo will still strike out plenty, but his current 38 percent K rate should fall by 7-10 points over the course of the summer. As the weather turns and as Stanton becomes more familiar with American League pitchers, he is going to become the player that the Yankees and fantasy owners thought they were getting in the offseason.
1B Ryan Zimmerman, Washington Nationals
It's easy for people to write off Zimmerman's 2017 as a bit of a fluke and say that the 33-year-old is now showing his age. Zimmerman is hitting just .111 with two runs and five RBIs through 54 ABs. Yet, his hard-hit rate is higher than Santana's, currently at 42.1 percent. His ground balls are down, his fly balls are up and he's chasing fewer pitches out of the strike zone. His line-drive rate (26.3) is solid, and Zimmerman's average exit velocity of 96.3 mph trails only Stanton and Jose Abreu. Zimmerman is available in about 30 percent of Yahoo leagues and 35 percent of ESPN leagues, so you may not even need to give anything up to get him. Stash him if you have an open bench spot because his production will pick up soon. 
1B Joey Votto, Cincinnati Reds
I apologize for clogging this article up with a bunch of first basemen, but there are a bevy of great buy-low opportunities here. You already know that Votto is a traditionally slow starter; I said as much in this article from a couple of weeks ago. Sure enough, Votto owns a .250 average and a .559 OPS so far. He still hasn't homered and, most amazingly, has more than twice as many strikeouts than walks. Or maybe it's most amazing that Votto, a man known for his plate patience, has swung at 75 percent of the pitches he has seen in the zone and 47.5 percent of all pitches thrown. That just doesn't make any sense for Joey Votto. Anyway, this is going to turn around soon. Why? Because it's Joey freakin' Votto! But if you don't like that simple logic, Votto is another player who has been driven down by bad luck as his xwOBA (.378) is 130 points higher than his actual wOBA (.248). Votto is also still striking the ball well with a 35.2 percent line-drive rate, fifth-best among qualified hitters. Those are going to start falling.
2B/3B Jose Ramirez, Cleveland Indians
Here's one final bad-luck/buy-low batter as Ramirez's current BABIP is a crazy-low .116. He has shown some growth as a hitter early on as his chase rate has fallen off by about one-third and his walk rate has more than doubled from last season. That doesn't really help fantasy owners, but a hitter's improved approach is worth noting. Ramirez's problem might be that he is getting too HR happy as he has a 52.2 flyball rate. He needs to go back to aiming for line drives, which he has hardly done this season. Nonetheless, that BABIP is untenable and will undoubtedly normalize over the summer. Go get Ramirez from an owner who is overreacting to his .160 batting average through 14 games.


You can follow, ask fantasy questions and yell at Brian on Twitter: @Spokes_Murphy
Never miss ASL's latest fantasy sports news. Send us an email at This email address is being protected from spambots. You need JavaScript enabled to view it. and list the sports you are interested in (NFL, NBA, MLB, NHL, EPL) to start receiving ASL's newsletter.