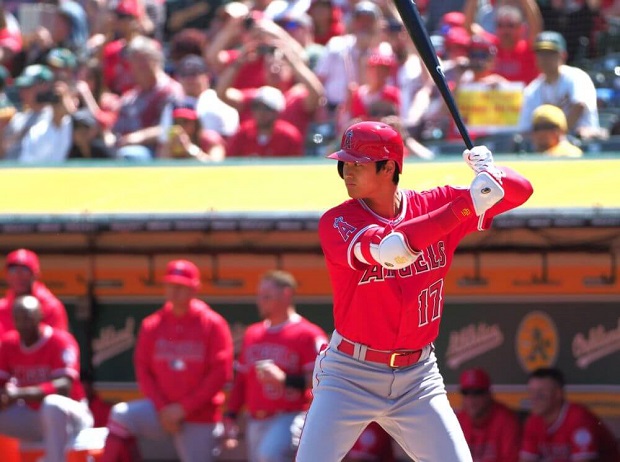 Written by Brian Murphy
05 April 2018
It's only a week, and hot takes after a week of games just aren't very valuable in baseball. Crafting narratives in a small window is not how baseball works. However, after that one week, I'll admit that my early opinion on Shohei Ohtani's fantasy stock is not aging well. Of course, there are two Shohei Ohtanis in fantasy; one is a pitcher and another is a hitter, so let's look at both.
Ohtani, the pitcher: The Oakland Athletics are a heavy swing-and-miss team, but that didn't make Ohtani's mound debut less impressive. He threw 63 of 92 pitches for strikes. He topped out at 99.6 mph hit 99 mph on the radar gun 12 times on 39 fastballs. His average fastball velocity was 97.8 mph, and Ohtani got 10 swings-and-misses on the 16 splitters he threw, which clocked in at a very hard 89.3 mph average. He gave up a three-run home run to Matt Chapman on the slider, which was probably his most error-prone pitch Sunday, but none of his pitches were bad and a couple of them were elite. He will pitch this Sunday against the A's again. Fantasy owners will have to get used to him making just one start per week, but judging from his repertoire and stuff from his debut, Ohtani is going to turn in a very nice pitching line more often than not.
Ohtani, the hitter: Ohtani won't be in the lineup every day when he's not pitching and because of that, he will be tough to lean on in weekly leagues. But in those three games where he batted this season, man, it's been special. Ohtani is 6-for-14 with two homers -- including a 400-footer off of Corey Kluber to center field on Wednesday -- and five RBIs. Also, Ohtani has struck out only three times in 14 at-bats. That's a very liveable rate, especially when you consider that Ohtani's ability to make consistent contact was heavily questioned prior to this season. That contact, by the way, has been loud and strong. Nine of the 11 balls that Ohtani put into play came off the bat at 100 mph or better. In case you don't know, that is elite hard-hit contact. He logged a 112-mph single on Tuesday. According to MLB.com's David Adler, that was the hardest hit ball from any Angel since Mike Trout's 113-mph single last August.
Again, it's only a week. Ohtani won't hit .429 this year or hit two home runs per week when he is batting in only 3-4 games per week. On the mound, he'll face tougher competition than the A's and still likely won't pitch more than once per week. I get it. He is not the perfect fantasy commodity by any stretch. But he is already better than I imagined, and it's only April 5. Ohtani is making it look like the hype was legit. He is worth adding as a hitter if you have an open bench spot in your day-to-day fantasy baseball leagues (minimum 12 teams). As a pitcher, he's a must-start until further notice.


You can follow, ask fantasy questions and yell at Brian on Twitter: @Spokes_Murphy
Never miss ASL's latest fantasy sports news. Send us an email at This email address is being protected from spambots. You need JavaScript enabled to view it. and list the sports you are interested in (NFL, NBA, MLB, NHL, EPL) to start receiving ASL's newsletter.