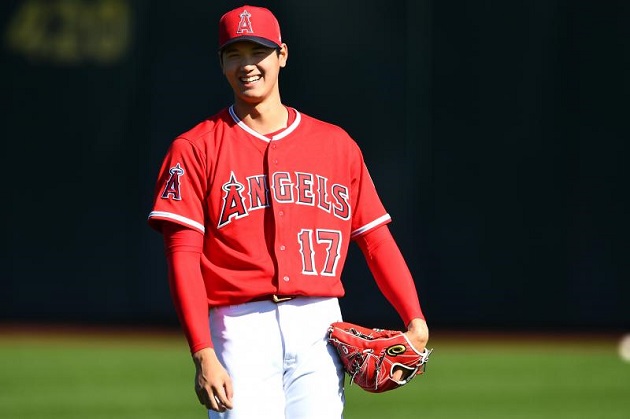 Written by Brian Murphy
06 March 2018
Shohei Ohtani, Los Angeles Angels
Ohtani has that new-pitcher smell. His hype is unrestrainable. That plus all of the puns his name makes possible have helped drive his average draft position up into the sixth or seventh round of 12-team leagues. OK, maybe the puns part is just me, but unless he gets absolutely crushed multiple times during spring training, I think Ohtani's price will continue to increase; the masses will be inundated with anything he does that qualifies as a highlight because Ohtani is MLB's Hot New Thing. Yet, fantasy owners need to be aware that the Angels' six-man rotation is going to cap Ohtani's contributions. Moreover, I feel very wary of choosing a pitcher who has never pitched at this level ahead of established, quality starters such as Gerrit Cole, Jose Berrios, James Paxton, etc. That's happening right now, and Ohtani will probably pass more players in the coming weeks. Ohtani will be a no-Sho on my teams. 
So many puns ...
Jake Arrieta, Free Agent
I don't hate Arrieta's ADP right now; it's somewhere between 80-100 depending upon where you draft. However, that's not going to last long simply because Arrieta shouldn't last much longer on the open market. No matter where he signs -- even if it's Washington, which I think would be a best-case scenario -- Arrieta's price point will inevitably ascend. Buyer beware: This is not 2015 Arrieta. His fastball velocity dropped by almost 2 mph last year. His hard-hit percentage has gone up in each of the past two years, up 33 percent since '15. He's missing fewer bats. His chase rate has dipped. Arrieta's ground ball rate plummeted last year (maybe that will normalize). All of this for a 32-year-old pitcher who is currently ranked inside his position's top 30, and that's without a team attached to his name. He is another player who will become too expensive very soon. 
Craig Kimbrel, Boston Red Sox
Let's dust off this adage because it should be said every spring: Wait on closers. Or is it "Don't chase saves"? It's something like that, but you get the idea. Of course you do if you've been playing this game for more than one season. Looking past the highly rated closers in your drafts is wise from a value standpoint. Now, I do believe that Kenley Jansen is a clear cut above the rest. I wouldn't buy him at his current rate (fourth round), but I'll at least consider him if he falls. To everyone else, including Kimbrel, who is being drafted one round later, see ya later. Closer is a volatile position that experiences a high rate of turnover from season to season, turning overlooked relievers into hot commodities in short order. Last season, Corey Knebel, Felipe Rivero, Greg Holland, Brandon Kintzler and Fernando Rodney came from the back of the draft or from the waiver wire to give fantasy owners tremendous value. Alex Colome was a premier member of that group in 2016. Andrew Miller, Jeurys Familia and Brad Boxberger graduated, so to speak, in 2015. I could go on, but again, you get the point. This happens every year. Spend your early-round picks on bats and dependable starters and fill your RP slots with some late-round lottery tickets and with a good work ethic on the waiver wire. Your squad will be better off.


You can follow, ask fantasy questions and yell at Brian on Twitter: @Spokes_Murphy
Never miss ASL's latest fantasy sports news. Send us an email at This email address is being protected from spambots. You need JavaScript enabled to view it.and list the sports you are interested in (NFL, NBA, MLB, NHL, EPL) to start receiving ASL's newsletter.