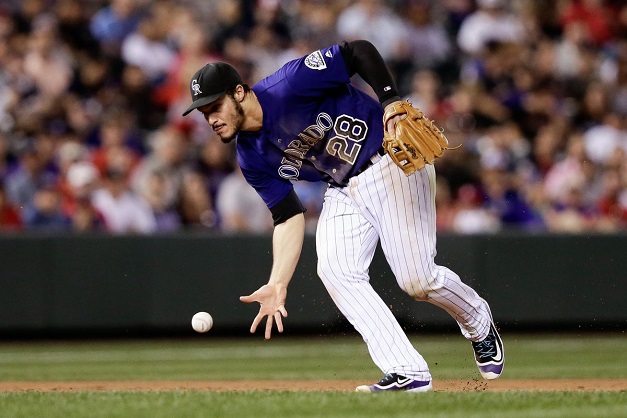 Written by Brian Murphy
22 February 2018
Here is a quick list of the top 10 third basemen for points leagues.
1. Nolan Arenado, Colorado Rockies
For my money, Arenado should be the No. 3 pick in points leagues, behind only Mike Trout and Jose Altuve. He's in his athletic prime and has been one of the most consistent players in the game over the past three seasons.
2. Jose Ramirez, Cleveland Indians
I talked about Ramirez briefly in my top-10 second basemen ranks.
3. Kris Bryant, Chicago Cubs
You know you're good when putting up a line of 111 runs, 29 homers, 73 RBIs, a .295 average and a .946 OPS are considered a disappointment. His RBI total will remain relatively suppressed for as long as he's hitting second, but I think his power will pick back up in 2018 as his ground ball and fly ball rates get back closer to career norms.
4. Manny Machado, Baltimore Orioles 
Machado is a little overrated in fantasy circles; he was the No. 6 fantasy third baseman last year despite playing in 157 games and has never finished higher than third. But consider that he was one of the game's most unlucky hitters for the season's first half last year (he ended up raking late in the summer). Plus, his upcoming shortstop eligibility makes him worth an early-round pick yet again.
5. Josh Donaldson, Toronto Blue Jays
The Bringer of Rain knocked out 33 homers in just 113 games last season. Now, he really shouldn't get many good pitches to hit as opponents should instead make Justin Smoak prove that he's not a one-year wonder. But that probably won't happen, and I can't deny Donaldson's 40-homer potential.
6. Anthony Rendon, Washington Nationals
Fantasy's No. 4 third baseman last season, we've seen how good Rendon can be as long as he stays healthy. He still carries some injury concerns because of his past, but he should come close to repeating his 2017 success. He might surpass it if he gets rightfully moved up in the Nats' lineup.
7. Justin Turner, Los Angeles Dodgers
It took me a little while, but I can no longer doubt Turner as one of baseball's best third basemen. He has 30-homer upside and should hit better than .300. He was fantasy's No. 10 3B'er last year despite missing more than 30 games.
8. Alex Bregman, Houston Astros
He was a beast in October, but Bregman also had an OPS better than .950 in July and August as well. How does an 80-20-80-20-.280 season sound? I like the symmetry of that line, but it's a little on the light side too.
9. Rafael Devers, Boston Red Sox
Devers reminds me of Bregman but with more power and less speed. Both guys will take a walk. Both guys don't strike out a ton. Both are quality hitters in fearsome lineups. I'd like to see Devers hit higher up in Boston's order, but there's really no room considering whom they already have. Devers is my favorite third baseman to draft outside of the elite class.
10. Adrian Beltre, Texas Rangers
He's entering his age-39 season and missed almost 70 games last season due to injuries. But Beltre also had a .915 OPS and 71 RBIs in 94 games. As long as he stays on the field, he will produce well.
Other top-10 rankings:
You can follow, ask fantasy questions and yell at Brian on Twitter: @Spokes_Murphy
Never miss ASL's latest fantasy sports news. Send us an email at newsletter@advancedsportslogic.com and list the sports you are interested in (NFL, NBA, MLB, NHL, EPL) to start receiving ASL's newsletter.