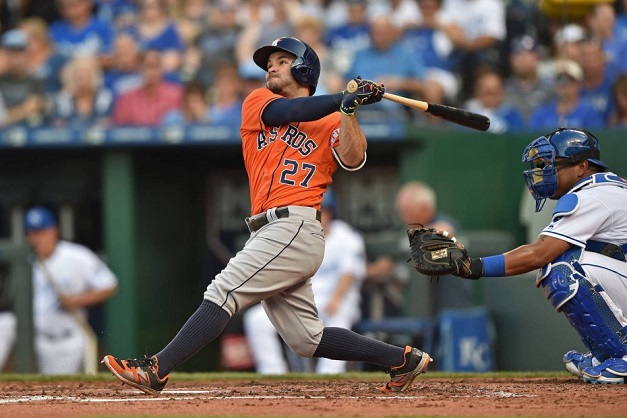 Written by Brian Murphy
22 February 2018
Here is a quick list of the top 10 second basemen for points leagues.
1. Jose Altuve, Houston Astros
It's not a matter of if Altuve should be the top second baseman in drafts but rather should he be the top player overall in drafts.
2. Jose Ramirez, Cleveland Indians
Ramirez is no fluke. His MVP-caliber 2017 actually built off of his strong 2016 second half, when he posted a 329-.374-.509 slash line. As he keeps lowering his ground ball rate, 30 homers, 20 steals and a .300 average are very realistic.
3. Brian Dozier, Minnesota Twins
Here's Dozier's three-year average in the main fantasy counting categories: 104 runs, 35 HRs, 90 RBIs, 15 steals. He played in at least 152 games each season. 
4. Jonathan Schoop, Baltimore Orioles
Schoop was the No. 5 second baseman last year and entering his age-26 season, he's becoming a better hitter. He's swinging at much fewer pitches out of the strike zone while seeing his homer total rise significantly. He probably won't ever be a .300 hitter, but a 35-homer, 110-RBI season in 2018 can be assumed.
5. Dee Gordon, Seattle Mariners
I think we've seen the best of Gordon, but 60 steals, an easy .300 average and 110-plus runs are nothing to scoff at. He will gain center field eligibility after the first two weeks of the season.
6. Daniel Murphy, Washington Nationals
I'm a little wary of Murphy, who underwent knee surgery in October and may not be ready for Opening Day. I know that's only one game out of 162, but is that all he'll miss? And even if so, how much time will he need to knock off any rust? Plus, Murphy is entering his age-33 season. On the positive side, he is in the middle of one of the game's best lineups and was still a top-five fantasy second baseman despite missing 18 games last year. 
7. Robinson Cano, Seattle Mariners
Gordon's presence will enhance Cano's RBI total. He's gradually wearing down as a hitter, but he also deserved a little better luck last year after posting a .280 average, a nine-year low, despite logging a fantastic 12.7 soft-hit percentage.
8. D.J. LeMahieu, Colorado Rockies
LeMahieu won't win you a fantasy championship, but he will help you out across the board with perhaps double-digit homers, a few steals, near 100 runs and an average above .300. As expected, he could not repeat his amazing 2016 campaign but was still fantasy's ninth-best second baseman last year in points formats.
9. Rougned Odor, Texas Rangers
Odor's BABIP last season was .224. That's bound to improve, so while he will continue to bash 30 homers and rack up double-digit steals, look for Odor's average to rebound to about .250 this season. He's a solid value pick.
10. Whit Merrifield, Kansas City Royals
Can Merrifield really hit 19 home runs again? He never hit more than eight during his seven seasons in the minors, so color me skepical. Plus, his other counting stats are going to slump simply due to the fact that the Royals' lineup has been gutted. I'm expecting a regression. Still, 10 or so HRs with 30 stolen bases is not bad.
Other top-10 rankings:
You can follow, ask fantasy questions and yell at Brian on Twitter: @Spokes_Murphy
Never miss ASL's latest fantasy sports news. Send us an email at newsletter@advancedsportslogic.com and list the sports you are interested in (NFL, NBA, MLB, NHL, EPL) to start receiving ASL's newsletter.