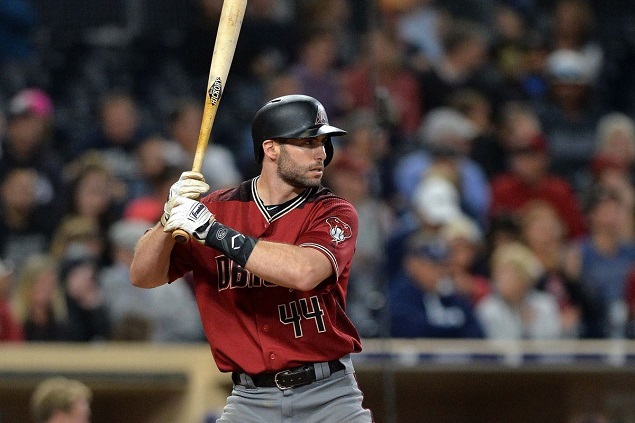 Written by Brian Murphy
15 February 2018
So many big-named players remain unsigned, but the game goes on. Spring training is here, and that means it's time to prepare for your fantasy baseball drafts. Here is a quick list of the top 10 first basemen for points leagues.
1. Paul Goldschmidt, Arizona Diamondbacks
Goldschmidt, entering his age-30 campaign is as safe as they come. Consider that if he put together a slash line this season of .296/.395/.488, each of those numbers would represent five-year lows. And that's still pretty good. Plus, he could steal 20-plus bags. Humidor or not, Goldy is the No. 1 fantasy player at first.
2. Joey Votto, Cincinnati Reds
Votto is in his mid-30s, but he's still hitting like he's 10 years younger. He's just a wizard at the plate. I'm skeptical that he will hit 35 or more homers again, but you know that Votto is going to get his hits. If your fantasy league's settings include walks -- and it should -- Votto is unquestionably the second-best option here.
3. Freddie Freeman, Atlanta Braves
I did think for a while about putting Freeman second on this list. If you play in an ESPN or Yahoo league, where Freeman has third base eligibility -- maybe he should be. The Braves' lineup could provide him with more run-producing opportunities than you might expect, especially if Ronald Acuna shows this spring that he's ready for the Show right now. His numbers look similar to Goldschmidt minus the stolen bases.
Sad that the NFL season is over? Don't be. Make your own offseason prop bets here. 
4. Anthony Rizzo, Chicago Cubs
Rizzo is another guy from whom you know what you're going to get. He has posted 30 HRs and 100 RBIs in three straight years. His average dropped about 20 points last year and his OPS dipped about 30 points, and Rizzo was still fantasy baseball's No. 3 first baseman. 
5. Jose Abreu, Chicago White Sox
Quietly, Abreu was undisputedly great last season. He led the league in total bases and topped 30 homers, 100 runs batted in and .300 at the plate. He doesn't have as much upside as some other first basemen, but a full season with Yoan Moncada hitting in front of him, it's reasonable to think Abreu could boost his counting stats a little more.
6. Cody Bellinger, Los Angeles Dodgers
Could Cody smash 50 homers this year? It's not out of the question. But his performance late in the year concerns me just a tad. I wonder if he will make the adjustments to counter the adjustments that pitchers obviously made to him in October. Still, 35 homers feel like his floor, and that's not too shabby.
7. Rhys Hoskins, Philadelphia Phillies
For a moment there down the stretch, Hoskins was THE player to watch in the game. To think he can keep up his near-60-HR pace is ridiculous. But you have to like that he struck out only 46 times in 50 games. Batting behind Cesar Hernandez, Carlos Santana and Odubel Herrera is going to present Hoskins with plenty of RBI chances.
8. Edwin Encarnacion, Cleveland Indians
How deep is first base in fantasy this year? A player who is going to give you 35 homers, nearly 100 runs, more than 100 RBIs, a respectable batting average and at least 85 walks is eighth on this list.
9. Wil Myers, San Diego Padres
It's too bad that Myers is in the middle of such an inept offense. And it looks like he's not going to hit above .250. However, his power-speed blend (at least 28 HRs and 20 SBs in each of the past two seasons) keeps him inside the top 10. 
10. Miguel Cabrera, Detroit Tigers
I thought about putting Eric Hosmer here, but where is he playing? I also considered Oakland's Matt Olson, a poor man's Hoskins. But I'll play it safe at No. 10 and hope that Cabrera has a bounce-back season in him. I can guarantee you that Miggy won't be as bad as he was in 2017. So, there's that.


You can follow, ask fantasy questions and yell at Brian on Twitter: @Spokes_Murphy
Never miss ASL's latest fantasy sports news. Send us an email at newsletter@advancedsportslogic.com and list the sports you are interested in (NFL, NBA, MLB, NHL, EPL) to start receiving ASL's newsletter.