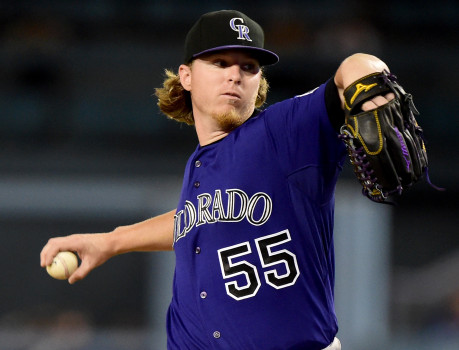 Written by Brian Murphy
06 July 2017
3. Sean Newcomb, SP, Atlanta Braves
Something happened to Newcomb in his most recent start that's happened to many starters this season: He was hit around by the Astros. Seven runs and 13 baserunners in 3.1 innings ... it wasn't pretty and it was the rookie's first real taste of failure at the MLB level; Newcomb turned in four consecutive quality starts to begin his career before meeting up with Houston. When he was called up last month, many rightfully wondered whether the 24-year-old could throw enough strikes to survive in the majors. Well, thus far, his walk rate has fallen by about a third, from 4.80 in the minors to 3.25 in the pros. He seems to be sacrificing some strikeouts for that control, but if it leads to results similar to what Newcomb registered in his first handful of outings, the Braves and fantasy owners should take it. He has a tough schedule lurking -- matchups versus the Nationals, and then possibly the Diamondbacks, Cubs and/or Dodgers await him this month -- but there is a lot to like in this former top-25 prospect.
2. Mike Clevinger, SP, Cleveland Indians
I recommended Clevinger earlier this season and although he experienced a couple of bumpy trips immediately following that vote of confidence, he was semi-dominant in his two most recent turns. Clevinger limited the Rangers and Tigers each to one run on two hits over six innings while striking out a collective 16 batters in those 12 innings. The walks have been an issue -- 11 in his past 17 frames -- but Clevinger has compiled a 2.14 ERA, a 1.14 WHIP and a 10.28 K per nine rate since June 17 (four starts). He'll face those Tigers again at home this weekend and then he'll open the second half of the year against either A's or the Giants. Still available in about 70 percent of leagues, the odds are high that Clevinger will continue his recent roll during his next two assignments.
1. Jon Gray, SP, Colorado Rockies
Many fantasy owners passed over Gray in March because he calls Coors Field his home. Then he fell out of sight, out of mind after fracturing his foot in mid-April. So, I understand why Gray is owned in roughly half of all Yahoo formats. However, understanding it doesn't make it right. Plus, Gray is giving owners reasons to believe in him again. His first start back from the disabled list was a 10-strikeout victory versus the Indians on June 30. Then on Wednesday, he finished just one out shy of another quality start in a win at Cincinnati. Gray fires a high-90s fastball that he mixes with a nasty high-80s slider. In case you forgot, the big 25-year-old struck out 185 batters in 168 innings as a rookie last year and displayed an ability to pitch at altitude successfully. It looks like Gray's second half will commence with advantageous matchups versus the Mets and the Pirates. He really should be picked back up in all 10- or 12-team leagues.
Click here to see which hitters you should pick up this week.