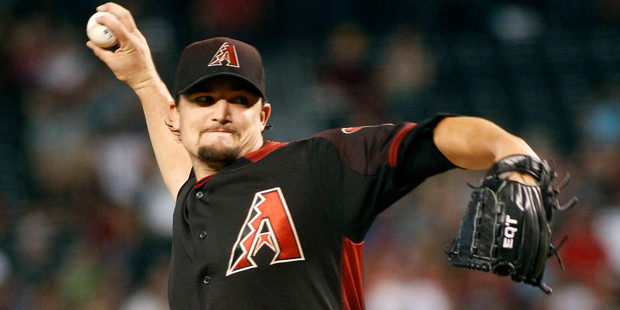 Written by Brian Murphy
18 May 2017
3. Charlie Morton, SP, Houston Astros
Morton isn't some stud youngster bursting upon the scene, sure. He's been an average-to-below-average hurler throughout his 10 years in MLB. Plus, I know his basic ratios this year aren't very exciting (3.97 ERA, 1.37 WHIP). But being backed by the best team in baseball right now has helped him win four consecutive decisions, two of which have come with double-digit strikeouts. An extra tick on his fastball has helped Morton average 10.72 Ks per nine innings. And his FIP and xFIP (3.33 and 3.31, respectively) say that Morton has actually been a little unlucky. He doesn't have the greatest profile, but it is certainly better than someone who is owned in barely half of all leagues.
2. Corey Knebel, RP, Milwaukee Brewers 
This is a listing that would normally be mentioned in the Closer Carousel. But Knebel does deserve his own space. As the Brewers have given Neftali Feliz a "break," Knebel has become the current ninth-inning man for the Brew Crew. However, he is available in more than 40 percent of leagues across the industry. Following Wednesday's save, Knebel has a 0.86 ERA and a 1.00 WHIP. He's got a hard, closer-type fastball and an effective curveball that is 16 mph slower. Those two pitches have helped him miss a lot of bats this season; Knebel has sat down 35 batters via the K in 21 innings. He would really be cooking if he could just limit his walks allowed; he has a career walks-per-nine average of 3.63, and that number is up over 4.00 in 2017. Otherwise, Knebel has been nearly flawless and has made it clear why the Brewers demoted Feliz and his 6.35 ERA. With a few more strikes, Knebel could be a truly high-quality closer.
1. Zack Godley, SP, Arizona Diamondbacks
Godley had been a godsend for the D'backs thus far. He currently owns a 1.93 ERA through 18.2 innings this year. If you want to think pessimistically, you could point to his .186 BABIP, his 84.3 left on base rate, his 4.34 walks per nine innings or the fact that at 27 years old, Godley has thrown a total of 130 frames in the majors. But there are other numbers that hint that Godley may not be a flash in the pan. Relying on a sinking fastball, he is getting an absurd amount of ground balls (73.2 percent), a healthy amount of harmless infield popups (16.4 percent), and each of Godley's pitchers have gained between 1.4-2.2 mph from last year. Pick him up just to see if he can keep it going. The odds that he will in the short term look fairly decent as he will face the Padres this Sunday.
Want to know what hitters to add? Click here.