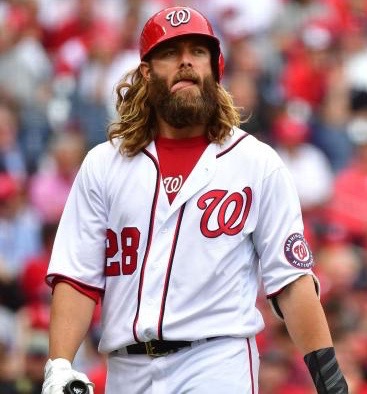 Written by John Adams
17 May 2017
1) OF: Jayson Werth, Washington Nationals
Fantasy owners seem to be missing the fact that Nationals OF Jayson Werth is putting together a pretty nice season so far. His low rate of ownership is puzzling considering that Werth is hitting .372 during the month of May with 8 walks and is hitting .316 on the season. He also has 6 hits in his last 10 at bats and is one of the hottest hitters in baseball right now. He also bats in a lineup that is obviously packed with hitting talent so he will always have a chance to score runs. What are you waiting for?
2) OF: Aaron Altherr, Philadelphia Phillies
Phillies OF Aaron Altherr has likely carved out a spot for himself in Philadelphia's outfield since Howie Kendrick was sent to the DL last month. Altherr has filled up the stat sheet batting a healthy .318 with 8 home runs and 22 RBIs. He was red hot earlier in the month, but despite cooling off, is still batting .341 during the month of May. Kendrick is projected to be back in the Philadelphia lineup some time next week, but at this point, the Phils can't survive without Altherr's power.
3) OF: Keon Broxton, Milwaukee Brewers
Keon Broxton was the talk of the town coming into the 2017 season, but after a disastrous start to the season, most fantasy owners wrote him off. Broxton finished April batting just .191 while striking out at a prolific pace. Since then, he's raised his average all the way to .258 and is turning heads in the fantasy world once again. This is a player who is fraught with risk, but if you can be patient and endure the slumps and strikeouts, he could provide some decent power for your squad.